MSU student helps create inclusive space for her peers
Nevaeh Marshall was awarded a CANR ODEI scholarship for her work in sharing Native traditions and creating welcoming environments for others.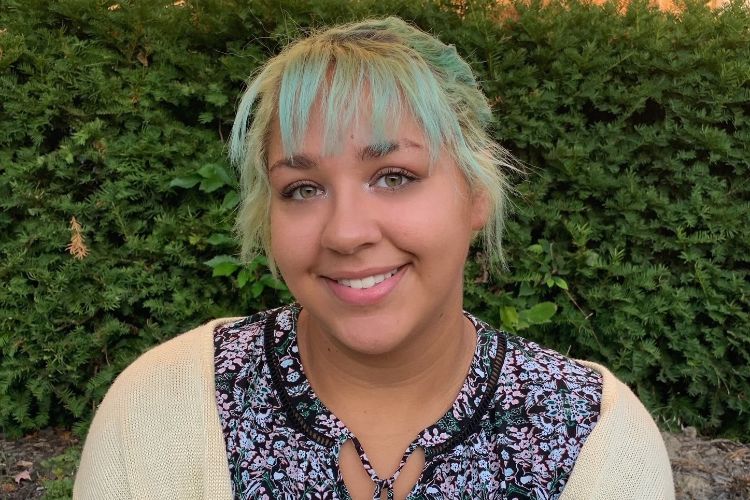 Michigan State University student Nevaeh Marshall was awarded $2,500 for the inaugural Equity and Inclusive Excellence Scholarship given through the Office of Diversity, Equity and Inclusion (ODEI) in the College of Agriculture and Natural Resources (CANR).
Marshall is studying horticulture and environmental studies and sustainability. She is also an employee at the MSU Student Organic Farm, where she has spent the summer and fall harvesting, weeding and packing Community Supported Agriculture available to members.
She is a member of the Sault Ste. Marie Band of Chippewa Native Americans in the Upper Peninsula, and spent time with the Pokagon Band of Potawatomi growing up in South Bend, Indiana.
"I've always felt really connected with nature, especially because of my Native culture, but I've found there is often a lack of diversity in agricultural academic programs," Marshall said. "A Native American perspective in agriculture is extremely important. I would like to help create a welcoming space for all interested in agricultural disciplines."
Phillip Seaborn, assistant director for undergraduate diversity in CANR, was part of the scholarship committee. Seaborn also oversees several CANR Pre-College Programs. Seaborn said the committee was impressed with Marshall's application and essay.
"Nevaeh stood out because of her dedication to creating equitable and inclusive spaces," he said. "She is using her experiences to empower and uplift students who may not have had those opportunities in life that society identifies as indicators of success."
Scholarship background
ODEI started the Equity and Inclusive Excellence Scholarship in 2020 to support students in CANR who contribute to an inclusive environment at MSU and with their peers.
"We thought it was important to highlight, support and encourage students who are trying to make CANR and MSU more inclusive and equitable. This scholarship is one of the ways to do that," said Quentin Tyler, Ph.D., associate dean and director for Diversity, Equity and Inclusion in the CANR.
Michigan State Federal Credit Union (MSUFCU) provided the funding support for the scholarship. April Clobes, president and CEO of MSUFCU, said this represents the diversity, equity and inclusion commitments that are part of the MSUFCU culture.
"MSUFCU is pleased to partner with the CANR to provide a student scholarship supporting diversity, equity, and inclusion," Clobes said. "One of MSUFCU's core values is embracing diversity, equity and inclusion. We believe that providing opportunities for everyone to have a sense of belonging in the academic and professional environments creates success for all."
The scholarship was open to current and incoming CANR students. To be eligible, students had to be involved in the STEM-FEE program (either the Academy for pre-college students or the Scholars Program for undergraduates), involved with Minorities in Agriculture, Natural Resources and Related Sciences (MANRRS), Jr. MANRRS, or have been a participant in one of the CANR Pre-College Programs.
Communities of belonging
Marshall is currently part of the STEM-Fee Scholars Program in CANR, and she said the close cohort provides a group of peers, as well as faculty mentors who support her. The STEM-FEE program started through receipt of a National Science Foundation grant with the goal to increase enrollment in the STEM disciplines connected to agriculture and natural resources.
"Typically agriculture and natural resource academic programs and careers aren't on most incoming college students' short list," Seaborn said. "STEM-FEE helps us expose students to different programs and career paths in agriculture and natural resources with an emphasis on food, energy and the environment."

Additionally, Marshall spent five years as a participant and one year as a counselor in the Michigan Indian Leadership Program (MILP), and she received the MILP Outstanding Leadership Award selected by staff in 2017.
"Nevaeh is a beautiful powwow dancer and has many years of experience learning the culture and traditions of our people," said Stephanie Chau, assistant director for undergraduate diversity and MILP coordinator. "She shared those teachings and her own knowledge with other MILP participants who may not have been exposed to them growing up."
"A Native American perspective in agriculture is extremely important. I would like to help create a welcoming space for all interested in agricultural disciplines." Nevaeh Marshall, MSU student and ODEI scholarship recipient
MILP is a pre-college program co-sponsored by CANR and MSU Office of the Associate Provost for Undergraduate Education. The program is open to students in 8-12th grade as a way to help primarily Native students explore opportunities in agriculture and natural resources. Students spend a week in the summer on campus at Michigan State University and experience different university presentations and cultural workshops.
"We celebrate our students' heritage and allow them to walk in two worlds in a friendly, inclusive and supportive way," Chau said. "If we can do it, they can do it too, and we are here to help and support them every step of the way."
Chau considers herself Marshall's "auntie" having both been a part of the Great Lakes powwow community all their lives.
"It's been a joy and a privilege to witness Nevaeh's growth, and I feel incredibly blessed to be a part of her journey. She's always been a great ambassador for the Native community," Chau said. "We're all at different levels of learning and relearning our traditions. Nevaeh is a great teacher and role model for her peers in that sense."
Involvement in MILP was one of the main reasons Marshall decided to apply to and attend college at MSU.
"As a first-generation college student, the MILP program helped me to learn a lot about the college process and what to do," Marshall said. "There's a really good support system here for Native American students at MSU."
That sense of belonging and support has been important to Marshall and has helped foster her growth personally and academically. With interests spanning horticulture and sustainability disciplines, she is also exploring ways to combine her Native culture.
"Native voices often get overlooked," she said. "A lot of people don't realize that Native Americans still exist. I'd like to help bring important Native American perspectives into areas of agriculture and sustainability."
Marshall's advice for MSU students is to find those communities of belonging that can support them.
"I am extremely passionate about creating a safe and inclusive environment for everyone, especially underrepresented groups. A space with like-minded people is a space to be yourself, a space for comfort, space to grow," she said. "I want every race, gender, ethnicity and religion to feel welcome in academia and to know that they are enough."