Horticulture
The undergraduate program in Horticulture at MSU is a dynamic and highly experiential set of learning opportunities. We emphasize hands-on and interactive learning experiences and encourage students to take advantage of opportunities for learning outside the classroom.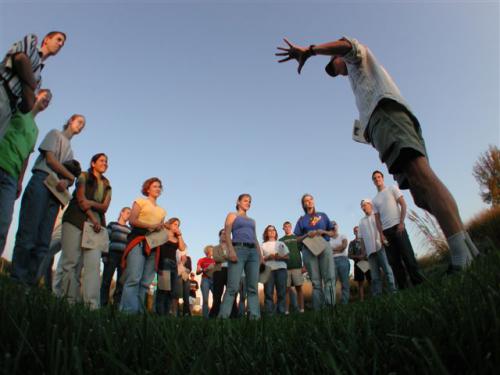 Three degree options are available so that students may follow a program of study which matches their interests. The Horticultural Science Concentration option is an excellent program for students interested in plant production, management, marketing, plant breeding and biotechnology. The Landscape Design, Construction and Management option prepares students for careers in the landscape and nursery industries, public gardens and arboreta. For more information about the Landscape Industry and Career options, visit The Landscape Profession: Separating Facts from Fiction and Landscape Industry Careers. The Sustainable and Organic Horticulture option prepares students for careers in farming, community food systems and urban agriculture. View the degree requirements for these programs and the expected Learning Outcomes.
A professional internship experience is required for all graduates.
Undergraduate students majoring in Horticulture complete 120 credits to earn a Bachelor of Science degree. University, College and Department requirements total 96-100 credits. The remaining 20-24 credits may be used to complete more than one major concentration, pursue a minor, participate in study abroad programs, transfer courses from a previous institution, or as free electives. Highly individualized programs of study are developed by the student in cooperation with their academic advisers.
Free Elective Suggestions
Michigan State University has thousands of undergraduate courses, many with open enrollment for any qualified undergraduate. Courses providing background and experience in the areas of business, communication, design, materials, production, and science may be valuable additions to any program. In order to choose wisely, read course descriptions carefully, speak with the instructors, and review the listed texts for the course.
Independent Study (HRT 490) is available to undergraduate students interested in developing expertise or experience in a topic not covered by regularly scheduled courses. Students work with a Faculty member to develop project parameters including type and scope of work, timeline and grading criteria.
Honors Option
All courses within the Department of Horticulture may be taken for honors credit (H-option) for students that are members of the Honors College. The request is initiated by the student and a project description (e.g., format, timeline, and scope) is agreed upon, preferably no later than the end of the second week of the semester. The Honors Option Agreement form is located on the Registrar's website by selecting "Student-Instructor Agreement", last entry in the Other Links column on the right (will require logging in as an official MSU student).
Note that the Honors designation is awarded only for work that is of high quality and more intensive and/or extensive than is required of the non-honors students in this course (thus, a high grade for regularly required work does not in itself warrant the awarding of the H-designation). Furthermore, the quality of an H-Option project does not affect the grade assigned for this course; however, a minimum grade of 3.0 must be earned before the Honors credit associated with the H-Option can be awarded.
More information on the Honors College.
Second Degrees
Students with a prior bachelor's degree who wish to complete a second degree in Horticulture must take 30 credits beyond their first degree plus fulfill all departmental requirements. To discuss a second degree program, make an appointment with Susan Gruber to review your academic record.