Careers in Horticulture
Graduates with a degree in Horticulture enter a broad range of challenging and rewarding professional careers in production, management, marketing, education and research. Graduates often open their own business enterprises such as fruit or vegetable production, landscape design/build and maintenance companies, nurseries, greenhouses and garden centers.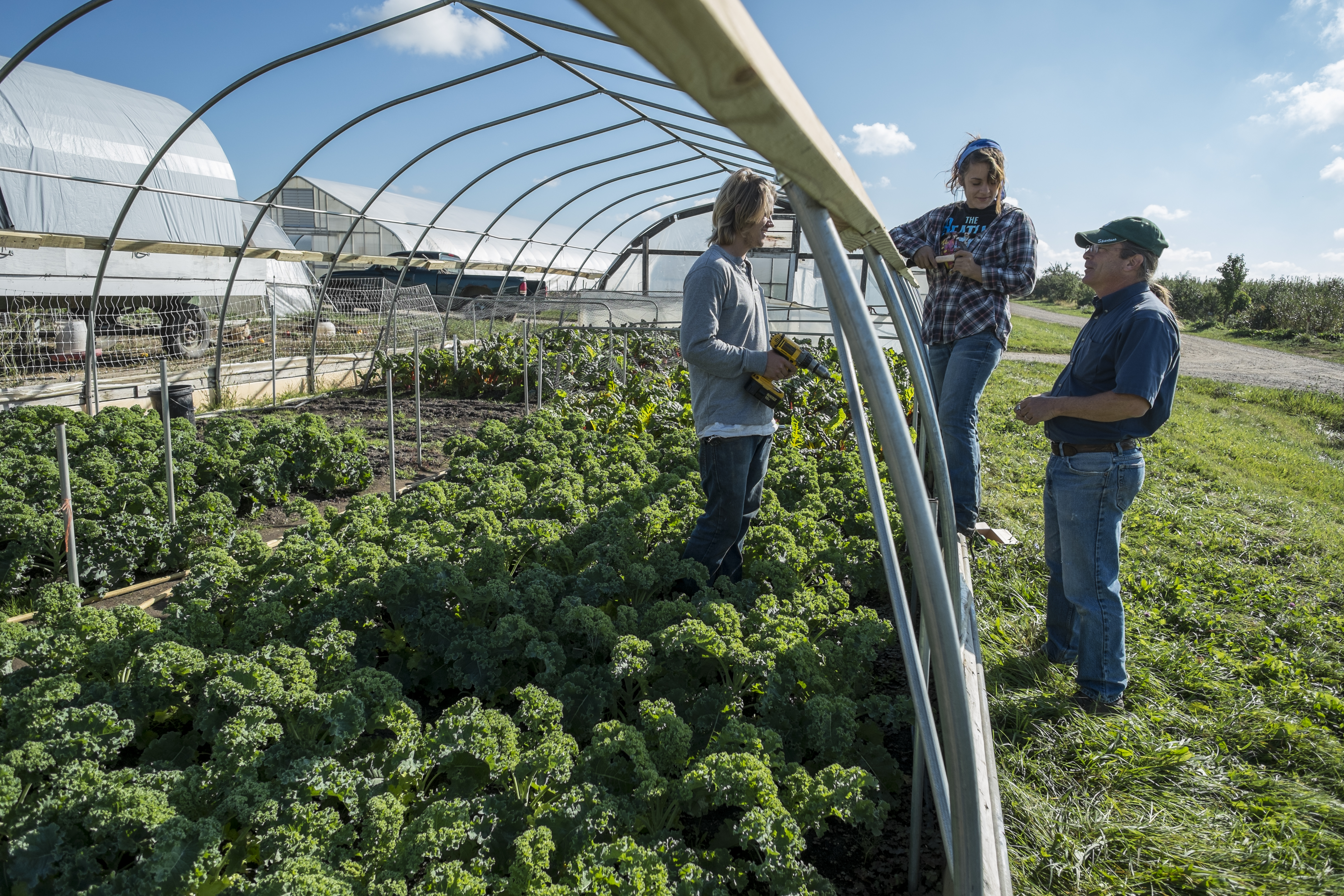 Some possible avenues for professional activities after graduation include:
Production and Sales. Operating a business or managing an orchard, vegetable farm, greenhouse, flower or plant shop, nursery, landscaping service, garden center, or food processing firm.
Public Gardens. Managing landscapes and plant collections in public gardens and conservatories. This offers the person interested in both plants and people the best of both worlds!
Marketing. Being involved in the wholesale or retail sale of fresh or processed fruits and vegetables, seeds, cut flowers, house plants, floral arrangements, or nursery stock. Being a buyer of these items for a chain store, a government or private institution, or wholesale distributor.
Research. Seeking ways to improve the yield and quality of fruits, vegetables, flowers and ornamental plants. Developing methods for handling, storing, and marketing these crops. Specializing in plant breeding, plant nutrition, plant growth regulation, or other fascinating areas of plant research.
Teaching. Opening the world of plant growing to people of all ages and presenting new ideas to those already wise to the ways of plants are rewarding experiences. The United States needs qualified teachers of horticulture in high schools, technical schools, and universities. County extension agents and extension specialists often teach horticulture to adults.
Industry Support. Being a consultant or doing research, development, technical services or sales. Canning and freezing companies, seed firms, and manufacturers of fertilizers, spray materials, and farm equipment need personnel with horticultural training to perform a wide variety of tasks in research, development, technical service and sales.
Inspection. Being an inspector of fresh and processed fruits and vegetables for government or private agencies. Helping to maintain a high level of quality and uniformity in the produce industry.
Landscape Construction and Management. Installing residential and commercial landscape projects as a landscape contractor. This includes interpretation of blueprints, estimating and bidding, sales, and installation of plant material and hardscapes (patios, walls, arbors, etc.). Opportunities also exist to maintain these sites.
Landscape Design. Creating gardens with combinations of plant material and hardscapes. Knowing the appropriate plants to use to achieve the desired aesthetic effect and possessing enough knowledge of soil science and plant physiology to know what plants are suited to the conditions present on a particular site.
Communications. Writing for farm and garden magazines, newspapers, television and radio can be a rewarding field for men and women trained in horticulture.
Pest Management. Working with state and federal regulatory agencies, agricultural suppliers, processing corporations, large farm organizations, and as agricultural agents.
Visit Seed Your Future for more career paths and income expectations. In addition, our colleagues at the University of Kentucky have outlined some detailed descriptions of job opportunities available to horticulture graduates.
Links to more information
National Association of Landscape Professionals - Young Professionals Podcast
Career Paths - The American Society of Horticultural Science
The Landscape Profession: Separating Facts from Fiction
MSU Horticulture's Jobs and Internships Site
Job Openings - The American Society for Horticultural Science