MSU students earn highest honors in dairy cattle judging contest
The three MSU students took home individual and team honors at the contest in Wisconsin.
WAUPUM, WIS. and EAST LANSING, MICH. – Three students from Michigan State University earned the highest honors at the Accelerated Genetics Dairy Cattle Judging Contest Hosted by CentralStar in Viroqua, Wis., during the Vernon County Fair. Cameron Cook, an Agribusiness Management major, Madeline Meyer, an Animal Science major, and Allison Schafer, also an Agribusiness Management major, took home the highest team and individual awards out of forty-six competitors on fourteen teams. Ten classes of cattle were evaluated with five sets of oral reasons given by competitors to justify their placings.
The team placed first overall and in reasons, with team members taking the top three spots in reasons: Meyer was 1st, Cook was 2nd, and Schafer was 3rd. Schafer won as overall high individual of the contest, with Cook coming in a close second, only two points behind her team mate. More ribbons were awarded for each breed class. The team placed 1st in the Guernsey class, with Cook winning it and Schafer placing 5th. The team was second for the Holstein classes, with Schafer in 2nd and Meyer in 6th. Cook won the Jersey class and Schafer was 10th; the team placed 4th. The team won the Milking Shorthorn class; Schafer took home 1st for this breed.
One of the most unique things about this team is they have been judging together for over a decade. Cook, Meyer, and Schafer all started as 4-H member in Clinton County where they were first introduced to each other and dairy cattle evaluation. Each of them grew up on a dairy farm; Cook and Schafer in Clinton County and Meyer in Ionia County. All three students worked on their family farms throughout childhood and often still return home on the weekends now to assist with chores and farm responsibilities. Cook, Meyer, and Schafer practiced and worked together for years as 4-H members in the dairy project, competing on national dairy cattle judging, dairy cattle management, and dairy cattle quiz bowl teams representing Michigan 4-H at contests around the country. As it was time for college, all three chose to attend Michigan State University and purse agricultural-related degrees where they continued with dairy cattle judging. This is the final year for Cook, Meyer, and Schafer as all three team members are seniors with Schafer graduating in December and Cook and Meyer will be awarded their degrees in May.
Coaches Dr. Joe Domecq and Sarah Black have known and worked with Cook, Meyer, and Schafer since they were 4-H members. They have watched them grown, seen their skills improve, and are now in the final season of coaching them. Reflecting on the years of dedication and work Cook, Meyer, and Schafer have put into dairy cattle judging, Domecq said, "It has been a real joy to coach these three individuals. They have worked extremely hard at getting better. More importantly, they have grown into outstanding young women with very bright futures."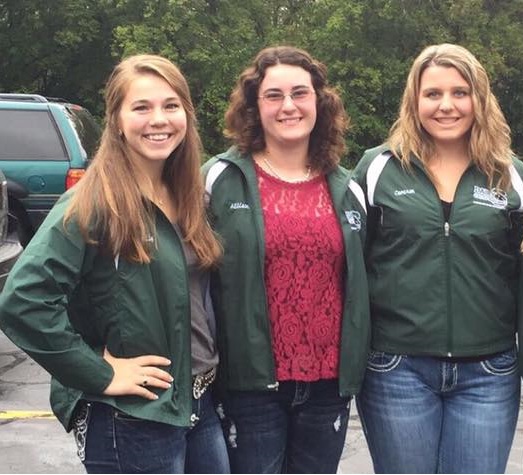 Meyer, Schafer, and Cook in 2016 as 4-H members on their way to Madison, Wisconsin to compete in dairy judging at World Dairy Expo. Photo courtesy of Madeline Meyer.