MSU students win first place in Associated Schools of Construction Region 3 Project Solutions Competition
On Oct. 21 the MSU Construction Management Commercial Competition Team earned first place honors at the ASC Region 3 Project Solutions Competition in Downers Grove, IL.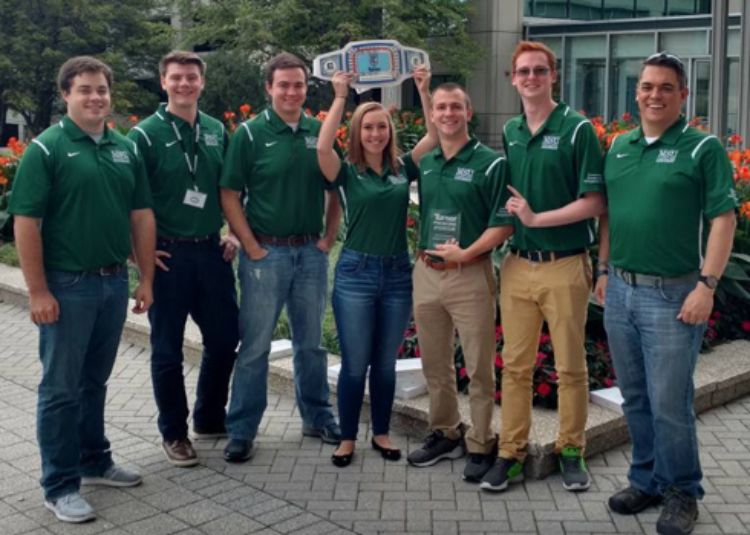 On Oct. 21, 2017, the Michigan State University (MSU) Construction Management Commercial Competition Team earned first place honors, out of eight university teams from the Midwest and California, at the Associated Schools of Construction (ASC) Region 3 Project Solutions Competition in Downers Grove, IL.
The team is led by George Berghorn, assistant professor of Construction and the group's coach. Team members include seniors Andrew McMillan and Jacob Pincura; and juniors Dan Hamilton, Phil Parker, Sarah Stubbe and Andrew Wagner.
The Project Solutions Competition was a new event for ASC this year, and was sponsored by Turner Construction, Procore and Forge. The competition required students to respond to a variety of project challenges using information from the Chicago Botanical Garden greenhouse and head house addition project.
"The importance of the Associated Schools of Construction helping to connect classroom work with real experience can't be understated, said Christopher Dublinski, the founder of Forge. "Few venues offer students the type of exposure to our industry's top employers and their projects as that provided by the ASC competitions. At Forge, our involvement as sponsors isn't solely driven by recruiting opportunities. We remain involved because these competitions emphasize the industry values of problem solving, team work, and getting the job done."
Key activities for the teams required preparation of a prequalification package, development of the project budget and general conditions, material and vendor procurement, development of logistics and risk management plans, a constructability assessment, processing change orders/requests for information, and creation of a project schedule.
This work was completed in a compressed 14-hour block of time, which placed the students in a stressful real-world situation. The team then had to present their work to construction executives and members of the construction project team for the Chicago Botanical Garden project.
"Being on the competition team was an experience unlike any I have ever had, it put us in a real life situation that we are likely to encounter once we graduate and test the knowledge that we acquired through course work, internships, and discussions with industry professionals," said Jacob Pincura, CM senior and Commercial Competition Team captain.
This was also the first competition that the organizers were aware of to use Procore software for all activities. Procore is a leading edge construction project management software platform that is growing in use by many industry members.
"I am proud of our team and their performance at the very challenging 2017 Project Solutions Competition," said Assistant Professor George Berghorn, the team coach. "More than just winning the event, our team was recognized for their excellent presentation skills, their high degree of teamwork and attention to detail. This competition tested their knowledge and resolve, and I am confident that our team members have a very bright future ahead of them!"
The Construction Management Program at MSU is housed in the School of Planning, Design and Construction and has 188 undergraduate students and 11 graduate students enrolled.
"We made the new Project Solutions division particularly difficult in hopes our student competitors would rise to the challenge, said Christopher Dublinski. The team from Michigan State answered the call, impressing the judging panel with their preparation and focus. It's difficult to leave this annual event not feeling optimistic about the future of construction and building."
For more information about the MSU competition team, contact George Berghorn at berghorn@msu.edu. Learn more about the Associated Schools of Construction Great Lakes Region, visit: ASC Region 3.