MSU students win its division in the 2018 National Dairy Challenge Contest while gaining practical, real-world experience
Two MSU students participate in Dairy Challenge Academy with peers from across North America.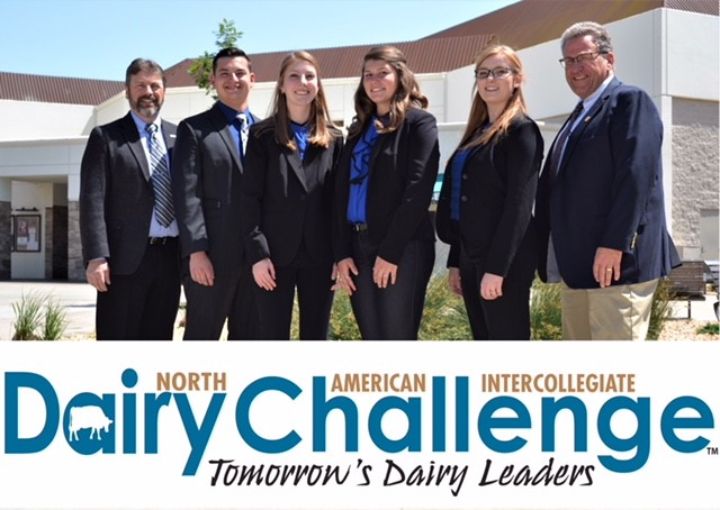 EAST LANSING, Mich. – A team of four Michigan State University (MSU) students earned first place in its division in the 17th annual North American Intercollegiate Dairy Challenge Contest (NAIDC) held April 12-14 in Visalia, California. Members of the winning team were: Alycia Burch, animal science senior from Jeddo; Nicole Chase, agribusiness management senior from Conklin; Ethan Haywood, animal science senior from Hastings; and Ellen Launstein, animal science senior from Mason. Each team member received a $200 scholarship.
Thirty-five teams representing universities from across the United States and Canada competed in the three-day event. The teams were divided into four divisions to reduce the total number of teams visiting a single farm. The MSU team was assigned to a division that included teams from eight other universities: California State – Fresno, the University of Alberta (Canada), Penn State University, Texas A & M University, the University of Minnesota, the University of Tennessee, the University of Vermont, and Virginia Tech.
The NAIDC traces its origins to MSU, where the first-ever annual contest was held in 2001. The innovative event is designed to allow dairy science students that are pursuing a four-year undergraduate degree at North American universities with a hands-on, team-based opportunity to apply theory and skills learned in the classroom to a real-world dairy situation. The NAIDC effectively incorporates all facets of a working dairy business into an interactive, educational, and fun forum. In its 17-year existence, the NAIDC has helped to train thousands of students through the national contest, the Dairy Challenge Academy, and four regional contests conducted annually in advance of the national competition.
Roger S. Thomson, D.V.M., MSU Department of Animal Science Academic Specialist and coach of the MSU NAIDC team, said the goal of Dairy Challenge is two-fold.
"First, it strives to integrate information students have obtained from three to four years of study in the classroom with the reality of a functioning dairy farm to better prepare animal science graduates for their first real job," he said. "Secondly, it helps talented students begin their lifelong process of building a network of industry contacts by interacting with the corporate sponsors that support this event financially.
"In the process, Dairy Challenge participants learn to work as a member of a team, sharpen their observation skills, analyze dairy records, and organize their thoughts in a specific, concise manner," Thomson added. "Additionally, they develop public speaking and presentation skills that will serve them professionally for a lifetime. This competition changes each participant forever."
On the first day of the event, each team receives farm management and production information for its assigned dairy operation. After thoroughly evaluating the operation, teams generate a comprehensive program that includes recommendations for nutrition, reproduction, milking procedures, animal health, housing, and financial management. Participants conclude the first day with an informal dinner to network with NAIDC sponsors.
On the second day, team members present recommendations to and address questions from a panel of judges that evaluate team presentations based on the quality of the analyses and recommendations. The event concludes with a reception and awards banquet.
For team members, the event didn't just offer practical real-world dairy experience. It also generated thought-provoking concepts that have allowed students to create their own ideas. Ethan Haywood, one of this year's participants, said he has learned how to improve his critical thinking, communication, and observation skills at the same time he has been exposed to a multitude of farms, protocols, and management theories.
"All of the information I have learned translates directly back to my family's dairy, as many producers today face the same challenges that we do," he said. "I plan to return full-time to my family's dairy upon graduation, and the ability to critically evaluate a problem, create and implement a solution, and then evaluate the results of that solution as we have learned to do in the Dairy Challenge will have a large impact on our operation in the future.
"I am grateful for the experiences and guidance offered to me through the Dairy Challenge program, and I believe it is a key to benefiting the future dairy industry," Haywood concluded.
In addition to the four MSU students who competed in the NAIDC, two MSU students participated in the 2018 North American Intercollegiate Dairy Challenge Academy, which was coached by Dr. Joe Domecq, MSU Department of Animal Science Academic Specialist. The two students were (Alfonso) Jesse Govea, animal science senior from Okemos, and Jared Sanderson, animal science junior from Lansing. The Academy members were assigned to eight-person teams that included students from other universities. The teams, which included industry mentors, visited two dairies where they conducted a walk-through analysis before compiling management recommendations that they presented to the full group of participants and the operation's management team.
Not only were the students able to engage and learn from their contemporaries, but they also gained insight from those who came before them through the program. Michigan dairy industry professionals and former MSU graduates who helped prepare the team and assist with practices were: Aaron Gasper, Lew-Max Dairy, Belding; Don Martel, retired Diamond V employee; Brian Troyer, Caledonia Farmers Elevator; and Matt Wood, Vita Plus. MSU animal science and 2017 Dairy Challenge alumnus Marin Western and Ray Powell joined the traveling troupe as Dairy Challenge and Academy mentors.
The North American Intercollegiate Dairy Challenge was established as a management contest to incorporate all phases of a specific dairy business. Its mission is to facilitate education, communication and the exchange of ideas between students, agribusiness representatives, dairy producers and universities to further the development of the dairy industry and foster growth of new industry leaders. The program is supported financially through donations from 120 dairy businesses and producers and coordinated by a volunteer board of directors.
The MSU Dairy Challenge program is generously sponsored by: ABS Global, ADM Alliance Nutrition, Caledonia Farmers Elevator, Cargill Animal Nutrition, Dairy Farmers of America, Diamond V, Land O'Lakes, Inc., the Michigan Milk Producers Association, Nobis Agri Service, NorthStar Cooperative & Antel Bio, Prince Agri Products, Purina Animal Nutrition, and Vita Plus Corporation. Significant support is also provided by the Michigan Dairy Memorial and Scholarship Foundation, the Roger and Marjorie Mellenberger Dairy Associates Program Enhancement Fund and the Frederick Pierce Halbert Memorial Endowed Scholarship Fund at MSU.
Visit www.dairychallenge.org or www.facebook.com/DairyChallenge for more details on regional and national NAIDC events. For more information about MSU participation in the MSU Dairy Challenge, the Midwest Regional Dairy Challenge or the National Dairy Challenge, contact Thomson thomso75@msu.edu.
The 18th annual NAIDC and Dairy Challenge Academy will take place in Tifton, Georgia, from March 28-30, 2019.
Did you find this article useful?
---