MSU Experts Available During U.S.- Africa Leaders Summit
President Obama welcomes African heads of state and government August 4-6 for the U.S. - Africa Leaders Summit, the first such event of its kind.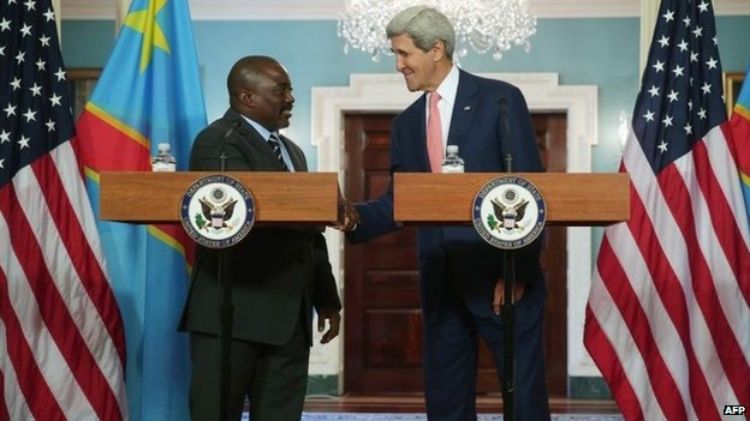 The President, cabinet members, other key leadership and African leaders from more than 50 countries plan to discuss a wide range of topics making an impact on the African continent. Discussions planned include investing in peace, investing in health and resilience in food security in a changing climate.
Michigan State University, more than any other higher education institution, has extensive on-campus and in-country expertise working to effectively solve problems facing African nations. With more than 50 years of programs in the continent, MSU has faculty and student involvement in more than 30 nations. To that end, expert MSU faculty have been made available to speak on a variety of topics related to U.S. and Africa relations:
Civil Society Forum
Dan Clay, professor and Senior Associate to the Dean in the College of Agriculture and Natural Resources and Director, Global Programs in Sustainable Agri-food Systems in the Department of Community Sustainability, has worked in agricultural and rural development for more than 25 years, focusing on issues of food and agricultural value chain. He's also known as Rwanda's Juan Valdez where he's helped nurture the seeds of Rwanda's gourmet coffee industry, building on a relationship with the country that began in 1979. Read more about his work. He can be reached at (517) 353-1309 or clay@anr.msu.edu. - See more at:
Steven Esquith is the Dean of the Residential College of Arts and Humanities, is an expert on democratic political education, ethics and development, political philosophy and ethical problems in developing countries. He can also speak on exchange programs between school children in the U.S. and Mali, Africa. He is available at 517-355-0112 or esquith@msu.edu.
Thomas Jayne, professor of international development in the Department of Agriculture, Food and Resource Economics and adjunct professor at the Indaba Agricultural Policy Research Institute in Lusaka, Zambia, has dedicated his career to promoting effective policy responses to poverty in Africa. Jayne can speak to African farm productivity growth and agricultural input and output markets as well as land use dynamics, population agricultural intensification. He can be reached at 517-432-9802 or jayne@msu.edu.
Carolyn Logan, assistant professor of political science, helps direct a massive survey across Africa called the Afrobarometer, looking at poverty, economic growth, access to clean water and medical care and more. She can speak to political and economic development in several African nations. Logan can be reached at 810-449-7577 or clogan@msu.edu.
Investing in Women, Peace and Prosperity
P.S. MohanKumar, professor in the College of Veterinary Medicine, is a pathobiology and diagnostic investigation expert who focuses on neuroendocrinology, aging, neuro-immune interactions, metabolic diseases and women's health. He and his MSU colleagues are working to help communities in Malawi improve every aspect of the dairy value change. The chain encompasses everything involved in producing dairy products, including cow nutrition, reproduction, genetics, and breeding and milk production, processing and marketing. Learn more about the project and view a short video. He can be reached at (517) 353-2251 or mohankumar@cvm.msu.edu.
Diane Ruonavaara, extension specialist with MSU Extension and program manager for the MSU Tanzania Partnership Program, is an expert in international community development, participatory research and development approaches with marginalized groups of people, especially women and indigenous groups. Since 2008, Ruonavaara and the TPP have worked side by side with universities, foundations and residents of rural villages to create sustainable solutions that will bring academic and economic opportunities to the country. Learn more about the project and view a short video. She can be reached at (517) 353-3221 or ruonavaa@msu.edu.
Kurt Dewhurst, director of the Arts and Cultural Initiatives Outreach and Engagement, is an expert on the intersection of arts and culture was instrumental in fostering a curatorial relationship between the MSU Museum and the Nelson Mandela Museum in South Africa. Dewhurst was responsible for the MSU premiere of an international exhibit, "Dear Mr. Mandela, Dear Mrs. Parks: Children's Letters, Global Lessons." He is available to speak on cultural boundaries between art, history and literature in South Africa. Dewhurst can be reached at 517-355-2370 or dewhurs1@msu.edu.
Kenneth J. Harrow, a University Distinguished Professor of English, is an expert on African literature and cinema as well as diaspora and postcolonial studies. Harrow serves as an Amnesty International Country specialist for Burundi and Rwanda. He can speak on topics ranging from Islam in Africa to women in African cinema. Harrow can be reached at 517-803-8838 or harrow@msu.edu.
Mara Leichtman, associate professor of anthropology, is an expert in transnational religion and migration; globalization; community change; Islam, politics, culture, and identity; ethnicity; state/society relations; West Africa (Senegal) Middle East and North Africa. She can speak to the religious tensions in Africa. Leichtman can be reached at 517-432-7048 or leichtm1@msu.edu.
Investing in Health: Investing in Africa's Future
Terrie Taylor, University Distinguished Professor, College of Osteopathic Medicine, is an internationally recognized expert on malaria and other tropical diseases. She spends six months each year in the southern African country Malawi, conducting malaria research and treating patients. Taylor can speak on all aspects of malaria and tropical medicine practices. She can be reached at 517-353-3211 or ttmalawi@msu.edu.
Anil Jain, University Distinguished Professor in the Department of Computer Science and Engineering, is a facial recognition, computer vision and biometric recognition expert. He recently teamed up with a vaccination tracking team working in remote areas of Benin, Africa. By using fingerprint recognition, Jain and his team have established a potential immunization tracking and scheduling method that could ensure millions of children receive the life-saving vaccinations they need as babies. Jain can speak to this research as well as biometric population tracking and other forensic recognition methods. He can be reached at 517-355-9282 or jain@cse.msu.edu.
Daniel Havlichek, Jr., professor of medicine and microbiology in the department of medicine division of infectious disease, has expertise in viral and other infectious disease outbreaks. He is able to speak on immunology as well as HIV and infectious disease prevention methods. Havlichek can be reached at 517-353-3128 or daniel.havlichek@hc.msu.edu.
Ned Walker, professor of microbiology and molecular genetics, is a medical entomologist whose research focuses on how infectious diseases, such as malaria, West Nile virus and Lyme disease, pass from mosquitoes to people. He also has studied malaria control in Kenya, looking at how insecticide-treated bed nets can help control the disease. Walker is able to speak on a wide variety of topics related to infectious disease in Africa. He can be reached at 517-884-5389 or walker@msu.edu.
Resilience and Food Security in a Changing Climate
Felicia Wu, John A. Hannah Distinguished Professor in the Departments of Food Science and Human Nutrition and Agricultural, Food, and Resource Economics, works at the nexus of agriculture, nutrition, economics and human health. She directs the Center for Health Impacts of Agriculture, a new institute created to understand the health effects of agricultural and food policies globally. Wu has worked in several African nations, including Tanzania and Kenya. She can discuss economic ramifications of food safety and security, health impacts of agriculture practices and nutritional implications relating to diseases such as Ebola. She can be reached at 517-432-4442 or fwu@msu.edu.
Joan Rose, MSU's Homer Nowlin Chair in Water Research, is co-director of both the MSU Center for Advancing Microbial Risk Assessment and MSU Center for Water Sciences. Rose is an expert in microbiology, water quality and public safety globally. Her water research has inevitably led to investigation of transmission of disease and viral pathogens. She can speak to global waterborne disease outbreaks, Ebola and the study of water supplies, treatment, and reclamation. Her applied research also includes the study of microbial pathogens in recreational waters and climatic factors impacting water quality. She can be reached at 517-432-4412 or rosejo@msu.edu.
James Kelly, University Distinguished Professor of plant, soil and microbial sciences, is lead researcher in the USAID-funded Legume Innovation Lab. For more than 30 years, he introduced new legume varieties as well as educational materials to help farmers in Rwanda, the world's highest bean consumption per capita, grow successful crops. One of the keys to better nutrition and health for the people of Rwanda fits lies in breeding heartier varieties that can sustain the people and economy of the country. Learn more about his work and view a short video. He can be reached kellyj@msu.edu.
To see the full list of MSU experts, visit the expert database.