MSU Extension forms task force for responding to livestock transportation accidents
First responders, law officers and transportation crews receive training to better respond to transportation accidents involving livestock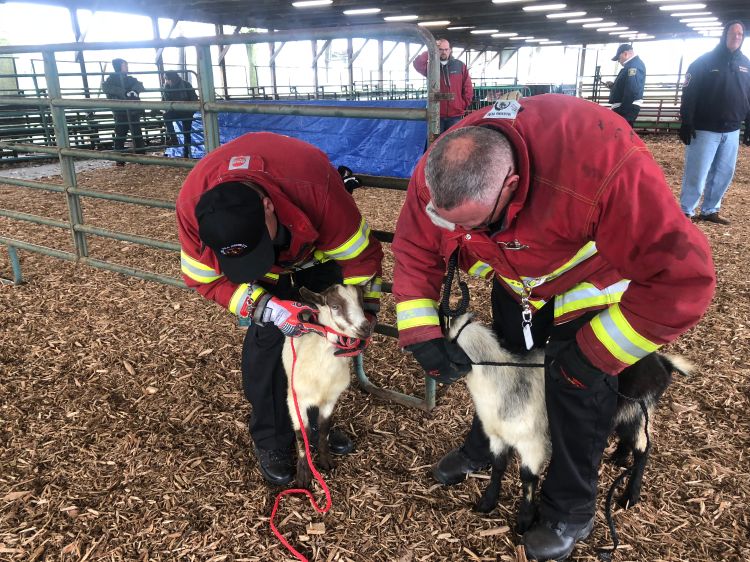 Responding to accidents is never an easy task. Responding to an accident that involves large trucks, people and animals can quickly turn into a chaotic event if the local response team is not prepared or trained to handle such an occurrence. With the amount of livestock raised in and around Michigan, along with large processors for poultry, sheep, beef and swine in the area, how to best handle accidents involving livestock is a question that has caused some concern.
Following several livestock truck rollovers over the last few years in Michigan and adjacent states, Michigan State University Extension formed a task force including representatives from Michigan Department of Agriculture, Michigan Pork Producer Association, Michigan Farm Bureau, Michigan Department of Transportation, law enforcement officials and livestock producers to address this concern. This task force recognized the need to have a network of trained people across the state to respond to these situations in order to help local police, fire crews, ambulances, veterinarians and other officials prepare for rollovers of semis pulling livestock trailers. MSU Extension worked to coordinate a specialize training for livestock transportation rollover accident response.
This event was held at the Calhoun County Fairgrounds in Marshall, Michigan, an area chosen because of its proximity to I-94, I-69 and the I80-/90 corridors. This training brought in industry experts to discuss animal behavior, the proper tools to assist in a rollover accident situation with animals, what past accidents have entailed, along with different plans and resources that would allow people and crews to best respond to such events. Pulling from a diverse audience, stakeholders from various entities including large production farms, transportation companies, first responders, processors, truckers, law officers from local, county and state levels and veterinarians, that represented serval different states completed this training. Participants heard from responders with firsthand experience in accident scenes, what the crucial tasks are when managing a scene that involves vehicles, traffic, people and animals all while doing this while working an accident scene and ensuring public safety and animal welfare. Hands-on, interactive demonstrations also complimented the training as participants learned about extrication of trapped animals, animal behavior and handling techniques, how to respond to injured animals, and humane euthanasia techniques. This intensive training will help responders be prepared for these situations, properly contain the animals and correctly manage the accident scene.
Participants involved in this training indicted that because of their participation in this event, they have developed or refined a skill and they now feel better suited to responding to a livestock transportation accident. This training also gave attendees an excellent opportunity to network with local law enforcement groups, as well as formulate key questions for continuous improvement of the different systems that they are each involved with. Each and every participant from this diverse audience specified that they are better prepared to address livestock transportation accidents and would be able to share critical information with their teams. These trained people will build a network of responders and act as advisers to assist first responders and emergency response personnel when these events occur and livestock need to be rescued from overturned trailers.
Michigan State University Extension would like to thank their partners for assisting with the funding, planning and executing the livestock rollover accident response training. Financial assistance was supported by Michigan Department of Agriculture and Rural Development, Michigan Pork Producers Association, Jackson County Farm Bureau, Calhoun County Farm Bureau, Branch County Farm Bureau. Contributing to the demonstration portion of the training were Blight Farms, Hickory Knoll Farm, Cooper Farms, Ron Wollpert Transportation and Tim Dunn Livestock Hauling. More information on responding to livestock transportation accidents can be found by visiting the Michigan State University Extension website.