MSU Extension receives national award for early childhood programming
MSU Extension's Building Early Emotional Skills program received top national and regional honors at the National Extension Association of Family and Consumer Sciences 2016 Annual Session Awards program in September.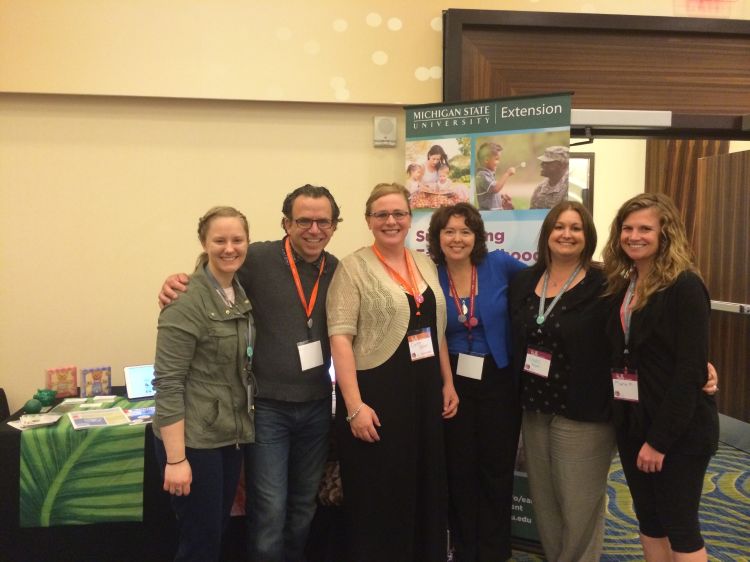 Michigan State University (MSU) Extension's Building Early Emotional Skills (BEES) program was recently selected as a first place national winner at the National Extension Association of Family and Consumer Sciences (NEAFCS) 2016 Annual Session Awards. The program was also recognized as a first place Central Region winner. Both awards were in the Human Development and Family Relationships Award category, which was established by the NEAFCS in 2012 to recognize effective and innovative educational programs in the human development and family relationships arena.
The BEES program was developed by MSU's Department of Human Development and Family Studies' Holly Brophy-Herb and colleagues, and adapted for use by MSU Extension. The research-based series focuses on strengthening early emotional skills in infants and toddlers through supportive early parenting and parent-infant relationships. Offered through traditional face-to-face group sessions and online virtual classes moderated by MSU Extension educators, the program is open to parents of children ages birth to 3 years old. Over the course of the workshop, participants learn key parenting skills and early childhood development information that supports healthy social and emotional development of their children while growing an important community support network among a group of their peers.
Now in its fourth year of programming, the BEES program is part of a five-year grant funded USDA-NIFA through the Children, Youth, and Families at Risk (CYFAR) program. It is operated by MSU Extension staff members Kendra Moyses, Carrie Shrier, Maria Millett, Kylie Rymanowicz and Alan Pilkenton, in collaboration with Holly Brophy-Herb. The team was presented with the awards at the NEAFCS's Awards Celebration at the 2016 Annual Session, held Sept. 12–15 at the Big Sky Resort in Big Sky, Montana.
"MSU Extension is so proud of the BEES program and the value it has brought to working families in Michigan," said Jeff Dwyer, MSU Extension director. "We've seen an incredible demand for these classes, and the preliminary data show it's making a difference: participants report a positive increase in their parenting skills and functioning. With those kinds of results, we feel the program and the educators are very deserving of this prestigious award."
MSU Extension is now accepting applicants for its fall 2016 BEES session. The curriculum is taught over an eight-week period, using hands-on activities and group discussions designed to reduce parenting stress, increase children's social and emotional competencies, and increase the quality of parental management and the modeling of emotions. To learn more about this free course, visit the BEES website. A BEES series for childcare providers is under development.