MSU Product Center Start-up to Watch awardees: Where are they now? Part 2
2012 Start-up to Watch Awardee, Easy Artisan Bread Mix, goes head to head with national brand pizza mixes.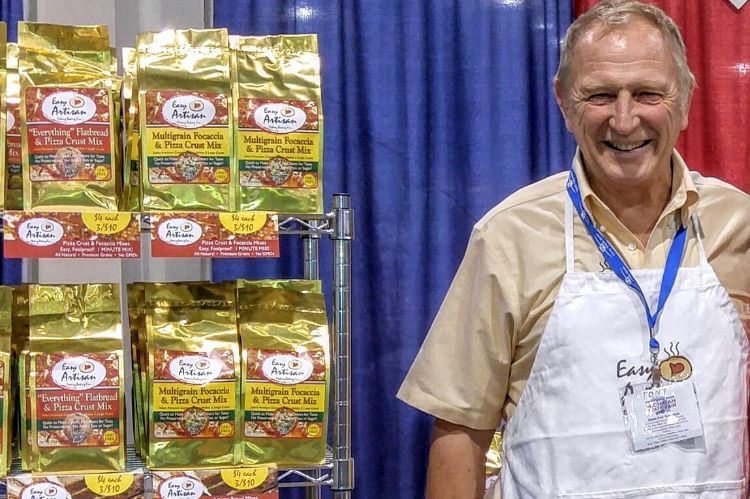 Nearly four years later, Easy Artisan Bread Mix, LLC – the 2012 Michigan State University Product Center Start-up to Watch Award-winning business – is poised to become a national brand.
With a line of whole grain based pizza dough and bread mixes, Tony Menyhart and Sally Gralla are giving customers what they are looking for, a way of making more nutritious food at home.
"We have lost generations of knowledge of cooking," says Menyhart. "Through interactions with thousands of customers in product demonstrations, we discovered the importance of homemade pizza. Easy Artisan Bread Mix has become a pizza dough business."
The Easy Artisan Bread Mix line of three pizza dough and two bread mixes are distributed in 400 stores in the Great Lakes region including Meijer. Specialty grocery chains such as Fresh Thyme have proven to be very important outlets for new products as they cater to customers seeking more food options.
In accounting for business success factors, Menyhart and Gralla credit the decision to use a co-packer as the most impactful. A Jackson, Michigan based co-packer produces the mixes using Easy Artisan Bread Mix recipes. Reliance on a co-packer enabled the owners the flexibility to explore the market, concentrate on recipes, and sell the product.
Menyhart obtains business counseling and specialized services with the MSU Product Center. Senior Associate MSU Product Center Director, Brenda Reau, has assisted Easy Artisan Bread Mix with marketing research and tools, packaging assistance, and shelf-life extension. "Easy Artisan Bread Mix continues to assess the market and is positioning the company to address consumer preferences. Easy Artisan Bread Mix is a regular vendor at the annual Making it in Michigan Conference, as well," says Reau.
Teamwork and a division of labor by business partners is another key to success. Sally Gralla focuses on design, packaging, website, social media and events in the business. Input procurement, production, inventory, and sales matters occupy Tony Menyhart.
The mission of Easy Artisan Bread Mix is not only to become a national brand, the first whole wheat pizza mix, but also to bring the benefits of whole grains to a larger market.
For information on marketing, managing, or starting a food, agriculture, bio economy and natural resources business, contact the Michigan State University Product Center at www.productcenter.msu.edu or 517-432-8750. Michigan State University Extension Innovation Counselors are available statewide for free business counseling.
Other articles in this series
MSU Product Center Start-up to Watch awardees: Where are they now? - Successful MSU Product Center client, Herkner's Cherry Topping, has gone from start-up to succession in six short years.