Mushrooms in nursery container media – what can be done?
Nursery growers battling mushrooms and slime mold in container media have some tools to deal with the issue.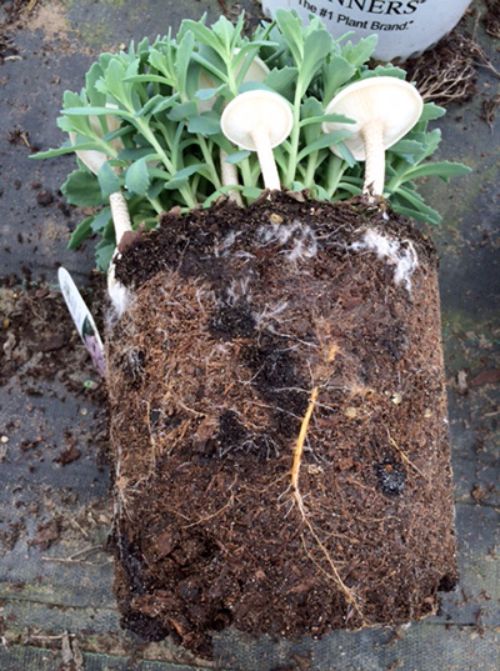 Over the past year, I have received numerous questions on the appearance of mushrooms in container-grown nursery plants including trays of newly rooted liners, shrubs, trees and even some herbaceous perennials. According to Michigan State University Extension, these saprophytes have caused growers headaches because the plants may have dry spots in the container due to the mushrooms and do not take up water uniformly. They are unsightly and must be removed prior to sale (see photos). Most are saprophytic slime mold and basidiomycete fungi that are usually present in decayed wood and bark.
Bark supplies have been in short supply for a few years. Some of this issue may be attributed to the fact that bark being used has not been composted as much as in years past, and more cellulose is present in bark supplies due to the shortage.
According to Ted Bilderback, professor emeritus in North Carolina State University's Department of Horticulture, "When all the environmental conditions are right for these organisms, they push up the toad stool fruiting structures."
He thinks a change in environmental conditions does tend to discourage them. The occurrence and proliferation in nursery media in containers and flats probably does have something to do with the stability or degree of decomposition of the initial pine bark used for potting. Bilderback's suspicion is, "I think aged pine bark supplies are less likely to a lot of this activity versus beginning with fresh pine bark."
We know dry pine bark inventories (less than 34 percent moisture by weight) often have a very troubling slime mold invasion, which produces yellow to pale yellow mushrooms, and wetting and frequent turning and moistening the inventory piles is the only way to recover the pine bark inventory. Research has shown and growers have proven that once these fungi are discovered in the pot, heavy watering for several days may overcome the problem. In established crops, a change in environment by moving them from one location to another may make the problem disappear. Fungicides will not reduce the problem since these organisms are saprophytic. Applying a wetting agent might be worthwhile.
Read "Bark and Roll Over" by Bilderback for good information on managing your bark supply.
For further assistance, contact your MSU Extension nursery educator.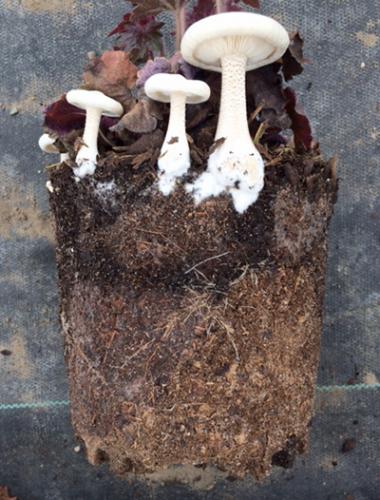 ---