National Charrette Institute expands reach through new university partnership
The National Charrette Institute entered in a new partnership with the Michigan State University School of Planning, Design and Construction and MSU Extension.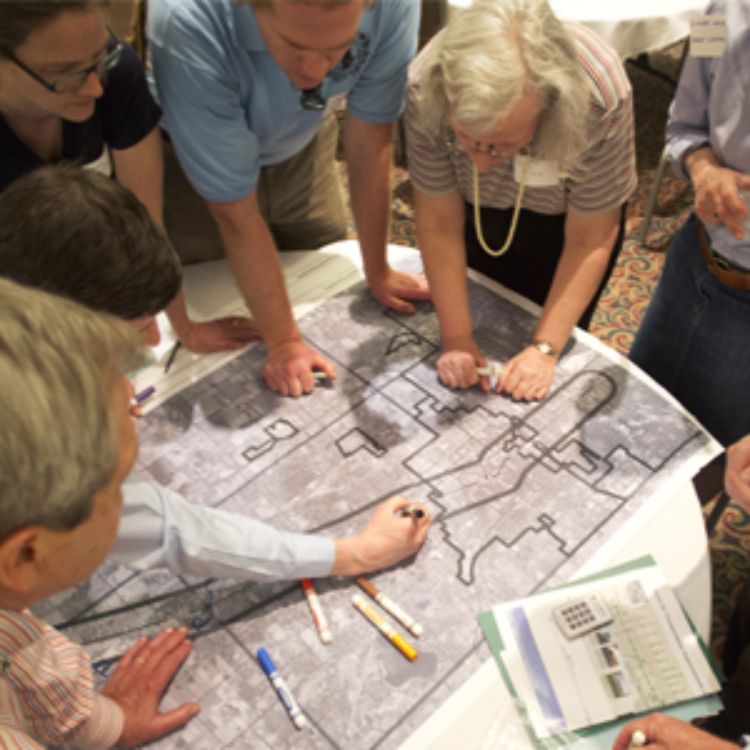 Contact: Heidi Macwan, charron@landpolicy.msu.edu, (517) 353-4454.

EAST LANSING, Mich. – The National Charrette Institute (NCI) entered in a new partnership with the Michigan State University (MSU) School of Planning, Design and Construction (SPDC) and MSU Extension. The NCI's new home will be at MSU and will grow through this partnership, reaching more people and more markets.
"The NCI has been the go-to resource for communities looking for innovative, collaborative tools to help solve complex problems," said Bill Lennertz, founder of NCI. "By partnering with MSU, we will now have the capacity to expand our reach outside the traditional planning audience, and increase our pool of trainers to provide more training and coaching opportunities statewide, nationally and internationally."
Fifteen years ago, NCI launched what has become the leading professional training in collaborative design and charrettes. Since then, they have trained thousands of public and private planners, and designers and community activists with their accredited certificate program. The NCI has worked directly with communities on projects across the country, helping them change the way they work together.
"For the last 10 years, NCI has worked in Michigan, supporting MSU's nationally recognized placemaking efforts," said Scott Loveridge, SPDC's interim director. "The NCI coming to MSU provides the added benefit of being able to train the next generation of leaders in this field, as well as engage university students in real-world learning experiences."
The NCI program will evolve into a universal system for Collaboration by Design, bringing the power of charrettes and other tools to nontraditional audiences, such as agriculture, business and engineering. Importantly, this partnership will allow NCI at MSU to begin conducting research in the efficacy of Collaboration by Design in community planning, long an NCI goal.
The NCI Charrette System certificate program is a process for collaborative problem-solving and decision-making centered on a multiple-day charrette as the transformative design event. The System is a flexible three-phase framework that combines more than 20 process-based tools to ensure overall project success while avoiding the fatal flaws that can lead to post-charrette meltdown. This program will continue and grow through the reach of MSU Extension and MSU's international programs.
"The NCI is a perfect complement to the portfolio of services we offer to communities," said Jeff Dwyer, director of MSU Extension. "We have a 100-year history of helping communities thrive through strong fiscal management, healthy businesses environments and sustainable placemaking practices. The NCI goals blend well with both our new and existing programming."
Under this new partnership, NCI at MSU will launch the first online NCI certificate training opportunity in spring 2017, which is based on the NCI Charrette System certificate program. This online course will be available to people worldwide, in their own place on their own time.
After serving 15 years as NCI director, Lennertz will play an active role as a part-time member of the NCI faculty at MSU, and the NCI board of advisors. He will continue to teach the NCI certificate program. Wayne Beyea, an MSU senior specialist with MSU Extension and a faculty member with SPDC, will be the interim director during this transition period.
"The NCI founders and board chose MSU as NCI's new home, because of their capability to run trainings, conduct research, and extend our reach and connect with new markets both nationally and internationally," said Lennertz. "Most importantly, Wayne and the people at MSU Extension share our values and vision for the next NCI to serve more people with Collaboration by Design."
MSU Extension is committed to funding a permanent director. Dave Ivan, director of the MSU Extension institute that focuses on community and economic development, plans to begin a nationwide search soon with hopes of having a permanent director on board in fall 2017.
You can continue to find NCI online and learn more about the partnership at http://charretteinstitute.org/. The NCI at MSU can also be reached at their new phone number, (517) 884-0795.