Natural plant based lip balm: DIY!
Making your own plant based lotions, lip balms and body scrubs can be good for you, your pocket book and the environment.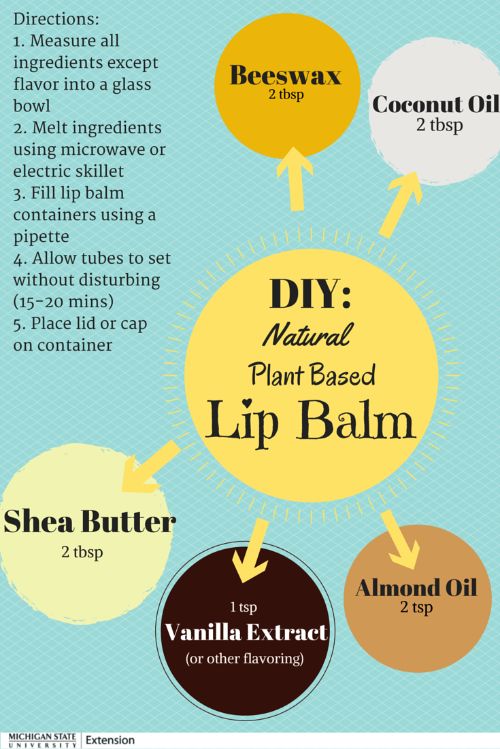 With the cold winter winds it seems like we all need a little extra pampering. The dry, cold air can dry out your skin and lips, but Michigan State University Extension has some suggestions on how to aid your skin.. To combat this there are shelves of moisturizing products at the supermarket and beauty stores. But what exactly is in that jar?
Getting back to the basics, just like eating more fresh fruits and vegetables is good for your health, using natural skin care products are good for you too. Plants have been used for centuries to moisturize and combat dry, itchy skin and almost everything that ails us. Plants help and heal us by eating them as well as using them topically.
Natural medicines made from herbs and other plants have been used for thousands of years. These cures were used for the rich and poor alike. The natural healer in a community was indispensable, mixing up potions and tonics. Every country in the world used its natural resources to cure their ailments and diseases. It was not until the 19th century when Louis Pasteur (1822-1895), a chemist and microbiologist from France, started the modern medicine revolution.
When using natural products with limited processing and chemicals are eliminated, we are also helping to sustain a cleaner environment. Less processing, packaging, and waste saves money and helps to eliminate harmful chemicals that could potentially go into our bodies through skin contact or contaminate our earth.
To get off to a simple start, you might want to whip up a batch of natural lip balm yourself! Follow these instructions from MSU Extension to create your very own natural lip balm.
Lip Balm
Ingredients:
2 tablespoons Beeswax
2 tablespoons Shea Butter
2 tablespoons Coconut Oil
2 teaspoons Almond Oil
1 teaspoon Vanilla or other flavoring such as pure mint or fruit flavoring oils (found in the candy making supplies aisle at the grocery store). When using oils and extracts be sure to use only a few drops because they are very concentrated.
You will need tins or plastic jars to put your lip balm in.
Directions:
Measure all ingredients except flavor into a glass bowl.
Melt ingredients using either a microwave or an electric skillet.
Once melted, fill your lip balm containers using a pipette.
Allow tubes to set without disturbing. This takes about 15‐20 minutes.
Place lid or cap on container. Lip balm is ready to use.
MSU Extension recommends adding a label with ingredients, especially if you plan on gifting the lip balm. This would also be a great idea to use at a big or little girls spa day party. Experiment and have fun tweaking the recipe so it is perfect for your lips!