New Online Tools for Aquatic Invasive Species Identification
Learn to identify and report invasive species using MISIN: the Midwest Invasive Species Information Network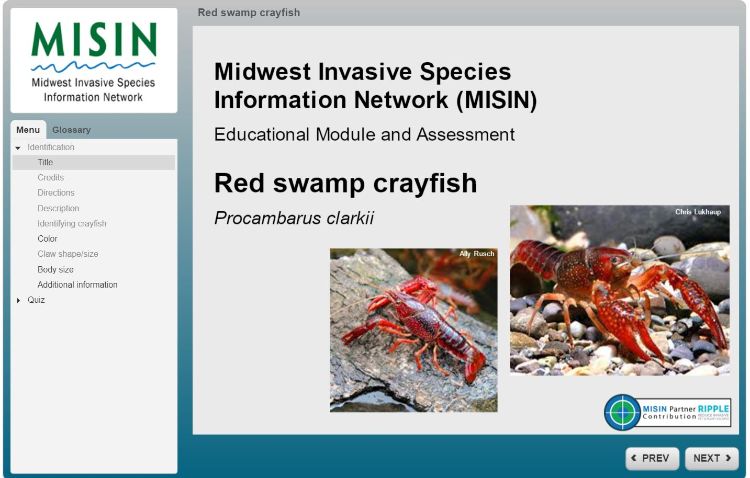 Close your eyes. Imagine you are on a boat. You have been fishing for some time with no luck when suddenly something tugs at your line. You swiftly reel it in to find yourself looking at a fish you have never seen before! You are unsure of what to do. Is this a native fish or an invasive species? Where can you find more information? If it is invasive, who should be notified? This scenario is not necessarily fictional. Many of the first discoveries of new invasive species in Michigan have been by anglers and boaters!
One of the best resources for learning to identify and report invasive species is the Midwest Invasive Species Information Network (MISIN). MISIN recently added twelve new training modules on prohibited and restricted aquatic plant and animal species that are unlawful to possess, introduce, import, sell or offer for sale as a live organism in Michigan, except under certain circumstances, due to their invasive potential. With the addition of these training modules, MISIN now features 78 online trainings on terrestrial and aquatic plants and animals.
New MISIN Identification Training Modules
Red swamp crayfish (Procambarus clarkii)
Rusty crayfish (Orconectes rusticus)
New Zealand mudsnail (Potamopyrgus antipodarum)
African oxygen weed (Lagarosiphon major)
Giant salvinia (Salvinia molesta)
Starry stonewort (Nitellopsis obtusa)
Bitterling (Rhodeus sericeus)
Ide (Leuciscus idus)
Rudd (Scardinius erythrophthalmus)
Stone moroko (Pseudorasbora parva)
Tench (Tinca tinca)
Wels catfish (Silurus glanis)
Learn to Identify Invasive Species
The MISIN identification training modules for each species take between 10 to 15 minutes to complete and include identifiable characteristics such as the size and shape of a plant or animal, notable physical features and its preferred habitat. Each module ends with a ten question self-assessment quiz. After completing a module you will feel confident enough to identify an invasive species in the wild.
These new modules were developed by the Reduce Invasive Pet and Plant Escapes (RIPPLE) program. A partnership between Michigan State University Extension and the State of Michigan, RIPPLE educates retailers and consumers with aquariums and water gardens about proper handling and disposal of plants and animals to prevent their introduction into the wild. MISIN training modules can be utilized by retailers to identify species that can be sold in trade. Sometimes aquarium and water garden owners that do not have space or time for their plants and animals and release them into the wild. Unfortunately, this can lead to the introduction of invasive species and disease.
Report Sightings of Invasive Species
Through MISIN you can also report occurences of over 200 invasive plant and animal species. Reporting species to MISIN also notifies authorities that are charged with the management and eradication of invasive species so they can take necessary action. From these reports, MISIN creates distribution maps that help researchers, land managers, and the public visualize the spread of invasive species across the Midwest. Utilizing these maps, managers can see where and how rapidly species are spreading and can develop and implement efficient control strategies for critical areas.
With a little practice, the next time you are face-to-face with an unfamiliar plant or animal, you will be prepared to identify and report it if necessary. MISIN is led by researchers with Michigan State University's Applied Spatial Ecology and Technical Services Laboratory along with many partners from around the region.