New Enviro-weather tool for corn and soybean growers
Editor's note: This article is from the archives of the MSU Crop Advisory Team Alerts. Check the label of any pesticide referenced to ensure your use is included.
A new tool on Enviro-weather (www.enviroweather.msu.edu) helps corn and soybean growers make decisions about irrigation. The "Water use estimates for corn and soybeans" tool is now available on the field crops page on Enviro-weather.

To use this tool, first select your local weather station then choose the water use estimates tool.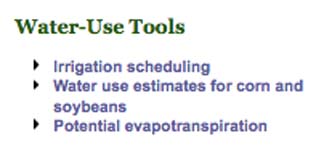 Enviro-weather generates a table showing temperature, rainfall and potential evapotranspiration for the crop.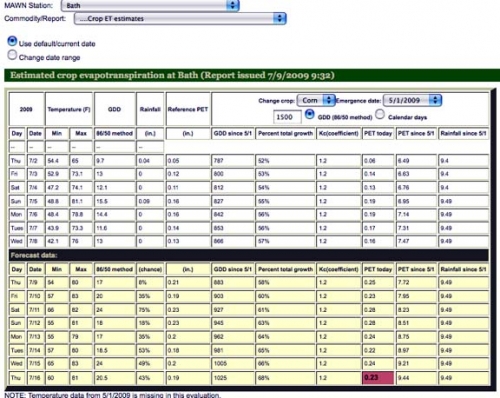 Forecast data (1 week) for these parameters is listed at the bottom of the table. Whenever cumulative potential evapotranspiration is higher than cumulative rainfall, the "PET today" box is shaded in red, indicating a net water deficit for the crop.
You can easily switch from corn to soybeans (or vice versa) with the pull down menu at the top of the pageand you can customize the table for your crop by setting the emergence date or the method of calculating maturity.




We hope you find this tool useful. For more information on how to use this tool with your specific crop, contact Lyndon Kelly at (269) 467-5511 (or email kelleyl@msu.edu) or Bruce MacKeller at (269) 467-5511 (or email mackella@msu.edu).

As always, I welcome any questions, comments or suggestions about this or any other tool on Enviro-weather, I can be contacted at (517) 432-6520 or bishopb@msu.edu.