No state oversight of planning, zoning; no central depository of plans and zoning ordinances
There is no state oversight of planning and zoning. There is no statewide library of all master plans and zoning ordinances. Thus, trying to find out who has zoning, and what it covers, and what type of regulations exist is very difficult.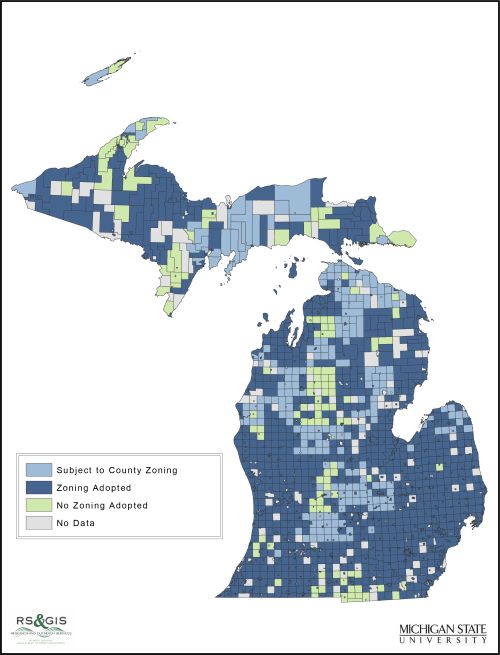 There is not any state oversight of planning and zoning in Michigan (other than through a lawsuit in Michigan's courts). There is not even any place that tracks which local governments have adopted plans, zoning ordinances and police power ordinances.
To further complicate things, having planning or planning and zoning in Michigan is optional. So there are some local governments that have chosen to have only planning (no zoning), some local governments that choose not to have planning or zoning and others that have adopted both. So, if someone wants to know which local governments have a part of their zoning ordinance that deals with a particular topic or problem, there is not any good way to know that. If one does not even have a good list of who has zoning, how would one then know what techniques or good examples exist in what communities?
Michigan State University's Institute for Public Policy and Social Research had conducted a survey of local governments in an attempt to determine who has adopted master plans and adopted zoning ordinances. That survey a Public Policy Brief "To Plan or Not to Plan," however, is from January 2004, and there were a number of local governments that did not respond to the survey, so the data is incomplete and out-of-date. (See also: To Plan or Not to Plan, Current Activity within Michigan's Local Governments) But it is the best data that exists. Maps showing the result of the survey are:
For zoning, this last map may be the most useful. That is because it shows areas of the state which has zoning in effect, if it is county or municipal (city, village or township) zoning, or if there is no zoning at all. Michigan requires zoning to be based on a plan (MCL 125.3203, and that "plan" is the part of the "master plan" (MCL 125.3803(g) and 125.3883(2)(d)). So one might want to make the assumption that if there is adopted zoning, then there is also an adopted master plan. However, in addition, there may be counties and municipalities that have adopted master plans even though they do not have zoning. Missaukee County would be such an example.
The issue of not having a good statewide data set about planning and zoning has often been a vexing one. Many times questions like those below are difficult to answer:
What is the average parcel size, or density, for residential zones?
What do other communities require for surface water setbacks?
Actually, questions like the last one, for an individual municipality, should be based on science using soil types, and other similar indicators to establish the appropriate water setback – not what other communities are doing. That same principle applies to many things – where it is not appropriate to just copy a neighboring community's zoning regulations or use a state-wide or region-wide average.
Recently, there has been a strong interest in local foods, and a desire to work on zoning which allows small farms in urban-like areas. This has received heightened attention with the Michigan Commission of Agriculture and Rural Development's recent changes to the Site Selection GAAMP for category 4 sites (urban-like) and how it influences the Right to Farm Act preemption of local government farm regulation. So, land use educators receive questions like "which local governments allow small farms in urban areas?" "Does that include livestock?" "What governments try to ban such land uses?" No one really knows when a statewide database is lacking.
Michigan State University Extension educators that specialize in land use try to stay knowledgeable of details in county and municipal plans and zoning ordinances. Each land use educator in MSU Extension has a basic service area. For the "basics" in land use, each educator is your best first contact for that part of the state. Because the educator works with communities in that part of the state, they are more likely to have a feel and antidotal knowledge of who has planning, zoning and some information on what types of zoning exists in that part of the state. How much they know will depend on how long the educator has been working in that area and the level of relationships that exist with local governments. Each land use educator also specializes in some more detailed aspect of planning and zoning. For those topics, they work statewide, but may lack the local knowledge outside of their service area. You can find a map of those service areas and which educator works in that area at the MSU Extension Land Use Services web site (scroll to the bottom of the web page).
For an antidotal response to questions about what local governments are doing with local foods and urban agriculture, see the MSU Extension news article New Right to Farm Site Selection GAAMPs needs local government attention. In addition, MSU Extension educators have received numerous requests from professional planners and municipal attorneys on this topic.
Another source for planning and zoning content is private consulting planners. They work with many municipalities and counties in Michigan. A planning consulting firm will have the collective knowledge of plans and zoning from their clients. Depending on the firm, they may be focused within a region of the state, a distribution throughout a larger geography in Michigan, or both. Many times the consulting planners will be closer to the source and have a stronger handle on characteristics of zoning than MSU Extension educators.
Finally, a county planning department may have a complete library of municipal and county plans and zoning ordinances within the respective county. The process of adopting a master plan requires the county planning commission receive and review draft plans, and requires the county planning commission receive the final adopted master plan. When there is a staffed county planning department those plans are often retained for reference. The Michigan Planning Enabling Act requires municipalities to provide a current copy of adopted zoning (and to keep that copy up-to-date) to the county planning department, if the county planning commission requests (MCL 125.3869). For those counties, which have a planning department and made such a request, there would be a single source of zoning ordinances also.
---