Northeast Michigan field crop regional report – June 4, 2015
Planting nears completion across northeast Michigan.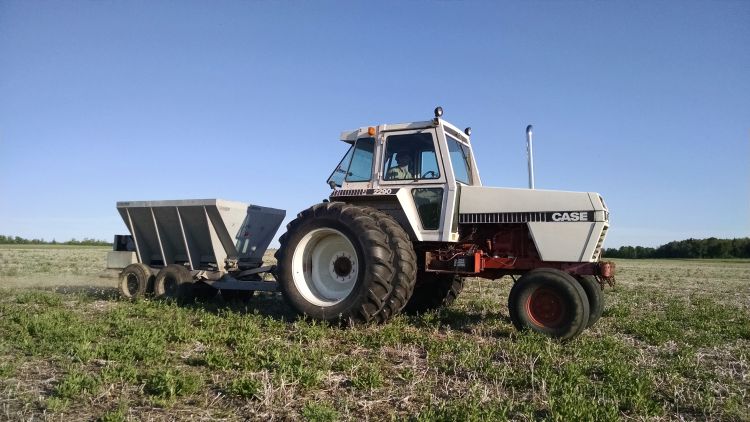 Weather and rainfall
Soils have dried quickly across northeast Michigan following last week's significant rainfall. Conditions have been nearly ideal for most of this week, and growers have taken advantage of this opportunity to continue with planting and pesticide application. A system of low pressure will move into our area today, June 4, but it is starved of moisture and will likely produce less than 0.2 inches of rain, if any at all. A second front is approaching from the southwest and forecast to reach Michigan the evening of Sunday, June 7, including better chances for precipitation amounting to 0.5-0.75 inches before the skies clear late next Monday. The six- to 10- and eight- to 14-day outlooks from NOAA suggest our region will experience near to slightly below normal rainfall in coming weeks.
Growing degree days (GDD)
Daytime high temperatures over the last seven days have ranged from 56 to 81 degrees Fahrenheit, with nighttime lows of 34 to 58 F. GDD accumulations since March 1 total 1,209 base 32 F, 692 base 41 and 351 base 50. Most of northeast Michigan remains approximately three days to one calendar week ahead of the 30-year average for GDD accumulation at this point in the season. Temperatures are expected to decrease slightly as we move into the coming weekend. Highs will be in the upper 60s through Monday, June 8, before trending slightly upward into the mid-70s by Wednesday, June 10. The 30-day outlook for the month of June is calling for relatively warm and dry conditions, which will be welcome given this does not lead the state toward an early summer drought.
Commodity reports
Most winter wheat in northeast Michigan has the last leaf, known as the flag leaf, visible at the top of the plant (Feekes stage 8-9). As the upper-most leaf on the plant, closest to the sun and the developing wheat head, the flag leaf plays a very important role in grain fill. As much as 70 percent of the carbohydrate stored in wheat grain is synthesized by the flag leaf. Damage to the flag leaf caused by diseases, insects or delayed fertilizer and herbicide applications can result in yield loss of five to 15 bushels per acre.
Fortunately, no true armyworm moths have been trapped at our monitoring site in Presque Isle County over the last week and numbers have been well below threshold statewide, suggesting insecticide treatments for this pest should not be necessary. Some growers are making last minute herbicide applications. Feekes stage 8 is the cutoff point for herbicide in wheat, as later applications have the potential to damage flag leaves and weed competition has already taken its toll on the crop.
Producers with unidentified wheat issues can contact the Presque Isle County Extension office for information on free diagnostic testing through a partnership between MSU and the Michigan Wheat Program. Producers can also read the article, "Collecting and submitting wheat samples," from Michigan State University Extension for more information.
First cutting alfalfa harvest is beginning in our region. Plants are 18 to 23 inches tall in the early bud stage of growth. Neutral detergent fiber (NDF) concentrations are in the range of 30-35 percent. Dairy producers are often the first to begin alfalfa harvest each year in an effort to maximize forage quality. Some of this early cut forage may be fed green or processed as haylage. It will be interesting to see how the frost events we experienced this spring affect first cutting yields. Harvest of mixed and grass hay will likely begin in the next week. Producers feeding beef cattle, horses and other non-dairy stock often prefer to maximize yield and the expense of some forage quality by delaying harvest slightly. We have accumulated approximately 692 base 41 GDDs and are forecast to reach 750 by next Monday, June 8. Orchardgrass and Kentucky bluegrass are headed and will flower soon.
Most of the corn crop in northeast Michigan has emerged and ranges in development from spiking to three true leaves (VE-V3). Emergence appears to be uniform in most fields, but the young plants are generally light in color with some leaf tips browned by frost. The lack of green color is likely the result of cool nighttime temperatures limiting root growth and nutrient uptake. Crop condition and development should improve quickly as average temperatures increase moving into June. Black cutworm numbers appear to be low overall this season, but larvae have been collected in our area. Growers should consider scouting their fields to look for wilted or cut plants and cutworm larvae.
Reports of crop damage caused by sandhill cranes and geese have been received in our office. These bird species can pull up young seedlings to access the seed itself and sometimes leave clipped plants behind, mimicking cutworm damage. Most migratory birds are protected under the Migratory Bird Treaty Act (MBTA), including Canada geese and sandhill cranes. Under the MBTA, the U.S. Fish & Wildlife Service has the authority to issue depredation permits to control damage caused by migratory birds using lethal means. While Canada geese are considered a migratory bird and protected under the MBTA, permits for their removal should be obtained through your local DNR office. No permit is required merely to scare or herd these depredating migratory birds. Information on non-lethal harassment techniques can be obtained from USDA Wildlife Services.
Soybean planting is nearly complete across our region. Most earlier-planted stands have emerged and range in development from just cracking through to fully unrolled unifoliate leaves (VE-VC). A number of fields were exposed to frost and standing water over the last two weeks. Soybeans are surprisingly resilient under cool conditions, and leaf injury or death does not guarantee plant death or yield loss. However, a few acres in our region may require replanting. Planting of lower fields with heavier soils has been delayed slightly by recent wet weather. For soybean acres yet to be planted, growers should be safe to plant a full-season bean through the first week of June. If planting is delayed until the second week of June, producers should consider planting a maturity group 0.5 or 1.0 unit shorter than normal.
Recent wet weather temporarily stalled potato planting in our region, but growers were back in the field early this week to finish the job. Those that started early this season are nearly finished now, while growers with less potato acreage are perhaps 40-50 percent planted. Shoots are emerging in some of the earliest planted fields. Our Presque Isle County potato variety trial was planted Wednesday, June 3, under nearly ideal conditions. This trial includes thirty russet, red, yellow and white table stock varieties. Of particular interest are four specialty "creamer" potato varieties from the Little Potato Company bred and managed to produce many small tubers averaging 1.5-2 inches in diameter.
Growers have begun to prepare ground for dry bean planting in northeast Michigan. This has consisted of burndown and pre-emergent herbicide applications that will be followed by tillage in most cases.