Northwest Michigan fruit update – Aug. 25, 2020
Brown marmorated stink bugs were detected adjacent to an apple block at the Northwest Michigan Horticulture Research Center.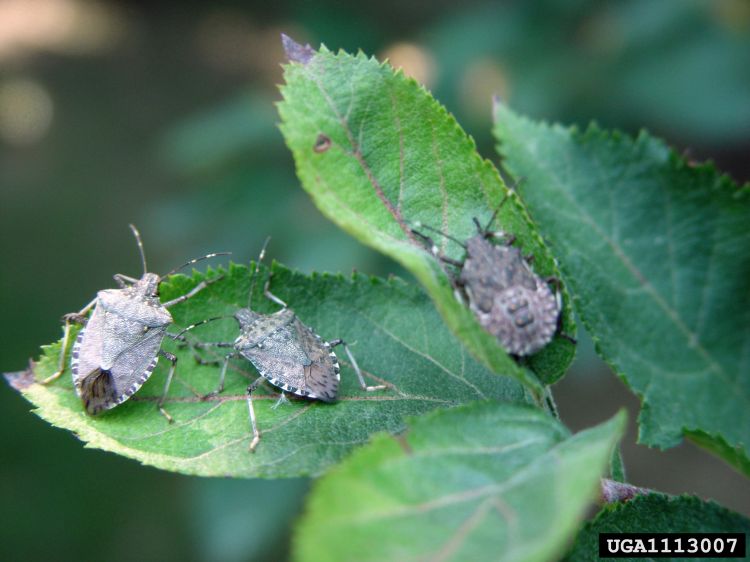 Weather and crop update
Michigan continues to be ahead of normal in terms of degree day accumulations. The Northwest Michigan Horticulture Research Center's growing degree day (GDD) calculations indicate that we are ahead of our 30-year average with 2,870 GDD base 42 and 1,954 GDD 50 currently compared with 2,851 GDD 42 and 1,867 GDD 50.
As a result of wildfires in the western United States, there is a smoky haze in the atmosphere. The region has not received significant rainfall for roughly two weeks and conditions continue to be dry. However, there is a good chance for rain tomorrow, Aug. 26, and Friday, Aug. 28, according to MSU climatologist Jeff Andresen.
The 6-10 day forecast is calling for cooler and wetter conditions to kickoff of the month of September, and the 1-3 month forecast is calling for a warm fall season. Review Andresen's weather report.
Growing degree days (GDDs) through Aug. 24, 2020

Year

2020

2019

2018

2017

2016

2015

30 Yr. Avg.

GDD42

2870

2583

3062

2802

3037

2624

2851.1

GDD50

1954

1664

2114

1795

2043

1851

1866.9
Peach harvest is underway, and quality and flavor has been excellent this season. Growers are looking to begin harvesting early apple varieties like GingerGold soon. We will begin publishing apple maturity reports next week.
Pest update
Brown marmorated stink bug nymphs were detected in a trap at the Northwest Michigan Horticulture Research Center on Monday, Aug. 24. The trap was placed along a wooded edge adjacent to a block of Gala and Honeycrisp apples. A total of five nymphs were trapped and this is the first detection of this pest in a trap placed near an orchard in northwest Michigan. Brown marmorated stink bugs have been observed in the region in years past; however, previous detections have been in residential areas, home gardens and on ornamentals and wild hosts in the area.
At this time, trap numbers are below the treatment threshold, i.e., 10 brown marmorated stink bugs (nymphs or adults) accumulated in a pyramid trap. We hypothesize that overall populations are likely low in the northern region, and we will continue to monitor traps in commercial orchards this week. We will report our observations if additional brown marmorated stink bugs are found.
Previous observations of brown marmorated stink bug in southerly regions of the state suggest that lighter skin apple varieties tend to be preferred, especially when populations are low. In high population situations, feeding can occur on any variety. Furthermore, unripe apples are less attractive compared with ripe apples. It is also important to note that apples are not the only at-risk crop for damage; other high-risk fruits include peaches, nectarines, pears and grapes (with regard to taint/contamination). Apricots, plum and cherries are generally considered moderate risk; stone fruits that have already been harvested at this time at not currently at risk as direct feeding damage to the fruit is the most significant concern. There are also many susceptible vegetables, field crops and ornamentals impacted by brown marmorated stink bug feeding.
Monitoring using pyramid traps is suggested for growers that are concerned with this pest. Pyramid traps baited with pheromone placed along the perimeter of the orchard can intercept the bugs as they move from outside of the orchard to the orchard edge. Observations suggest that damage tends to be most significant along orchard edges. Beat sheet sampling can also be done in the orchard, but there is no established treatment threshold for this strategy at this time. This pest is fairly elusive and can be difficult to detect when populations are low. It is not uncommon to find feeding injury without actually seeing the bugs because the injury may not appear until a week or longer after it occurred. Hence, by the time damage is observed, the pest has often moved on from the location where damage occurred.
Codling moth flight has continued with low and declining catches at the station. According to degree day accumulations, we are still around the timing for peak egglaying and hatch to be occurring. With recent dry conditions, growers have wondered about sufficient residues for larvae. In low pressure situations, growers may be able to stretch coverage a couple of days. However, in high pressure orchards, it is best to keep to a usual interval to prevent larvae from entering fruit. Keep in mind that the much needed predicted rainy weather ahead could wash residues off. The fruit team has discussed that southern Michigan is on track for a partial third generation of codling moth, especially if the warm fall that is forecasted occurs.
San Jose scale crawler activity is ongoing and we are starting to see crawlers settling on fruit. Red halos are showing up around the crawlers that have settled. There is a healthy population of this pest in apples, pears and sweet cherries at the station. Fruit damage is a primary concern in apples and pears, whereas in sweet cherries the concern is damage to woody tissues. A projected warm fall ahead could be good conditions for this pest to build populations.
Warm and dry conditions continue to be favorable for mite development and growers continue to report mixed results with management programs. The station apples have received minimal management for mites this season and there is a tremendous population on leaves and fruit. As harvest time approaches, be careful to watch preharvest intervals if miticide applications are still needed.
With little to no rain, apple maggot numbers were consistently low this year at the station. No maggots were found this week on traps. We received an isolated report of suspected stings on fruit along orchard edges in hot spots. As noted in our last report, it may be helpful to review the Michigan State University Extension article, "Look alike late season apple damage by bitter pit, brown marmorated stink bugs, or apple maggot."