Northwest Michigan fruit update – May 18, 2021
This warm weather is accelerating crop development; tart cherries are at early petal fall and apples are at 60% bloom at the Northwest Michigan Horticulture Research Center.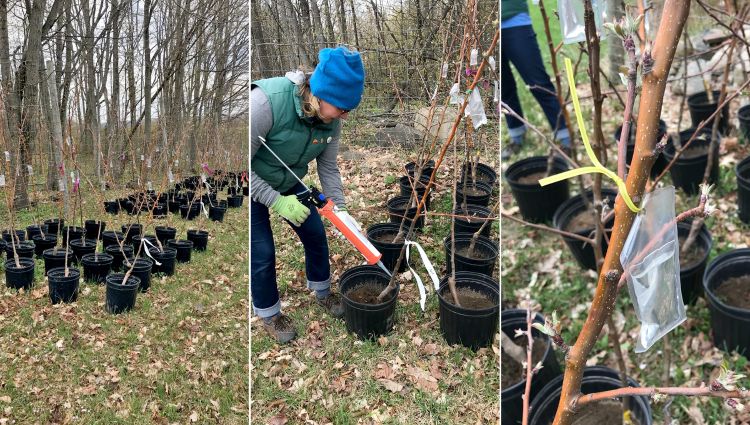 Weather report
The weather has switched from cool spring conditions to downright summer-like. This abrupt change has really moved crop development along, and we are likely to blow through the remainder of cherry bloom and the start of apple bloom very quickly. However, this warm weather and sunshine will be excellent for bee activity. Be sure to cover new tissue as the warm weather will accelerate plant growth.
The warm weather is expected to last through the week and into the weekend. These temperatures are 20 degrees Fahrenheit above the normal temperatures for this time in May. The warm conditions will also increase our growing degree day (GDD) accumulations quickly. We started the season three to four weeks ahead of normal, but then we had multiple weeks of cold and windy conditions, and our GDD totals sit almost spot on with our 31-year average. So far in 2021, we have accumulated 416 GDD base 42 and 176 GDD base 50. The 31-year average at the Northwest Michigan Horticulture Research Center is 393.5 GDD base 42 and 182.4 GDD base 50.
Other than the change in temperature this week, the state has been particularly dry. The U.S. Drought Monitor has declared almost all of Michigan as a moderate drought risk at this time. We have received more rain in northwest Michigan compared to other parts of the state, but we are still dry across the region. We have also seen some variable rainfall across the region, and we have up to 3 inches of rain differential from one Michigan State University Enviroweather station to another.
There is also little rain in the forecast. There is potential for rain on Sunday, May 23, but even if it does produce some rain, the prediction is less than 0.25 inches of total rainfall. There is moist air coming up from the Gulf of Mexico, but it will not produce substantial rainfall for the state. We will continue to be dry this week and likely into next week. Thus far, 2021 has been one of the driest years on record.
View MSU state climatologist Jeff Andresen's weekly report.
Crop report
The change in weather will result in increased crop development. Most apples are in some stage of bloom across the region, and with the warm conditions, bee activity and resulting pollination will be excellent. We have had some reports of king blossom death as a result of the past cold weather, but most kings on our Gala and Honeycrisp at the Northwest Michigan Horticulture Research Center look healthy as they are opening. Our honey bees are busy in our apple blocks at the station.
Tart cherries are in early petal fall at the station, but likely orchards to the north with open bloom are benefitting from this weather. By next week, we will have a better feel for the crop size for tart cherries in the region. We have had reports of damage from the cold weather, and some orchards that bloomed earlier may not have had optimal pollination weather. The verdict is still out on the crop at this time. Sweet cherries are in late petal fall, and we did not have very good pollination weather during sweet cherry bloom. We will also know more as sweets come out of the shuck in the next few days.
One of the concerns for growers now is moisture. We have had little rainfall in the past month, and there is little rain in the forecast. If blocks have irrigation, growers are busy getting their systems up and running. Soils are shockingly dry when we were planting a new apple block at the Northwest Michigan Horticulture Research Center last week. The last significant rainfall at the Northwest Michigan Horticulture Research Center was on May 4, and we only received less than 0.25 inches at that time.
Pest report
With the recent dry weather, there have been no new disease infection periods for apple scab or leaf spot. We have had some trace amounts of rainfall that registered on the Northwest Michigan Horticulture Research Center Enviroweather site on May 7 and 16, but neither event triggered an infection period for apple scab or cherry leaf spot. There is some rain in the forecast potentially on Sunday, May 23, and growers should be covered up for this event as there will be a lot of new tree growth with the warm conditions for the remainder of the week.
Just as a reminder, the About the Model tab on Enviroweather provides a table that describes the approximate wetting period required for primary apple scab infection at various air temperatures. This table is a quick reference for growers that are interested in calculating the risk or chance of predicted weather to result in an apple scab infection period.
In addition to Enviroweather, we are modeling the apple scab model through RIMpro. These models are available for various fruit growing areas including one for Romeo, Michigan; the Southwest Michigan Research and Extension Center in Benton Harbor, Michigan; four locations on the Ridge; one in Hart, Michigan; and three locations in northwest Michigan. For the northwest region, the model output links for Benzonia, East Leland and Williamsburg are below. Each of these outputs is linked to the Enviroweather stations in those locations so the outputs and forecasts should be consistent across both services. The outputs change as forecasts change, so be sure to check the outputs frequently to best assist management decisions.
As we mentioned in last week's report and on our weekly IPM Update webinar, the cherry leaf spot model has also been updated on the Enviroweather website based on recent data that shows that bract leaves can become infected with the pathogen once they have expanded. The old model was not initiated until after bloom, but now the model begins when bract leaves are open.
However, with no recent rains, there have been no leaf spot infection event since May 2. The switch from cold to warm weather almost eliminates the chance for European brown rot, and growers will not need to make applications to control this disease that is favored by cold and wet conditions at bloom.
The increase in temperature will increase insect activity. However, we still found very few insects in the trap line this week. We did catch more insects this week compared to last week. In cherry, we caught an average of 1.7 green fruitworm moths and five American plum borers. In apples, we are starting to catch oriental fruit moth, and spotted tentiform leaf minor jumped up from 80 last week to almost 600 this week. We also caught two black stem borers at the Northwest Michigan Horticulture Research Center this week.
Growers that have had issues with black stem borer should be monitoring for that pest at this time. These beetles were active prior to the cold snap, then we saw activity decline with the cool weather. However, now with the warm temperatures in the forecast, this pest will become active again.
This pest is particularly difficult to control as insecticides only work against the adults as they are flying in the spring. We recommend treating the adults when they reach peak flight. However, in northern Michigan, black stem borer do not seem to have a distinctive peak but emerge for many weeks throughout the spring, which makes targeting trunk application timing challenging. Peak timing for black stem borer in southwest Michigan is mid- to late May, and if growers are not trapping for this pest, that is a good estimate of the time to begin insecticide applications. If growers miss the timing for controlling the adults, females bore into the trees to lay her brood and insecticide applications cannot penetrate the trees to provide control.
We have conducted many efficacy trials on black stem borer with varying results. We have another trial testing new repellents set up at the Northwest Michigan Horticulture Research Center this year. However, past results from MSU entomologist Larry Gut's work has shown that Warrior (lambda-cyhalothrin) had fewer entry holes compared to Mustang Maxx (zeta-cypermethrin), but the data were not significantly different.
The best way to reduce damage from black stem borer is to minimize tree stress. Beetles hone in on ethanol that is emitted from trees that are undergoing some type of stress, often drought or excess water. The current weather forecast is concerning as there is little rain predicted, and trees could become drought stressed if a block does not have irrigation. If growers find that trees are infested, removing and burning those infested trees is recommended.
Plum curculio is another insect of concern as cherries are starting to come out of the shuck. Female beetles will quickly become active and move into the orchard to look for fruit to lay their eggs. With the warming weather and fruits are coming out of the shuck, be prepared to take action against this pest, especially where the beetles have been problematic in the past.
As with black stem borer, insecticides target adult plum curculio, and most compounds labeled for plum curculio are contact poisons and should be timed for shuck split before peak oviposition. Avaunt eVo (ingestion and contact efficacy) is a good material to use early as this material needs to be ingested for best control; adults are feeding on flower parts early in the season, so using an Avaunt at this time is a good recommendation. Actara and Assail, and premixes containing these actives, are also good against plum curculio. Watch premixes for adequate active ingredients (AI) for plum curculio control.
Imidan is also a good material for plum curculio, but with 2.25-pound season limit on Imidan, we recommend targeting late season plum curculio/early season spotted wing Drosophila. Imidan is the best material we have for spotted wing Drosophila control, so save it for SWD and use other materials that are rated excellent for plum curculio, such as those listed above.