Northwest Michigan fruit update – May 24, 2022
With the recent hot weather, we blew through sweet cherry bloom, and many farms are in tart cherry bloom or at early petal fall; apples are also opening but will slow with the cooler temperatures in the forecast.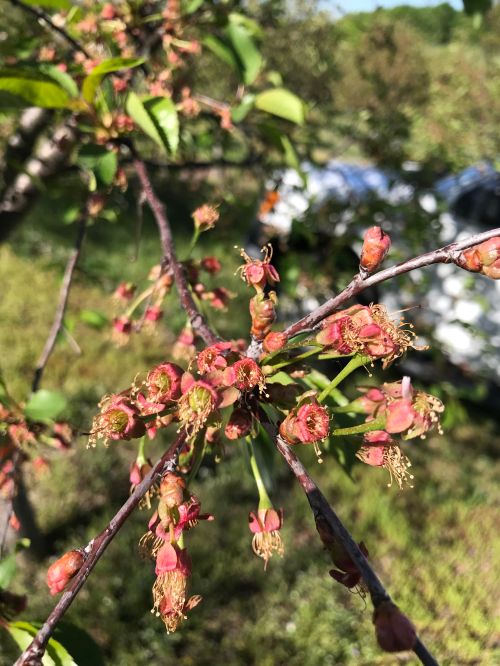 Weather report
This morning started out chilly, and there were some isolated areas of frost today, May 24. This is hopefully the last night/morning for frost in the forecast. In addition to the cooler night time temperatures, daytime highs have reached into the mid to high 50s. We had sunny conditions, but overall temperatures have been cooler than normal in the northern part of the state. Further south, their daytime temperatures were higher than normal—almost a split down the middle of the state where temperatures were cool to the north and warm to the south.
Today will be cool and sunny but may feel cooler with the eastern breeze; clouds will increase throughout the day. There is a slow westerly front coming tonight and into tomorrow that will bring rain for the next few days; best chance of rain is in the southern part of the state, but rain could last for a few days with a wet day predicted on Thursday, May 26. The region is extremely dry, and we could use a good soaking rain. The six-to-10-day forecast is predicting wetter and warmer conditions for Michigan.
The summer 2022 forecasts are also predicted to be warmer and wetter. At the Northwest Michigan Horticulture Research Center (NWMHRC), we have accumulated 484 growing degree days (GDD) base 42 and 256 GDD base 50; these accumulations are almost spot on with our 32-year average of 484.7 GDD base 42 and 232.2 GDD base 50.
We had some wild storms move through the area on May 20, but most of the northern fruit regions were spared from hail and wind. However, we did hear reports of hail in the Empire area. The most notable weather event was the tornado that impacted Gaylord. According to MSU state climatologist Jeff Andresen, we have not seen winds that high in Michigan in a long time; winds reached 150 mph and the tornado was on the ground for 20 minutes. Overall, we received some rainfall throughout the region on May 20; the NWMHRC Enviroweather state recorded about 0.55 inches of rain on Friday.
Crop report
After the hot weather and the fast development of crops, the cooler weather has slowed everything down again. We are in the shuck in tart cherry, and at shuck split in sweet cherries. We are at petal fall in Gala and Honeycrisp. Many growers have been using Apogee to slow growth in apple as this minimizes the potential for shoot blight but also is helpful to reduce new vegetative growth that can impact shading/coloring fruit and pruning efforts. These applications should begin at king bloom petal fall—see "Applying multiple Apogee applications in apples" from Michigan State University Extension for more information.
Pest update
With the recent cooler weather, insect activity has slowed again. Again, as noted last week, the note from the southwest Michigan fruit team is that plum curculio have been extremely active already this season. This pest prefers warm and humid nights, and if it warms with the coming rains, we could see a lot of activity in our area. We have heard of reports of plum curculio stings in apricots that are out of the shuck. Sweet cherries are coming out of the shuck and should be protected if the weather warms and humidity increases.
Green fruitworm. We caught an average of 6 moths per trap this week. Many growers consider this pest minor, but they can cause some feeding damage in cherry orchards.
San Jose scale. We caught our first male San Jose scale last week, and we trapped no males this week.
American plum borer. We caught an average of 6.3 American plum borer moths this week, which is our first catch of this pest this season.
Black stem borer. We have been trapping for black stem borer at the station this season, and again, our first catch of this insect this season on Monday, May 16. We caught an average of less than one beetles this week. If you had problems controlling black stem borer in the past, target control materials at peak male flight. This flight has only just begun; watch numbers and their rise to target your first black stem borer applications.
Oriental fruit moth. We caught an average of 1.7 oriental fruit moth in our traps at the NWMHRC.
Disease update
Cherry leaf spot. Growers need to be protecting new open leaves in cherry. Again, this rainfall could trigger a large ascospore release into the canopy, and the fungus can infect through the open stomata. Growers should be rotating chemistries, and captan in an excellent material for leaf spot control. Do not solely on chlorothalonil products as there is preliminary evidence that this chemical is not provided thorough control of this disease. We are currently running multiple trials to determine chlorothalonil's effectiveness to control leaf spot.
Additionally, growers can only use chlorothalonil through the shuck split timing unless they use the Bravo Weather Stik special label that is good through 12-31-2023. The rate is 3.125 to 4.125 pt per acre with a 21-day PHI and a 20.5 pint seasonal limit. This label is good for tart cherry, and these fruits must be processed. Growers must complete the MDARD training program specific for this special registration and have the MDARD signed completion form in hand during application.
Apple scab. Growers need to be prepared for the upcoming rain events that could potentially last three days (May 25-27). There is potential for a big spore release as many spores have matured and are waiting for rain to move them into new tissue of the tree canopy. The RIMpro model shows high risk for a scab infection with the pending rain this week (Figure 1).
RIMpro links: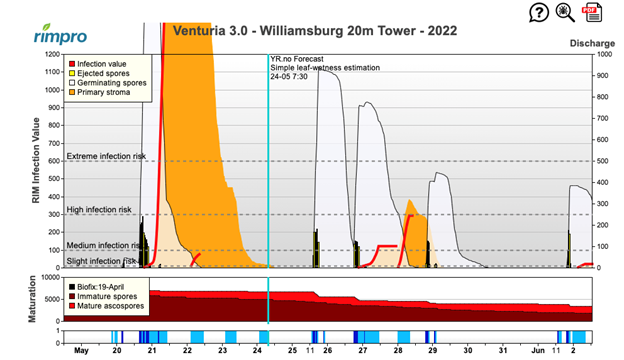 Fire blight. Apples are at petal fall at the NWMHRC, and the cooler weather, the EIP for fire blight is still quite low (Figure 1). The EIP increases on May 30 to over 111. There are reports of blossom blight symptoms starting to show up in the southern part of the state. "Applying Apogee and Actigard to young apple trees" from MSU Extension is an excellent reminder on using Actigard and Apogee to minimize shoot blight in young apples.