Northwest Michigan fruit update – June 6, 2017
Growers are thinning and protecting sizing fruit from insects as temperatures warm.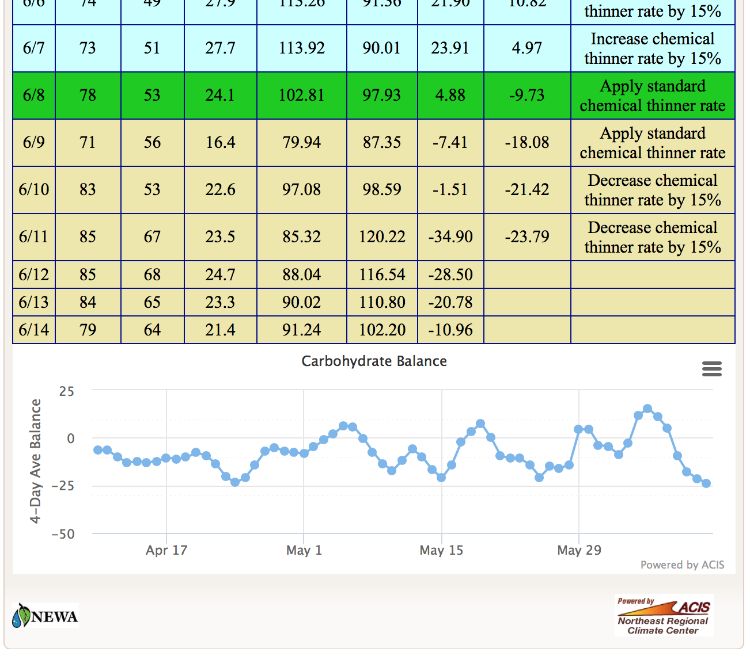 Weather report
Daytime temperatures remained relatively cool last week until the weekend when temperatures rose into the 70 and 80 degrees Fahrenheit range—these temperatures really made it feel like summer was on its way. So far this season, we have accumulated 721 growing degree-days (GDD) base 42 and 354 GDD base 50, and these accumulations are almost spot-on with our long-term averages.
The region received some much-needed rainfall in the past week. On May 28, the Michigan State University Northwest Michigan Horticulture Research Center Enviroweather station recorded 0.68 inch of rainfall.
The cool temperatures on Memorial Day, May 29, and early last week were coupled with dreary conditions that amounted to very little rainfall throughout the region. The next big rainfall came on June 3 and the Northwest Michigan Horticulture Research Center station recorded just over 0.5 inch of rainfall.
This rainfall event also had high winds and stormy conditions. We had few reports of hail with that event and no reports of damage to fruit trees. We also have reports of hail with the rain events over the Memorial Day weekend, but no damage reports.
GDD accumulations as of June 5, 2017 at the Northwest Michigan Horticulture Research Center

Year

2017

2016

2015

2014

2013

2012

27 Yr. Avg.

GDD42

721

782

728

640

674

1028

727.9

GDD50

354

425

386

342

382

563

377.9
Growth stages as of June 6, 2017
Bartlett Pear – 13 millimeter fruit
Potomac Pear – 13 millimeter fruit
Mac – 10 millimeter fruit
Gala – 10 millimeter fruit
Red Delicious – 9 millimeter fruit
HoneyCrisp – 11 millimeter fruit
Montmorency – 10 millimeter fruit
Balaton – 10 millimeter fruit
Hedelfingen – 12 millimeter fruit
Gold – 11 millimeter fruit
Napoleon – 13 millimeter fruit
Riesling – 4 – 8 inch shoots
Crop report
Fruit is sizing well, and the recent warm temperatures have hastened this process. The fruit has sized 2-6 millimeters over the past week. Growers are concentrating management efforts for pests that attack developing fruitlets and warm weather will likely increase insect activity, which has been low this season with the cool temperatures.
With the cool temperatures earlier this season, we may struggle to obtain good results with our plant growth regulators (PGRs) this season. To this end, we are currently working on multiple experiments to incorporate more PGR use in cherry systems in northern Michigan. We have an Apogee trial in sweet cherries underway and we are working with ReTain in tart cherries.
We also just began a demonstration-type trial to determine if we can remove excess fruit from small tart cherry trees with ethephon applications. We have received many calls and concerns from growers where young non-bearing tart cherries are setting too much fruit for their age. This situation seems to happening more often in the last three years and it has many impacts on these systems.
First, trees that set fruit and potentially overbear in the early years reduce tree growth and even have the potential to runt out. Secondly, trees that bear early are less likely to fill their space properly. Lastly, growers typically do not manage for insects that feed on fruits in these young orchards, particularly spotted wing Drosophila (SWD).
However, if young trees set a significant crop, these fruits could become a breeding ground for SWD and put undue pressure on adjacent blocks that will be harvested. We hypothesize cool temperatures at the time of ProGibb applications may reduce the effectiveness of this PGR and, as a result, young trees may have increased fruit set.
Winter stress and some have hypothesized that hail have also stressed young trees, which may increase the potential for young trees to set fruit. To address this issue, we are conducting a trial to determine how different timings and rates of ethephon applied to young tart cherries will remove fruit from these young trees.
This cool spring may have also influenced thinning efforts. Some growers are currently ramping up their next thinning application, particularly as most cultivars are at the optimal thinning time of 10-12 millimeters at the center. The forecast is predicting warm daytime temperatures, and these temperatures will increase thinning activity. However, the carbohydrate thinning model shows that the center will have no stress, and the model recommends increasing thinning rates by 15 percent. We have been using precision orchard management tactics to help drive our thinning activities at the center and this strategy has been working effectively.
Pest report
There have been several wet days in the last two weeks, and MSU Enviroweather reported long disease infection periods throughout the region that resulted in moderate and heavy cherry leaf spot and apple scab infections. We have received isolated reports of cherry leaf spot lesions showing up likely from the May 22–25 rain events. Growers will need to be diligent with leaf spot management moving forward into the season, particularly in orchards that already have conidial growth on the leaves to prevent the spread of infection. Fortunately the coming week is forecasted to be dry, which will be a welcomed break from disease pressure.
Primary apple scab is ongoing, and although spore catches have been low, MSU Extension encourages growers to continue management programs. Primary apple scab is also ongoing in the Fruit Ridge area and the end of primary in northwest Michigan typically follows behind the Ridge. Recent wet conditions have resulted in several infection periods and apple scab lesions are appearing on leaves likely as a result of long periods of wet weather from May 22–26.
Many areas had tag bloom open over the weekend, and growers with orchards in bloom sprayed for fire blight in advance of the weekend rains and stormy conditions. Reports of fire blight symptoms are low so far this season. We are working with MSU Department of Plant, Soil and Microbial Sciences professor George Sundin's lab to continue monitoring for resistance, and we ask growers and consultants to contact the Northwest Michigan Horticulture Research Center at put email here if fire blight-infected shoots and ooze are present. We can collect samples and send them to the Sundin lab to test for fire blight resistance to streptomycin.
We have had two consecutive weeks of codling moth catches at the center and have set our biofix for 31 May (Table 1). Conditions were cooler and windy prior to May 31, which could have delayed the detection of this pest at the center. However, codling moth were detected in traps as early as three weeks ago in some areas, which could have resulted in an earlier biofix for those farms.
Table 1. Northwest Michigan Horticulture Research Center insect trapline data, 2017.

Cherry

25-Apr

2-May

9-May

16-May

23-May

30-May

6-Jun

Green fruitworm

14

1

6

2

14

0

0

American plum borer

2

5

14

1

Lesser peachtree borer

2

9

Apple

25-Apr

2-May

9-May

16-May

23-May

30-May

6-Jun

Oriental fruit moth

0

0

0

0

0

0

0

Spotted tentiform leafminer

52

18

33

9

Codling moth

0

1

2

San Jose scale

1

0

19
Overall, codling moth numbers have been low, particularly in blocks with mating disruption. As a reminder, a cumulative catch of five or more moths in a block is the treatment threshold. Treatment targeting eggs should be applied 100 GDD base 50 after biofix, and treatment targeting larvae should be applied at 250 GDD base 50, which corresponds with codling moth egg hatch.
Growers concerned with San Jose scale began petal fall timed sprays of systemic insecticides last week. The center saw a jump in male flight this week with an average of 19 male San Jose scales per trap. Managing scale crawlers is also an option, but timing management for this life stage of scale is challenging because the crawlers are hard to see or trap.
A rule of thumb has been to take management actions to target crawlers approximately two weeks after peak male crawlers. We will continue to monitor male flight to estimate peak flight.
Spotted wing Drosophila (SWD) have been detected in the region—please see Table 2 for more information. The first catch was from wild hosts adjacent to tart cherry blocks. However, we did catch SWD flies in commercial orchards last week. We caught only two flies: one male and one female.
We remind growers that fruit is not susceptible to SWD egglaying at this time. Growers should not be making applications for SWD, but concentrating efforts on other insect pests, particularly plum curculio. We have reports of plum curculio stings in cherries, but overall the populations still seem low.
Growers should be diligent with warming temperatures as plum curculio become more active when overnight temperatures are warm and after rainfall events—activity may increase in the coming week.
We will continue to trap for SWD throughout the season, and we will be sure to provide recommendations when to begin SWD control.
Table 2. Northwest Michigan spotted wing Drosophila trap counts

Location

Week of 5/15

Week of 5/22

Week of 5/29

North Manistee

trap set

0

0

Benzie

trap set

3

2

Yuba

trap set

0

0

Central Lake

trap set

0

0

Old Mission

trap set

1

0

Bingham

trap set

0

0

Cedar

trap set

0

0

East Leland

trap set

0

0

Northport

trap set

0

0
Plum curculio egglaying has begun, and overall reports suggest plum curculio activity is low.
American plum borer numbers were down this week and lesser peachtree borer activity increased (Table 1). Trunk sprays for borer management soon would be well-timed as American plum borer larvae should be present and lesser peachtree borer larvae are hatching. Greater peachtree borers have not been detected in the center's traps.
We have had reports that growers had good efficacy from petal fall sprays targeting small obliquebanded leafroller and green fruitworm larvae. Obliquebanded leafroller pheromone traps have been deployed to monitor for adult flight to set biofix for second-generation management of larvae.