Opportunities in forestry: Specialty wood
Opportunities to selectively harvest trees with unique growth patterns enables managers to differentiate their product in order to access higher margin markets. Novel marketing of any timber product can yield the same effect.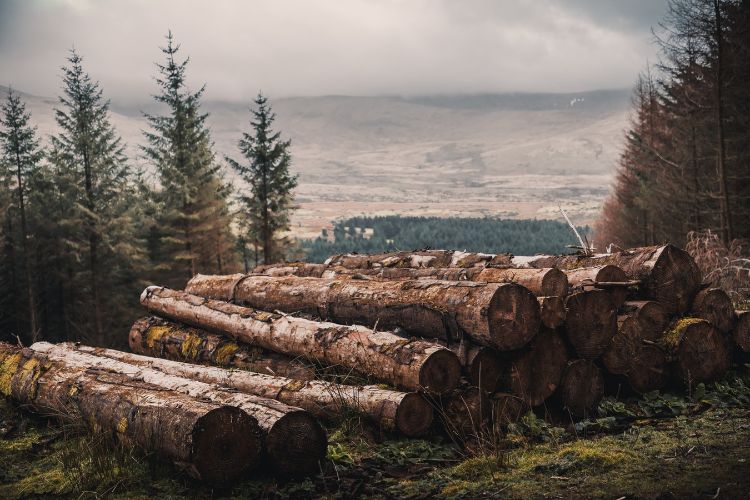 Specialty wood has something to it that makes it distinct. These can be wood products sourced from specific species or individual trees, with particular growth patterns, that gives a unique pattern to its crafted wood. Specialty wood can also be, in substance, identical to other wood, but with marketing that emphasizes place and story.
Separating out and marketing different types of wood does take more energy but, as the examples below show, there can be a big payoff.
You can gain a higher profit margin by marketing your specialty wood as a niche product
Certain niche wood products demand a much higher price if sold in craft markets. As the USDA National Agroforestry Center notes in the Productive Conservation report, traditional examples include willow trees that are more easily bent into single-piece, resilient lawn furniture or "character woods such as butternut, basswood, figured walnut and catalpa," which are renowned for having beautiful grain patterns. A growth defect in sugar maple can result in bird's eye maple that has a rare pattern to its wood that resembles, well, the name, making it some of the most expensive wood in the world. Burlwood, a growth defect that effects many different species, can also fetch a premium price on the craft market.
You can still sell differentiated wood products in a craft market, even if you don't find these trees in your area. Cut logs can be managed in a way to encourage and control fungi colonization, which results in beautiful, if sometimes rather bizarre looking, spalted wood. A recent report by the USDA Forest Products Lab details a how-to process of spalting wood. The process can be very profitable; a contributor to the report notes amazement at putting a $50 walnut log into a plastic bag, forgetting about it for six months and returning to find a piece worth $1,000.
Targeted marketing can turn many wood products into specialty products
Specialty wood is, in part, defined by each individual. A larger wood products market can be segmented into a narrower market of consumers who care most about the attributes of your product i.e. a niche market. Targeting these animated customer groups with marketing messages enables you to sell your product at a premium price. The success of niche marketing – as it's called – is demonstrated by the MSU Wood Recovery Program.
The program finds high-value alternative uses for on-campus trees that are felled, whether by storm events or to make room for additional construction. MSU Shadows, as they are called, are finished, hand-crafted products that are able to create value in wood that would otherwise be turned into chips for mulching or biomass. Information on how long the tree was on campus or where it was located adds a story and a sense of place to each product. Paired with a drive to use the defects of each tree as unique product attributes, creates added value and a higher price. You may not be able to tap into nearly half-a-million MSU alumni with your product, but everyone has a sense of pride in where they're from. Perhaps tree maintenance along main street or timber from the expansion of the local high school can be a source of wood products with added significance in your community. Connecting a product to home resonates.
Often, specialty wood can be sourced from non-harvestable wood; turning a waste stream into profit
Wholesale markets cannot accommodate all wood products. Sawmills only accept wood of a certain size and from certain species, leaving many valuable wood products without a market. Timber stand improvement also tends to leave large amounts of unmarketable wood products. Paul Easley of Oak Leaf Wood 'N Supplies has found specialty wood to be the answer. Easley believes that, "there had to be a wiser use for the trees that need removal than trash wood or firewood," a sentiment that led him to purchase a sawmill and dry kiln to create his own value-added products. The Center for Agroforestry at the University of Missouri records that he has experienced success in both domestic and international markets because he listens to his customer, and releases products they care about.
What else should be considered before releasing a niche product?
A different skill-set is required for any of these paths. It's not enough to focus solely on production and 'push' your niche product into a waiting market. More effort will be spent finding buyers and convincing them, through your marketing, why your product deserves a premium price. If you are a people person and enjoy the marketing side of your business, niche markets may be a natural fit for you.
Within your forest business, there are likely opportunities to differentiate your product and access new markets. To explore these business opportunities, consider utilizing the MSU Product Center. The MSU Product Center is an organization that brings together on-campus expertise in the sectors of food, agriculture, forestry and natural resources to help entrepreneurs define and launch innovative products. Field-based innovation counselors advise entrepreneurs on business planning, regulatory requirements and product development needs. To access business development assistance, select the 'request counseling' tab on the MSU Product Center website or call 517-432-8750.