Organic grain crop enterprise budgets are available
Tools for growers looking to establish or expand an organic grain farm.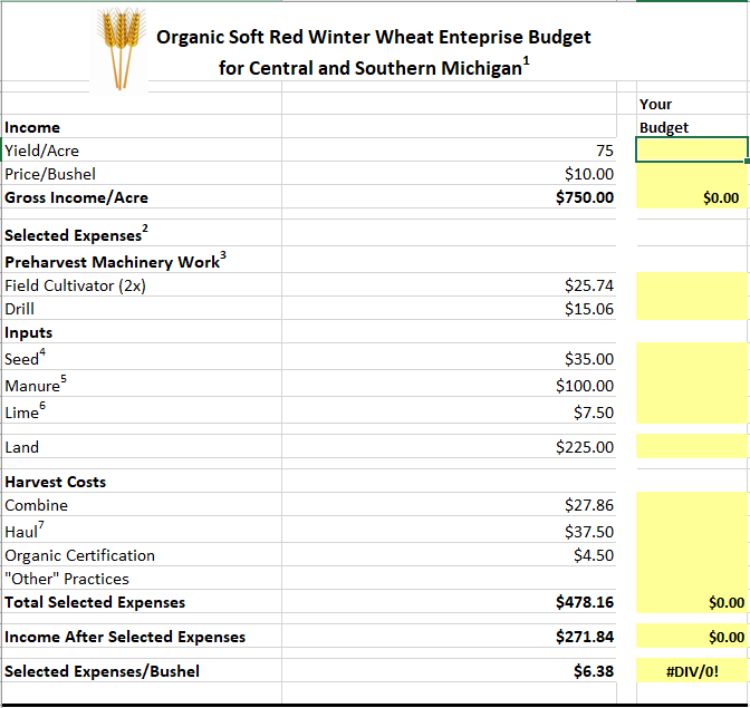 Enterprise budgets estimate profitability for agricultural enterprises while documenting management practices and the resources and technology used in those enterprises.
The MSU Extension Organic Grain Crop Enterprise Budgets provide estimates of returns and selected costs for organic yellow corn, food-grade soybeans, oats, soft white winter wheat, and barley. These budgets can be used for three main purposes:
Budgeting and planning on farms that lack their own cost and performance data because the enterprise is new to the farm and/or farm records are inadequate.
Verification of a farm's own historical data as they use their own information to plan ahead.
Benchmarking of individual production costs.
Each budget was generated based on a specific set of production assumptions. These assumptions are stated, generally, in the budget footnotes. The choice of each "typical" production system may not be appropriate for your intended use. However, it is hoped that the assumptions for each budget are sufficiently clear so that individual practices can be added or removed to appropriately model specific circumstances. The user's access to historical records or other farm specific information will enhance the use of these budgets in decision-making.
The 2019 update includes updated machinery cost estimates, and current commodity prices.
Microsoft Excel is required to use these budgets.
Download the tool here: Organic Grain Crop Enterprise Budgets.