Planning to sell at a farmers market? Winter is the best time to plan
Use the cold winter months to your advantage and create a plan for the upcoming farmers market season.
If you are considering marketing a product at a local farmers market, whether it is something you grow, bake or create, the winter is a great time to plan for the upcoming season.
Start your planning with market research. First, have in mind the product that you would like to bring to market and think about what your competition might be offering. Next, investigate what products markets in your area are selling and what vendors you'll have as neighbors and competitors at the market. Third, if you have a new product to bring to that market, think through if you will have the potential customers for that product. For example, perhaps there is a reason that no one sells baklava at the market.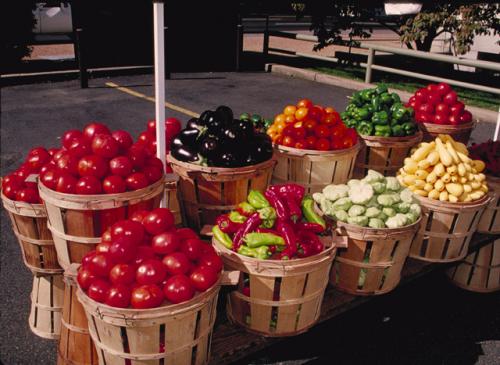 Make a list of questions that you want to answer about the potential for your product and begin to research the answers. Some of these questions might include:
What licensing or regulations will I need for the product, if any?
What is the cost for being a vendor at the market?
What are the market's rules?
Are their rules for providing food samples?
What is the composition of the customer base at this market?
Is anyone selling a similar product or offering a similar service?
Will my product fill an important niche?
Where else are consumers who want a product like mine buying it?
There are a number of ways to find answers to these questions. You can research the market by attending it with these questions in hand. If the market is hibernating during the winter, you can contact the market's organizers and schedule a time to talk. Market organizers should be able answer some of the questions you'll have, but for more information, do additional research.
The conversation with the market manager is also an opportunity for you to introduce your product to them so be prepared and make sure you are ready to put your best food forward. Further research can be done by talking with that market's customers, looking at a website or even social media. Many markets have Facebook pages to promote their market.
If you have never sold at a farmers market before, you may want to consider attending the Beginning Farmer webinar entitled, "Getting Started with Selling at a Farmers Market" which is one in a series of seminars offered by Michigan State University Extension. Each on-line session is two hours in the evening and costs participants only $10.00. Scholarships are available upon request.
If you plan to sell food at the market, understand if it falls under the Michigan Cottage Food Law or whether you'll need an MDARD license to sell the product. Some Farmers Markets require all of their vendors selling food to have an MDARD food license so be sure to check this out ahead of time. The MSU Product Center provides free business counseling for companies with a food product if want help in starting a food business.
You can also attend the Michigan Farmers Market Conference, held March 4-5 2014, at Michigan State University and organized by the Michigan Farmers Market Association (MIFMA). This is an opportunity to meet market managers, vendors and supporters from around Michigan and learn about best practices.