Pools aren't just for summer
Learn about vernal pools through a Vernal Pool Patrol Workshop.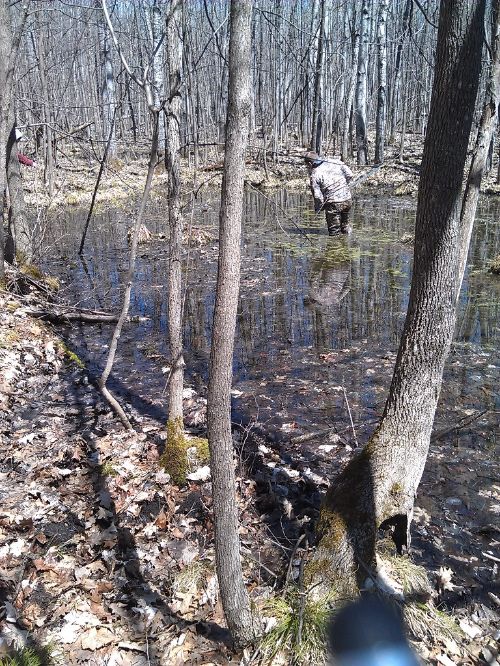 Spring may be slow to arrive this year, but it isn't stopping some very special creatures from waking up in small, wet pools that can be found in many different kinds of forests at this time of year. These shallow little water bodies are called vernal pools, ephemeral pools or seasonal wetlands. They are important contributors to the variety of wildlife that can be supported in a forested area.
Vernal pools aren't like other wetlands and they aren't just accidental mud puddles. They are small, shallow wetlands found in the woods usually an acre or less. These pools can only be found with water in early spring as the snow melts and occasionally in the fall with the right precipitation conditions. They're usually isolated from any other water bodies such as rivers, streams or other permanent sources. Because of their seasonal nature and disconnect from other water bodies, fish are notably absent from vernal pools. This gives a unique opportunity for certain species to thrive, such as particular frogs, salamanders and crustaceans.
Even before the trees leaf out or before anything else really begins greening up, these pools are springing to life. Most of the time, it's easier to hear what's happening before anything is easily seen. Along with spring peepers, wood frogs begin calling early to get a jump on competitors or predators. Wood frogs gather for just a short time in the spring to find mates. Often the first to awaken from hibernation, they gather in a frenzied collection of quacking sounds for just a few weeks. Their egg masses can contain thousands of eggs in a sticky gelatin-like clump that are attached to twigs or other anchors in the pools.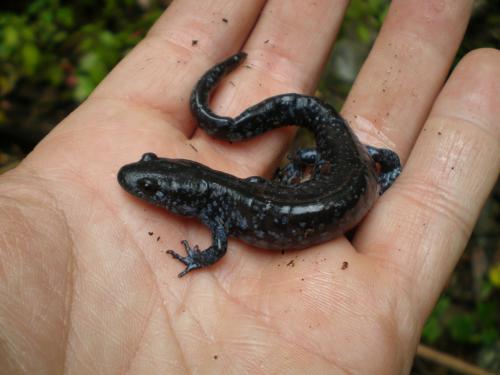 Fairy shrimp are another good indicator of vernal pools. These members of the crustacean family travel around by using their 11 pairs of legs to swim on their backs through the water. They are especially adapted to these water features, because their eggs must go through the summer drying period for them to be able to hatch the next season.
Vernal pools can be found across the northeastern US and eastern Canada, including many areas in Michigan. But because they are not regulated like larger wetlands are, our knowledge of where they are located is minimal. Also, because these water bodies are intermittent and vary in water volume from year to year, these special features may sometimes be hard to detect. But because of their unique combination of plants and animals, they are important contributors to the biodiversity of many of the state's forested systems. Michigan State University Extension's Michigan Natural Features Inventory (MNFI) is working toward finding these special features, but they cannot do it alone. MNFI is currently coordinating workshops across the state to engage citizens in learning about how to identify these special places. Their staff will share their knowledge on vernal pools' unique ecology and effective ways on how to conserve these places. Participants will then have a chance to step outside and visit a vernal pool and practice standard methods for monitoring them. Current workshops are scheduled for:
All workshops run from 10:00 a.m. until 3:00 p.m. Everyone will be encouraged to launch a Vernal Pool Patrol in their own forest community. For more information, visit the Michigan Vernal Pool Partnership website, their Facebook site, or contact Phyllis Higman, Senior Conservation Scientist, at Higman@msu.edu or 517-242-3269.