Preserving rhubarb, spring's delicacy
Rhubarb makes tasty sauces, pies, breads, jams, jellies and much more.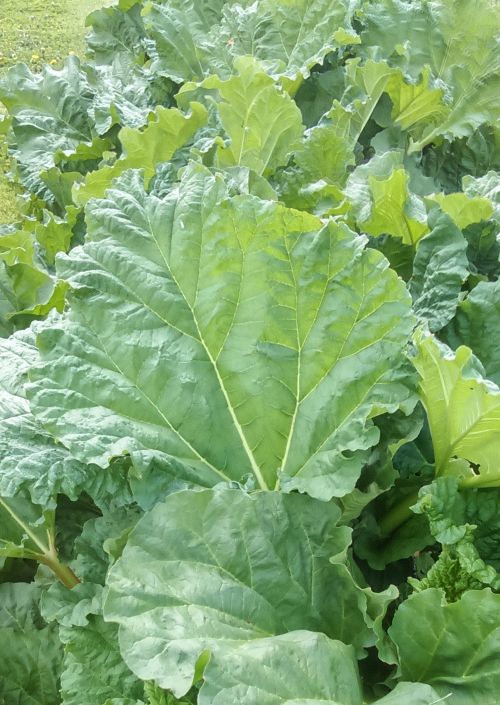 Rhubarb got the nickname of 'pie plant' because it was traditionally made into pies. Rhubarb is used like a fruit but it is actually a vegetable.
Rhubarb is easy to grow and doesn't take up that much space. It is a very interesting and colorful plant to add to your vegetable garden or even your flower garden. When we purchased our home there was a rhubarb patch but it was under a tree and so didn't do very well. We transplanted it to the edge of our garden and once it got lots of sunshine and didn't have to compete with grass, weeds and the roots of the tree, it grew very quickly.
Michigan State University Extension has a Michigan Fresh site to help you explore locally grown fruit, vegetables, flowers and ornamentals. At the Michigan Fresh site, you will find fact sheets on recommended varieties, storage, food safety and preserving techniques for fruit and vegetables including rhubarb.
You can preserve rhubarb by canning, freezing or drying it. If you can rhubarb, it is not safe to add any type of thickening to it before canning because the starch interferes with the transfer of heat to the center of the jar during processing. If you want a thicker rhubarb sauce, add a little cornstarch, tapioca, or modified starch when you open the jar.
When freezing rhubarb freeze it in the amount that you need for recipes. If you do this you do not need to tray-freeze the rhubarb before putting it in the freezer bags or boxes. However, I am a big fan of tray freezing because it isn't all in one clump.
To tray freeze, put the cut up, rinsed and dried rhubarb out on a large tray like a cookie sheet. Place the tray in the freezer and after a few hours you can put the rhubarb into freezer bags or boxes.
Always remember to follow the directions carefully when preserving all your food by using research-based recipes found in updated Ball Blue Books, So Easy to Preserve, the USDA Complete Guide to Home Canning and Preserving and Extension bulletins.