Preserving fresh tomatoes
Fresh tomatoes can be frozen or canned.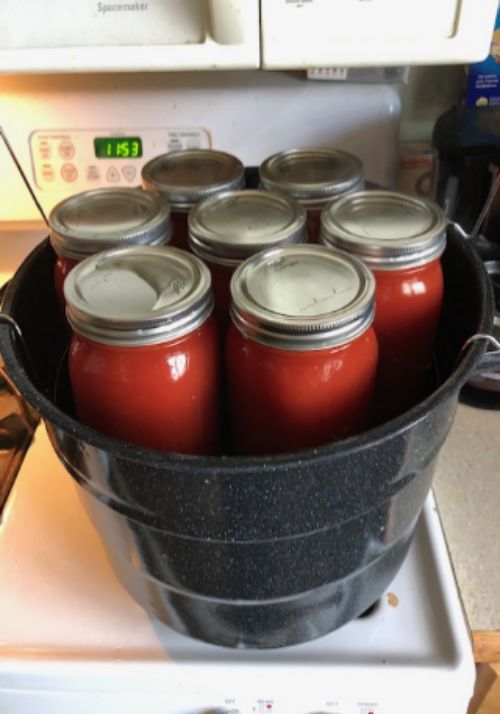 Fresh tomatoes are available and plentiful in gardens and many local farm markets right now. Tomatoes are one of the most popular vegetables to be preserved at home. Tomatoes can be safely canned at home by using simple research-based recipes to ensure their safety.
Safely preserving tomatoes in our home begins by choosing only disease-free, firm fruit for canning. Do not can tomatoes from dead or frost-killed vines, because they have a high microbial load that is unsafe to consume or preserve. Green tomatoes are more acidic than ripened fruit. Yellow tomatoes are not any lower in acid than red ones; they contain more sugar and, therefore, have a sweeter taste. You can use any color tomato when canning if you follow the acidification process.
The acidification of tomatoes is one step of canning tomatoes that many consumers are unaware of, but it is quite easy. Tomatoes must be acidified before being home canned. To ensure safe acidity in whole, crushed or juiced tomatoes, add two tablespoons of bottled lemon juice or ½ teaspoon of citric acid per quart of tomatoes. For pints, use one tablespoon bottled lemon juice or ¼ teaspoon citric acid. You can add bottled lemon juice or citric acid directly to the jars before filling with the product. Another option is to add four tablespoons of 5 percent acidity vinegar per quart. Keep in mind that vinegar might cause a flavor change in your tomatoes. Michigan State University Extension encourages you to properly acidify your tomatoes in each research-based recipe where it is recommended.
Tomatoes can be processed in a water bath, atmospheric steam canner or pressure canner. Tomatoes can be prepared in a variety of ways when using these methods. As you think about what type of canned tomato products you would use the most and you and your family would enjoy, consider these ideas for canning tomato products: whole tomatoes, halved tomatoes, crushed tomatoes, tomato juice, tomato sauce, barbecue sauce, ketchup and more.
The National Center for Home Food Preservation has many safe, research-based recipes you can explore, such as this recipe for canning whole or halved tomatoes. To learn more about canning foods at home, check out MSU Extension's food preservation programming.