Reading can be included in every day opportunities
Literacy activities are more than just reading! Try these simple tips to infuse literacy into your every day life.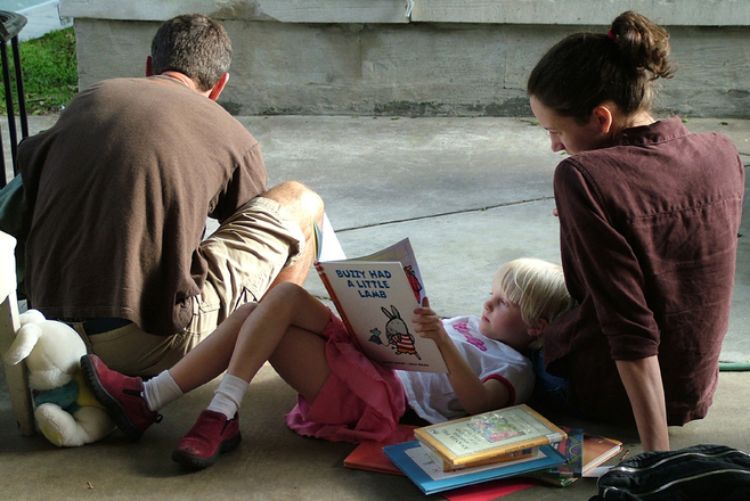 Did you know that children whose parents and caregivers read to them, tell them stories and sing songs with them tend to develop larger vocabularies, become better readers and perform better in school?
If you read to your child for 30-minutes a day, every day from birth they will go to kindergarten with over 900 hours of literacy experiences! But if you reduce that to 30 minutes a week, they only have 130 hours of literacy experiences before they start school.
Michigan State University Extension recommends 30 minutes of literacy activities a day, but that can be hard to figure out how to fit into an already busy schedule. Check out these suggestions for ways to incorporate 30 minutes of literacy activities throughout the day:
Wake up your child with a special song 1 minute
Sing "Head and Shoulders" while getting dressed 1 minute
Read the cereal box and milk jug during breakfast 2 minutes
Listen to music in the car while singing along 2 minutes
Read the signs on the way to school 3 minutes
Ask your child's caregiver to read to them 5 minutes
Listen to an audio book on the way home 3 minutes
Give your child time to practice writing 2 minutes
Have your child "read" to you 3 minutes
Write in the bathtub with bath crayons 4 minutes
Read a book as part of your bedtime routine 5 minutes
Sing a lullaby at bedtime 1 minute
Total time of literacy activities 32 minutes
The ABCs of Early Literacy is a fact sheet that lists ideas on how to help young children increase their early literacy skills. The MSU Extension Early Childhood Family Book Sheets offer activities and ideas all centered around a children's book. You can download them for free at the MSU Extension Family Book Sheets website. Are you in a military family? Check out the 4-H Military Family Book Sheets which include activities for those families experiencing deployment.
If you are interested in more ways to increase a child's early literacy skills, visit the MSU Extension Events page for a list of workshops that are available around the state. PBS Parents also has some great resources on Language and Reading and you can search by age range to see what else you might be able to do as a parent to increase your child's vocabulary. For more articles on child development, academic success, parenting and life skill development, please visit the MSU Extension website.