Registration now open for the 2017 Great Lakes Hop & Barley Conference
Michigan State University Extension and the Michigan Brewers Guild are pleased to announce that registration for the third annual Great Lakes Hop and Barley Conference is now open. This event will take place March 2-3, 2017, in Detroit.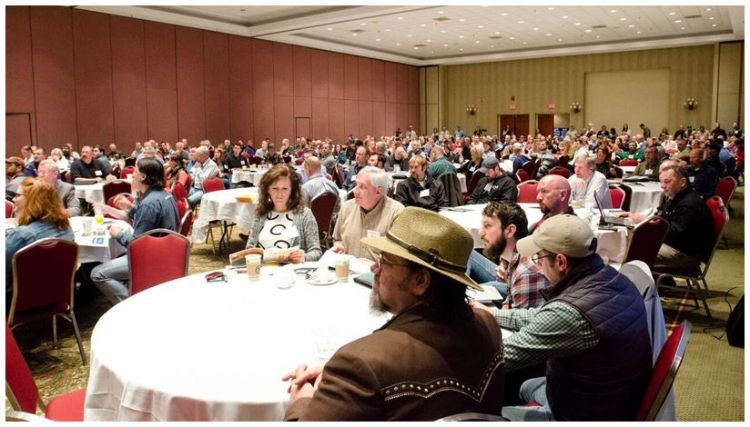 The 2017 Great Lakes Hop and Barley Conference, March 2-3, will be the major craft beer raw material supply conference of the year. If you are a farmer interested in growing hops or barley or a brewer wanting to learn more about purchasing Michigan-grown raw materials, you do not want to miss this event. The conference, put on by Michigan State University Extension and the Michigan Brewers Guild, will feature basic and advanced sessions for hop growers, as well as a barley and malting session designed for farmers, maltsters and brewers.
Prominent industry experts from across the U.S. and abroad will be on hand to discuss all aspects of the hop and barley raw material supply chains, from best production practices to processing, sales and brewing. Featured speakers include: John Mallet (Bells Brewery), Kevin Riel (RR Hop Ranch and President of Hop Growers of America), Dr. Val Peacock (Hop Solutions/Hop Quality Group), Dr. Rick Boydston (USDA ARS/WSU), Dr. Mary Hausbeck (distinguished professor and extension specialist, MSU), Dr. Rich Horsley (North Dakota State University), Andrea and Christian Stanley (Valley Malt), Dr. Chris Ridout (John Innes Centre, United Kingdom), Steve 'Bert' Berthel (New Holland Brewery), Chris Lattak (Trickl-eez Irrigation Inc.), Damon Scott (Brewers Association), Dr. Ron Goldy (senior educator, MSU), Erin Lizotte (statewide IPM educator, MSU), Scott Graham (executive director, Michigan Brewers Guild), Christian Kapp (MSU UPREC), Dr. Rob Sirrine (senior educator, MSU), multiple producer panels, and much more. The 2017 conference will also feature a brewer/grower networking session with a focus on hop and malt barley quality. The session will provide growers with a better idea of quality requirements and help align the supply of Michigan-grown hops and malt barley with brewer needs.
Sponsorship and Vendors
If you are interested in sponsoring the 2017 conference, please see the conference sponsorship packet. Sponsorship opportunities, such as advertisement placement, will be determined on a first come, first served basis. To sign up as a sponsor, please visit the Conference registration website. Based on tremendous interest from the 2016 tradeshow, we are also pleased to once again offer a trade and equipment show at the 2017 conference. Vendors can sign up for a six-foot table space and for equipment space as well. Vendor space is limited and will also be offered on a first come, first served basis. For those interested in signing up for the trade show as a vendor, please register online. For more information about sponsorship, having a display at the event or to discuss payment options, please contact Betsy Braid at 517-884-7081 or braidbet@msu.edu.
Location
Westin Book Cadillac Hotel
1114 Washington Blvd
Detroit, Mich. 48226
Discounted lodging is available at the Westin Book Cadillac. Call 313-442-1600 by February 8, 2017, and mention you are part of the Great Lakes Hop and Barley Conference to receive the discounted nightly rate of $139 per night, plus tax. Alternatively, you can reserve your room online. Discounted overnight parking will also be available at $20 per night for valet or $15 per night for self-parking.
Participant Registration
Registration will only be accepted online here. An early registration discount of $225 per person will only be available until January 31, 2017. Starting February 1, 2017, participant registration will be $275 per person. Registration will include both days of meetings, a continental breakfast and lunch each day, as well as admittance into the Brewer/Grower Reception on Thursday evening. An optional Michigan Brewers Guild tour on the afternoon of March 3 is in the works and ticket information will soon be forthcoming.
Press
A limited number of registrations will be reserved for members of the press. Please contact Betsy Braid at 517-884-7081 or braidbet@msu.edu for more information.
Cancellation Policy
After February 1, 2017, cancellations will no longer be accepted.
For more information on hops and barley, please visit the Michigan State University Extension hops site or the Michigan State University Extension Barley site.