Resolve to volunteer
Volunteer to make a difference and be a role model in your community.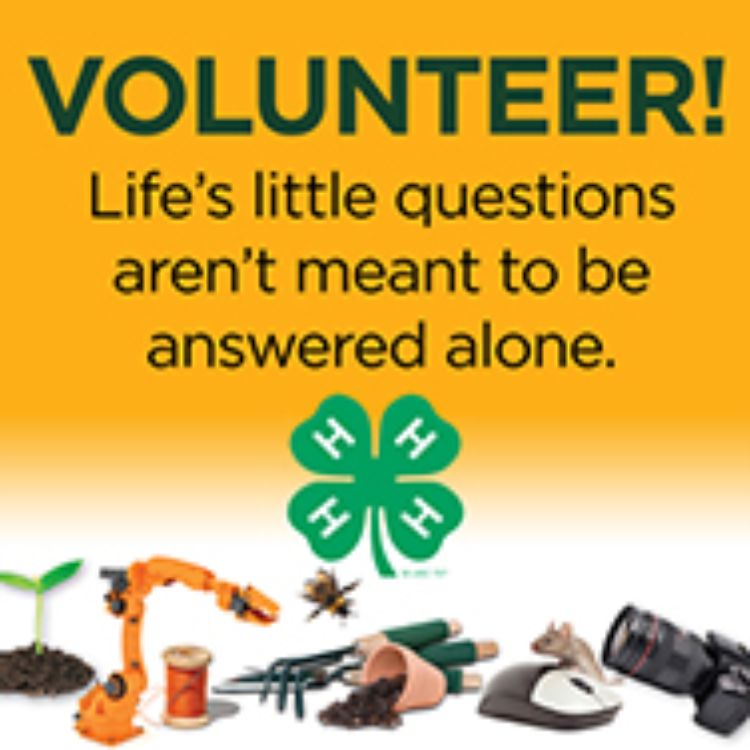 After the New Year is the time when many people find themselves making resolutions to eat better, exercise more and worry less. How about making a resolution to be a role model to teens, learn something new and help out your community, all at the same time? You can do all this and more as a 4-H volunteer and now is a great time to get involved! Not only will the lives of the people you interact with be improved, but you can also improve your own quality of life as well!
Volunteering is a great way to tell your community you care. When you spend quality time with youth, they learn skills that will help them no matter what they choose to do with their lives - skills that include how to positively interact with others, how to engage in issues that matter to them and how to help improve their community. They also learn they have worth, because you are investing your time and energy in them. This can be a powerful statement, even without the educational lessons!
Aside from these important lessons, youth can learn many other things from the adult volunteers in their lives. In addition to project-specific skills, they will also observe the modeling of leadership skills. For example, adults communicate respect in the way they speak with each other and with youth. They also demonstrate time management skills by showing up on time to meetings and they show how to bring positive energy to club meetings. As a result, 4-H programs are a great place for youth to start practicing their own leadership skills by helping younger members!
It isn't hard to become a volunteer for 4-H, but it does take a level of commitment. 4-H programs are available throughout the state and every program is always looking for new volunteers. These volunteers can do almost anything, from leading clubs, teaching in after-school programs, organizing field trips, chaperoning events and teaching project skills in programs ranging from robotics to animal care. Volunteers can choose their level of involvement, based on their schedule and talents. So whether you're good at organization or want to focus on teaching a particular skill or helping with a specific event, there is a volunteer opportunity waiting for you!
To learn more about applying to be a 4-H volunteer, visit the Michigan 4-H website or stop in to your local Michigan State University Extension office. Adults and teens with various skill sets are needed as volunteers; resolve to help your community by becoming a 4-H volunteer today!