Rogers Reserve sponsors Aug. 11 Chestnut Pest Management Session
Join us to learn about disease management in chestnut, from the field to the processing line.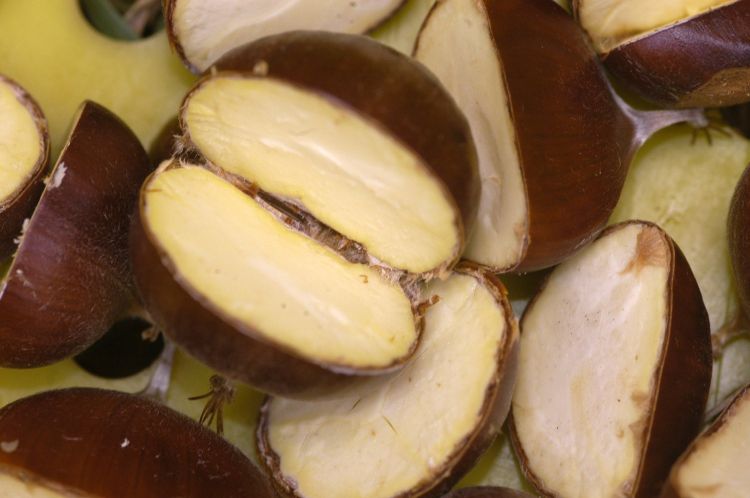 Rogers Reserve, in collaboration with Michigan State University Extension, is sponsoring the Rogers Reserve Chestnut Pest Management Session, a day-long program addressing emerging chestnut pest management issues in Michigan. As the Michigan industry grows, it faces new challenges from diseases and insect pests prevalent in major production areas of the world. To address these emerging issues, Rogers Reserve is hosting international experts with decades of research and experience to help prepare the Michigan industry to meet these challenges head-on. The meeting will include information on brown rot, Asian chestnut gall wasp, Phytopthora root rot, Phytopthora crown rot and more. There will also be a demonstration of Phytopthora injection treatments at the end of the day.
The meeting will be Aug. 11, 2018, from 9:30 a.m. to 4 p.m. at the MSU Clarksville Research Center, 9302 Portland Rd., Clarksville, MI. Lunch will be provided. Registration is free but required, and closes Aug. 5. Pesticide recertification credits will be available for Michigan pesticide applicators.
Agenda
9:30 – 10:00 a.m. — Introductions and overview of new chestnut pests in Michigan.
10:00 – 11:00 a.m. — Discovery of chestnut rot in Australia, identifying the pathogen, the life cycle and infection process, and attempts at managing the disease. Presented by Lucas Shuttleworth, Forest Research, England.
11:00 a.m. – 12:00 p.m. — History of chestnut rot in Italy, the role of galls of Asian chestnut gall wasp and thoughts about management of the disease. Presented by Andrea Vannini, University of Tuscia, Italy.
12:30 – 1:00 p.m. — Lunch
1:00 – 2:00 p.m. — History of the Mastrogregori chestnut processing facility, improving chestnut quality and managing post-harvest diseases and a review of the current international chestnut market. Presented by Aroldo Mastrogregori, owner of Mastrogregori Company, Canepina, Italy.
2:00 – 3:00 p.m. — Managing Phytopthora root and crown rot of chestnut in Europe. Presented by Carmen Morales Rodríguez, University of Tuscia, Italy.
3:00 – 4:00 p.m. — A. Board members of CGI meet with Aroldo and Andrea in the conference room; B. Demonstration of Phytopthora root rot treatments in field plots.
Speaker information
Lucas Shuttleworth joins us from Forest Research in England. Currently, he studies diseases of United Kingdom trees and has over 15 years' experience in forest pathology and associated fields. He received his PhD in plant pathology from the University of Sydney in Australia where he played an integral part in discovering brown rot of chestnuts (i.e., chestnut rot) in Australia. This disease remains one of Australia's worse diseases. He will speak on the causal pathogen, the infection process and the management of the disease.
Andrea Vannini is an Italian mycologist and plant pathology researcher involved in studies on the protection of natural and semi-natural terrestrial ecosystems. He is currently employed at the DIBAF-University of Tuscia in Italy where he coordinates the Laboratory of Plant Protection. His research focuses on alien invasive fungi and oomycetes and the impact they have on biodiversity, ecosystems functionality and sustainability. He belongs to several EU and global scientist networks within IUFRO and COST initiatives and has participated in a number of EU research project dealing with invasive organisms. He is the author of more than 175 publications and chapters in books.
Aroldo Mastrogregori is the owner of Mastrogregori Company in Canepina, Italy, in the heart of the Cimini Mountains about 60 miles northwest of Rome. His company processes and trades chestnuts and marroni to countries around the world. Mastrogregori Company has been in his family for more than 40 years. They receive and package fresh chestnuts as well as package dried chestnuts and flour. Recently, he has thoroughly redesigned and remolded his chestnut receiving line with state of the art receiving, grading, inspecting and storing facilities including sterilizing units which are designed to control brown rot disease of nuts and chestnut weevils.
Carmen Morales Rodríguez is a Spanish plant pathologist currently employed at the DIBAF-University of Tuscia. Her work is focused in the field of plant pathology of agricultural and forest plants with specific research experiences in the impact of Phytophthora in natural and human dominated environments. She works primarily on biological control strategies and diagnostics. Her past and current research activity is associated with projects in Spain, Germany and Italy. She also maintains collaborative activities with International Universities and Research Institutes as participant of global networks (COST actions).
This material is based upon work supported by the USDA NIFA under Award No. 2017-700006-27175. Any opinions, findings, and conclusions or recommendations expressed in this publication are those of the author and do not necessarily reflect the view of the US Department of Agriculture.