Get RUP credits and ideas for the growing season with educational meetings in southeast Michigan
Michigan State University Extension's 2019 winter meetings offer updates on pest and crop management, as well necessary information on new regulations.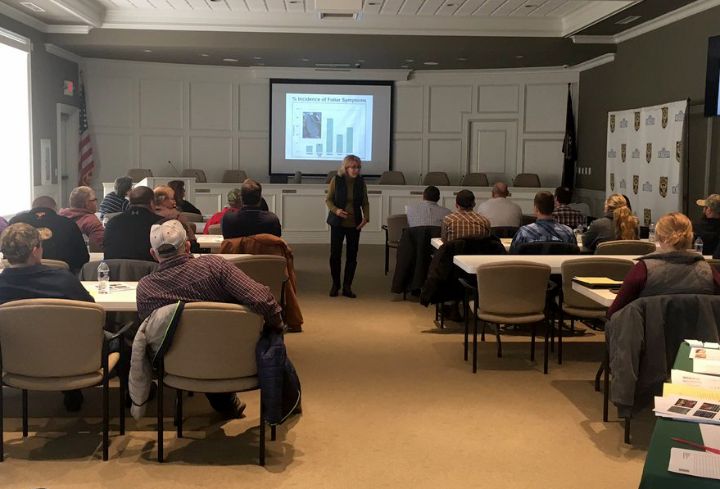 Michigan State University Extension is offering meetings for many different types of growers across east Michigan. Whether you are looking for information about pests, horticulture, regulations or just after some RUP credits, there is something for most.
For vegetable growers
For vine crop growers (pickle growers in particular), there will be an all-day, hands-on meeting focused on managing Phytophthora capisci and cucurbit downy mildew. This meeting will bring Mary Hausbeck of Michigan State University and Lina Quesada-Ocampo, who is known for her work on downy mildew in North Carolina. This meeting will be held Feb. 14 at the Saginaw Valley Research and Extension Center. For information and registration, see Phytophthora and Downy Mildew Workshops for Vegetable Growers.
More general vegetable production meetings are also scheduled. The Bay/Thumb Vegetable Meeting will be held March 6 at Walli's Family Restaurant in Burton, Michigan. For registration and full information, visit Bay/Thumb Vegetable Meeting.
For growers south of Detroit, Michigan, the annual Southeast Michigan Winter Vegetable Meeting will be held March 12 in Dundee, Michigan. This all-day meeting will feature lunch and a mix of speakers on a variety of vegetable topics. For full information and registration, visit Southeast Michigan Winter Vegetable Meeting.
For smaller vegetable growers, gear up for the 2019 season by attending the Transplant Production Workshop scheduled for Feb. 22 at Tollgate Farm and Extension Center in Novi, Michigan. The meeting will cover transplant media, soil blocking and transplant management. Save the date, more information to come via the MSU Extension Vegetable Events page.
For field crops growers
Meetings for field crops growers focused on pest management will be held Feb. 6 in Peck, Michigan; Fe. 19 in Adrian, Michigan; and Feb. 21 in Frankenmuth, Michigan. Registration for the all three meetings and an agenda can be found at Pest Management Update. A companion meeting focused on crop management will be held Feb. 7 in Saginaw, Michigan. For full information, see Field Crop Production Update.
Field crop producers can also register for a webinar series that highlights different aspects of field crops management. Webinars will be held Monday nights from 7-8 p.m. starting Feb. 18. RUP credits are available. For topics and registration, see Field Crops Webinar Series 2019.
For growers working to comply with new federal regulations
Roll out of the Food Safety Modernization Act continues, and more farms are reaching their compliance date. It is important to have the rule's education requirement completed. Luckily, there are trainings that cover the rule and food safety basics, which are still free and occurring throughout Michigan. A Produce Safety Alliance Grower Training will be held Feb. 27 in Capac, Michigan. The training goes from 9 a.m. to 4 p.m. and attendees need to be present for the whole training to receive a certificate. Registration and full information can be found at 2019 Winter Grower Produce Safety Certification Course.
Changes to the Worker Protection Standard have changed the requirements around respirators and some pesticide formulations. To get an idea of when a respirator should be used, refer to the video "How do I Know if I Need a Respirator" or the article "Vegetable pesticide series: Does it require a respirator?" If you do need a respirator and have not yet had one fitted, the Respirator Fit-Testing Meeting on Feb. 27 held at MSU Tollgate Farm in Novi will provide testing and key information. For more information, visit the Ag. Health, Safety, and Respirator Maintenance and Fit-Testing Meeting.
For greenhouse growers
On Feb. 21 there will be a Biological Control Meeting at Bogie Lake Greenhouses in White Lake, Michigan. For more information, visit Biological Pest Control Workshop for Greenhouse Growers.
For those preparing for the pesticide CORE exam
Pesticide reviews are being held by multiple MSU educators across the eastside. Click on the location/date below for full information and to register.
For farmers working to scale up
Jae Gerhart will be presenting "Scaling up to Wholesale: Marketing and Production" as part of the Farmer Field School. This all-day workshop will bring together MSU experts, distributors and farmers to give insight on things like product quality, grading, cold chain management and more. The workshop will be held Feb. 19 at the Washtenaw County MSU Extension office in Ann Arbor, Michigan. For more information and registration, visit Farmer Field School.
For beginning farmers
Location doesn't matter when it comes to the Beginning Farmer Webinar series. This year's slate of talks includes growing specialty mushrooms, seed saving, starting a small farm business, and more. For a full list of webinars, dates and registration, see Beginning Farmer Webinar Series 2019.
For useful information beyond winter meeting season
To keep up with relevant research, news and events in your area, subscribe to a weekly MSU Extension newsletter. These weekly emails come right to your inbox and highlight MSU Extension information in a timely manner—for example, when insects are becoming active or when a plant disease is moving into the state. To subscribe, visit the MSU Extension News Digest sign-up page.
---