San Francisco Giants hit home run with new local food initiative
Bon Appetit Management Company, a leader in local food service management, and MLB's Giants partner on outfield garden for fruits, vegetables, flowers and even sod.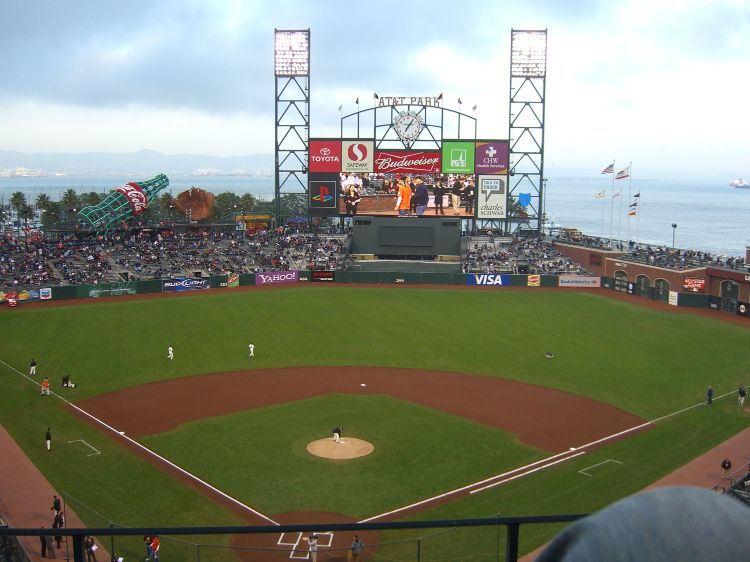 When thinking about the words "local food" you might imagine a pastoral scene with a farmer producing vibrantly colored fruits and vegetables for use in a nice restaurant with a name like "the Farmhouse" or "the Chef's Table." One of the last places one might picture would be the a Major League Baseball stadium in downtown San Francisco. But that is exactly where one could go to see an innovative urban growing site and sample some first class locally sourced fare.
Bon Appetit Management Company, one of the leaders in sustainable-minded contract food service management, has partnered with the San Francisco Giants to create the Garden at AT&T Park. Not only are the Giants the World Series Champions but they also win the title for local sourcing amongst MLB teams. The Giants decided to create this edible landscape a few year ago in an effort to demonstrate new urban growing techniques, provide food for their stadium, and educate visitors and school children on local food.
Located behind the centerfield wall just under the scoreboard, this 4,320-square-foot space provides a bounty fruits, vegetables, greens, flowers, and even sod for the field. The produce will be available for Bon Appetit Management Company to incorporate in to a new menu to be served right in the garden space including fresh salads, flatbreads, bruschetta, and other seasonal dishes. The produce will also be used in community-focused educational programs on healthy eating. In order to grow all of this fresh produce the space uses cutting-edge vertical 'Aeroponic' towers made by Future Growing, which can support the growth of up to 44 plants on a small footprint.
With a capacity of more than 41,000 fans and 81 home games every season, AT&T Park provides a perfect place to introduce visitors and residents to the idea of urban agriculture and healthy eating. Local food systems are becoming an increasingly important topic nationwide and there is never a bad time to engage the public in the conversation. With the work of the Giants and the success of this project we will hopefully see more and more sports teams use their stadiums and facilities as not only a place to entertain their fans, but also to provide innovative learning and eating opportunities.
Michigan State University Extension has educators all across the state that are available to help your community learn about new and innovative ways to incorporate community and local food systems projects into your area.