Saskatoons: A small fruit with big ambitions
Michigan saskatoon growers are needed for a survey that will help the Saskatoon Berry Institute of North America achieve production and marketing goals.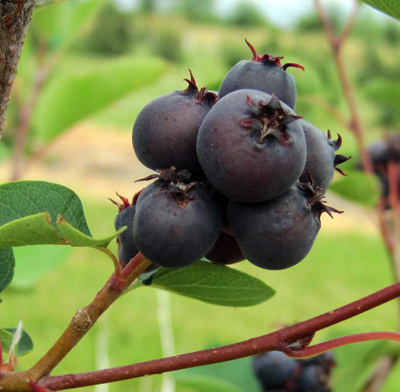 If you have not heard of saskatoon berries, there is an energetic group of growers in northern Michigan that wants to fill you in, and fill you up, with this tasty crop. Saskatoon berries are small, dark blue to black fruits that are nutritious and have many uses. In addition to simply eating them as fresh fruit, saskatoons can be used in salads, baked goods and ice cream, or made into jams, jellies, sauces, syrups, juice and wine.
Saskatoons are a well-established and popular food crop in many provinces of Canada. Most commercial scale plantings of saskatoons in Michigan are only a few years old, but the early results indicate that we have very favorable conditions for producing good quantities of high quality fruit. It is estimated that there are 50 commercial plantings in the state with about 100 acres planted as of 2012.
Michigan growers have shown leadership by forming the Saskatoon Berry Institute of North America to support all aspects of saskatoon production, marketing and utilization. This organization is currently in the process of defining its mission and initial goals, and two goals are already set: expanding the grower membership base and accurately assessing the current status of saskatoon acreage and production.
If you would like more information on the Saskatoon Berry Institute of North America and how to become a member, contact Brenda Ricksgers, or you can connect with the institute at their Facebook page.
Michigan State University Extension will be assisting the institute with the second goal by conducting a survey of growers to determine the number of saskatoon acres in production, varieties being grown, expected yields and other details of their operations. One of the challenges in conducting this survey will simply be finding the growers as there is currently no complete list of growers or established route of communication. The process will have to rely on getting the word out through several media channels, social networking and connections with Extension educators in production areas. If you are a commercial grower of saskatoons, please provide your contact information to myself, Duke Elsner, at elsner@msu.edu so you may be included in the survey effort.