Schools bring seeds to life
The North Farm at the MSU Upper Peninsula Research and Extension Center, the Transition Marquette Seed Co-op, MQT Growth, and the U.P. Food Exchange have come together to create a program to offer garden support to five schools in the Central U.P. in 2016.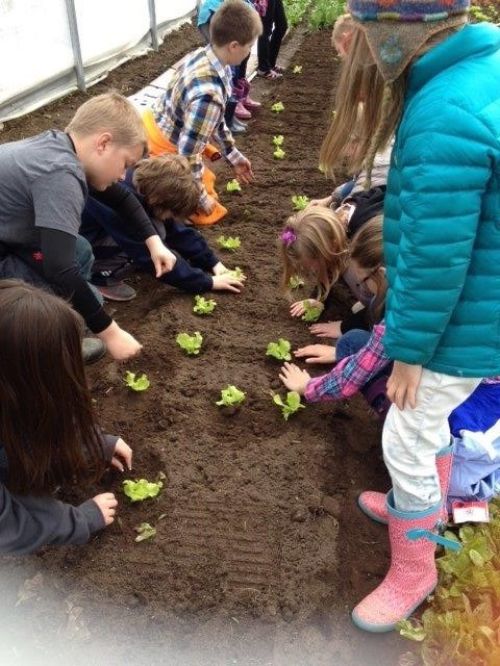 Saving seeds for planting next year is part of the origins of agriculture, and today it is practiced mostly by seed companies for sale to farmers and gardeners. Seed saving is a part of the food system that is almost invisible, as seeds are often not mature until after a plant is harvested for food. As more public attention is dedicated to questions like this about where our food comes from and how it is produced, area schools are incorporating gardens into their classroom activities. For school gardens, seed saving shows young learners the entire food system, rather than just the part that lands on the plate.
In response to an increased number of school gardens, and teachers looking for activities and support for those gardens, a group of organizations that support agricultural education came together last year to form Start Seeds/Save Seeds. This program provides transplants, seeds, and classroom activities that give teachers access to the tools and expertise needed to try something new in the garden at their school. After saving seeds for a growing season, they are invited to trade seeds and stories at a community-wide seed swap in the fall.
"Several schools in the U.P. have started hoophouses and gardens in the past five years," says Abbey Palmer, education coordinator at The North Farm, an incubator farm located in Chatham at the Michigan State University Upper Peninsula Research and Extension Center. "Using those gardens for seed saving is an opportunity to learn about where food comes from and how it's grown. Seeds let us study basic plant genetics, the history of our most common food plants, and start a conversation about our food system." The program was launched last year to provide technical assistance and experiential learning opportunities around farming. "At Graveraet, kids are learning how to grow food, which is an empowering skill set," says Miriah Redmond, co-founder of MQT Growth, a non-profit that aims to increase the number of food-producing green spaces in Marquette that maintains the Graveraet hoop house in the summers.
Seeds and transplants are provided to participating schools by The North Farm at the U.P. Research and Extension Center and Transition Marquette Seed Co-op. Visits to the classroom and educational programming on topics such as planning a seed saving garden, how to save seeds, and seed heritage are also provided by project partners. Palmer says, "Seed saving is practical, but not often practiced. When kids participate in the process from growing and eating the plant, then start next year's plant with seeds they saved, they understand the entire cycle in a way that few people do. They start to look at food differently—and they're more likely to eat a vegetable that they grew themselves."
If you are interested in learning more about the program, feel free to reach out to Ashley McFarland at 906-439-5176 or ashleymc@anr.msu.edu. McFarland is the Coordinator of the Michigan State University Upper Peninsula Research and Extension Center in Chatham, Michigan and a Community Food System educator with Michigan State University Extension.