Seneca Valley Virus in swine
Suspect cases in Michigan should report to Michigan Department of Agriculture and Rural Development.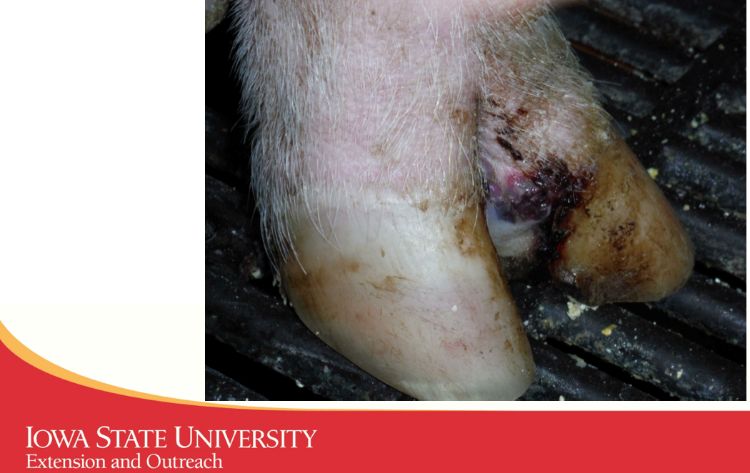 Pork producers might be aware of a disease circulating in pigs call the Seneca Valley Virus (SVV). As the daily observations and health status checks of your herd are completed, producers should be looking for signs of SVV. The clinical signs associated with SVV in pigs include vesicles (blisters) or erosions (results of ruptured vesicles) on a pig's snout, mouth, and/or feet where the hoof meets the skin. There have been reports of unexplained lameness, off-feed events and diarrhea in piglets prior to the emergence of vesicles or erosions in groups of pigs. It is important to remember that SVV is a production disease, which means there is no risk in consuming pork products. According to the Swine Health Information Center, there is no record of SVV causing symptomatic human disease. Interestingly, the virus has potent oncolytic abilities which are currently being explored in human cancer treatment research.
The clinical signs related to SVV cannot be distinguished from vesicular foreign animal diseases (FAD) including foot-and-mouth disease, vesicular stomatitis, and swine vesicular disease, which are reportable trade-limiting FADs in pigs. Any time these clinical signs are observed in pigs it is imperative that the state animal health official is notified immediately either directly or through the herd veterinarian so they can initiate an investigation to confirm that the clinical signs are not caused by a FAD. In Michigan the Diagnostic Center for Population and Animal Health (MSU DCPAH) has provided diagnostic results for Foot and Mouth Disease within a 24 hour turnover.
Michigan State University Extension reminds you, do not move animals that are ill or exhibiting clinical signs of illness. If you see these lesions on the feet, coronary band, or the snout of pigs, please contact Michigan Department of Agriculture and Rural Development (MDARD) at 800-292-3939 (After-hours at 517-373-0440). Affected animals should be segregated and isolated on site, samples will be collected and submitted under the direction of the state veterinarian. The United States Department of Agriculture (USDA) will work with producers to approve movement to slaughter and FSIS coordination. Producers should also be diligent in movement recordkeeping, as this information will be helpful in the case of an FAD investigation.
Veterinarians should be observing their herds for signs for lesions or vesicles. Communication between the producer and herd veterinarian is important and this relationship will aid in the investigating process. If a veterinarian experiences a suspect case of SVV they should contact MDARD, stay at the site and stop all movement of people and pigs from that location. Open lines of communication will ease the process for all involved with this process.
Barn-level education for employees and those involved in the pork industry to help aid in the recognition and reporting of suspected FADs is available through the National Pork Board. FAD Push Packs can be ordered via the pork store or by contacting a member of the MSU Extension Pork team. More information on this emerging disease can be found at the Swine Health Information Center.
Pork producers remember: Got vesicles? Report 'em! MDARD 800-292-3939 (After hours at 517-373-0440).