Sensory activities provide fun and learning for young children
What can you do with a small storage tub that will entertain and help your young child learn? Make a sensory bin!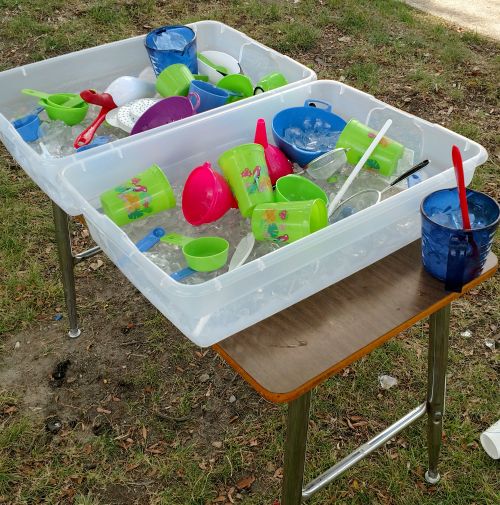 Sensory bins provide opportutnies for fun, hands-on learning for your child with endless possibilities of materials to use only limited by your imagination. Children can learn many different skills playing in sensory bins, such as:
Motor skills. Grasping, pouring, pinching and using tools like tongs, scissors and scoops are working on fine motor skills.
Math and science. Counting, measuring, mixing, pouring, dumping, stacking and comparing are all foundations for learning about math and science.
Literacy. Tracing letters, making letters or numbers, telling stories as they are working, and learning new vocabulary words all support developing literacy skills.
Social skills. Sharing, cooperation and working with others all support building social skills.
To make your own sensory bin, get a medium-sized container like a plastic storage tub that is shallow and has lower sides. Fill that container with any material you have on-hand that your child would enjoy working with as they play.
Michigan State University Extension recommends the following materials to try in your sensory bin:
Sand or dirt
Mud
Dry pasta
Cooked, cooled pasta
Rice, beans, popcorn or lentils
Water
Ice or snow
Small pebbles or stones
Cut up pieces of straws
Cotton balls or craft pompoms
Water beads
Frozen water beads
Buttons
Cut up pieces of chenille stems (craft pipe cleaners)
Supervise young children closely when using smaller items that could be choking hazards.
Once your bin is full of your material, grab some items from around the house to play with inside the bin. Things like measuring cups and spoons, scoops, cups, strainers, tongs, spatulas, rolling pins or anything else you can play with inside the bin.
Practice scooping, dumping and filling containers with your child. While you are playing, narrate what you are doing together, such as, "Look how much water we can fit in the containers." Ask questions that help children think about what they are doing, such as, "What if we mixed these together?"
Playing with sensory bins is a great way for your child to build skills and have fun. For more articles on child development, academic success, parenting and life skill development, please visit the Michigan State University Extension website.
To learn about the positive impact children and families experience due to MSU Extension programs, read our 2016 Impact Report. Additional impact reports, highlighting even more ways Michigan 4-H and MSU Extension positively impacted individuals and communities in 2016, can be downloaded from the Michigan 4-H website.