Shooting Sports Tournament draws from 35 counties
Nearly 500 youth participated in the 2012 Michigan 4-H State Shooting Sports Tournament.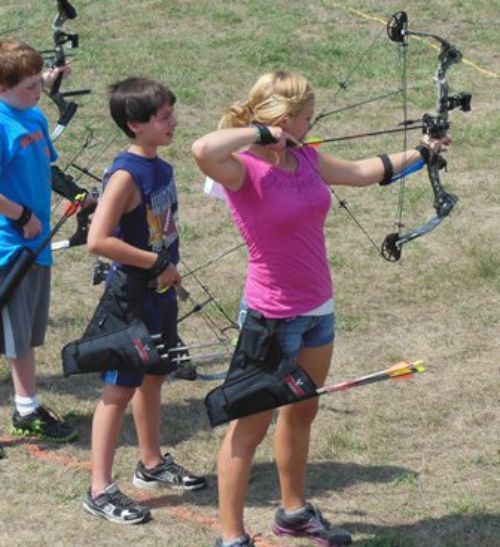 The 2102 Michigan 4-H State Shooting Sports Tournament was held on August 4 in Bellvue, Mich. at Centerline of Calhoun, Inc. Family Sport Shooting Facility. Thirty-five counties were represented by 482 4-H members competing in eight events, including air rifle, BB, .22 rifle, trap, skeet, muzzleloader, target archery and 3D archery. The youth competitors were all members of 4-H Shooting Sports clubs in their respective counties. Clubs meet at least once per month, though some may meet as often as once per week or more, to teach youth to handle firearms and archery equipment safely and responsibly while also helping youth develop respect and appreciation for Michigan's natural resources.
Events are broken down within each discipline by age divisions and in some cases by the type of equipment used. For example, in the air rifle division, beginners are 9 to 11 years old, juniors are 12 to 14 and seniors are 15 to 19. Smallbore (.22 caliber) rifle offers both field and target divisions for juniors and seniors. There were 33 divisions for which the top three competitors were recognized. The senior trap shooting division was the largest with 49 competitors and also yielded the only perfect score of the day, 75 out of 75, by Stevin Ammerman of Monroe County.
More than 100 adults volunteered time, talents and resources to plan and conduct the state tournament serving as range officers, scorers, database managers, time keepers, parking attendants, equipment inspectors, water haulers, awards managers and much more.
New 4-H Shooting Sports program manager Jenny Mercer started her new role just five days before the state shoot. After the tournament, Mercer, who was a county 4-H agent in Virginia for 17 years, said, "Michigan has an amazing group of very dedicated volunteers that give leadership to this event and the 4-H Shooting Sports program. I never would have thought it possible to run so many kids through so many events in one day, and I certainly could not have expected a more seamless, cooperative operation run by such knowledgeable volunteers who truly have youth development as their primary focus."
Here is the complete list of results for the 2012 tournament.
For more information on the Michigan 4-H Shooting Sports Program, visit the 4-H Shooting Sports webpage or contact Jenny Mercer at mercerj4@msu.edu or 517-432-7619.