Shopping for the gardener on your list
Unsure what to get the gardener in your life this holiday season? We polled MSU Extension educators to learn what's on their wish list (and perhaps on yours, too).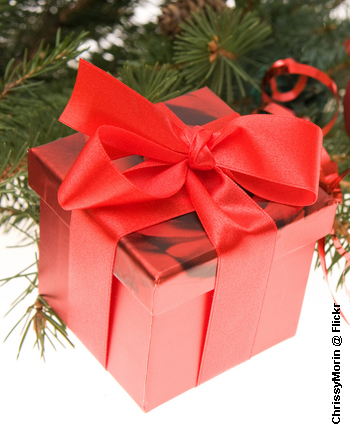 Gardening is something that most of us usually think about in the spring. But for many, garden activities are on our minds year round. While the big chain stores usually switch out gardening supplies with the season, many local garden stores are open year-round. The insane hustle and bustle of the season that one finds at the mall won't be present in these peaceful and interesting stores, not to mention the quietness of shopping online for unusual and unique garden-related items.
We asked several of our Michigan State University Extension educators to give us their gardening wish list. If you're unsure what to give the gardener in your life this holiday season, or are trying to come up with your own wish list, here are some unique and clever ideas to consider, straight from the MSUE educator's mouth!
Silver and gold
According to MSU Extension educator Rebecca Finneran's wish list, one small item that is gold and shiny and will make your gardener's life a little easier is a brass quick coupler. This device allows you to attach and detach nozzles, add lengths of hose and detach at the source in a moment's notice. No more wrenching the thing on so it doesn't leak or being soaked when changing attachments. The solid brass quick coupler allows the gardener quick and easy adjustments when watering in the garden and they last forever! Most hardware stores sell them.
On the silver and gold wish list of our other Extension educators were garden hose quick connections, a dual nozzle sprayer wand made from brass, and garden stakes that last forever – or close to it. (These inexpensive yet invaluable tools make great stocking stuffers!) For garden stakes, MSU Extension educator Gretchen Voyle says to buy "step-in" or push-in-the-ground, 4-foot long metal or fiberglass fence posts that are used for temporary electric fencing for livestock. They have a triangular piece that is attached towards the bottom end that stabilizes the post in the ground. You can find them at a farm store for around $3 a piece.
Gifts of service or simple solutions
Finneran thinks that one of the best gifts to give this holiday season is simply your time. Spending a little extra of your time into a simple gift can often mean more to your fellow gardener. Finneran says she is forever getting drenched by her sprinkler because she doesn't run fast enough to get out of the way after moving it to a new location and she's too lazy to run the 200 feet to the faucet to turn it off ahead of time. While on a hot day this may be a somewhat scintillating experience, it does tend to mess up your hair if you are headed out to the local garden center. If the gardener in your life has this same dilemma, a 10-foot hose lead is easy to make at home. Simply purchase the same parts you would to repair a hose end and another length of quality garden hose (which you will cut into appropriate lengths). Attach the repair parts on each length of hose and a brass shut-off valve, then your gardener can run out and turn off or adjust the sprinkler right at the source!
Several of our Extension educators would love a gift certificate to their favorite gardening center – it'll come in handy when purchasing spring vegetable and bedding plants. MSU Extension educator Beth Clawson has on her wish list raised garden beds. These can be easy to make at home and will leave the garden looking tidy and more attractive. Raised beds are also a great way to keep the puppy dog or grandkids out of the garden soup, too.
Fashion and accessories
If the gardener in your life seems to be quite the fashionista or fashionisto, then how about spicing up their season with some new trendy items and garden accessories? Drywalkers, or slipper-style shoe covers, are great for slipping over your muddy shoes when walking into the house. A good pair of leather gloves will also come in handy for the heavy gardening work. Voyle says gloves that are neither so thick that the fingers don't bend nor as thin as kidskin (baby goat, not those kids!) are great for handling plants with thorns or anything that could damage your hands.
Voyle also has on her wish list unglazed terra cotta pots of various sizes. They look natural and their weight is heavy enough to prevent tipping over with a big plant. They can also be used indoors or out. Stepping stones are a nice feature to any gardener's landscape, as well as quirky ornamental items. Clawson likes to nestle hers among plants to discover later like hidden treasures.
Toys, err… Tools
What better gift to give your gardener pal than something they can play with? Or, well, use frequently! A few of our Extension educators had a plastic rain gauge written down on their wish list. These can either be mounted to a post or pushed into the soil with a pointed spike at the bottom. Some come with two sprinkler gauges in the same package, one that can hold up to 6 inches of rain and a smaller one with a 1-inch capacity for checking sprinkler outputs. This is another small item for under $4.
Clawson recommends a new set of ergonomic garden hand tools. They ease the strain on the hand for longer gardening. A rain barrel is also on her list.
For the bookshelf
MSU Extension educators Duke Elsner and Gary Heilig are all about the reading material this holiday season, wishing for books on hobby greenhouse plans and building tips, garden insects, caterpillars, and butterflies and skippers. Elsner had three particular books in mind: "Garden Insects of North America: The Ultimate Guide to Backyard Bugs" by Whitney Cranshaw; "Caterpillars of Eastern North America: A Guide to Identification and Natural History" by David L. Wagner; and "Michigan Butterflies and Skippers: A Field Guide and Reference" by Mogens C. Nielsen, MSUE Bulletin E-2675.
The home gardener or landscaper will not be able to find a more useful book than "Garden Insects of North America: The Ultimate Guide to Backyard Bugs" for the identification of common insect pests and beneficials. Information is presented in a non-technical form with numerous, high-quality color images. "Caterpillars of Eastern North America: A Guide to Identification and Natural History" is a valuable guide to many of the most common caterpillars and also some of the more bizarre species that are sometimes encountered. The wide array of caterpillars that can be found in the garden and landscape are a challenge to identify, even for experienced people. Pictures of the adult moths are also included for many species. This book covers mainly the larger caterpillars; a companion reference covering many smaller species will soon be published by the same author.
"Michigan Butterflies and Skippers: A Field Guide and Reference" is good for anyone interested in Michigan's beautiful butterflies. Entries of over 150 species include pictures of the adults, descriptions of caterpillars, favored host plants for attracting adults, caterpillar host plants, distribution maps and information on the flight period of adults. Duke even thinks this would be a great gift to spark an appreciation of nature in children.
Of course, what every gardener probably has at the top of their wish list is getting their landscape plan completed. These suggestions of gardening items should put the gardener in your life on the right step towards accomplishing that goal, and who knows, maybe even give you some ideas on what to ask for this holiday.