Should you consider a U-pick enterprise?
Consider the advantages and challenges carefully before starting a "pick-your-own" operation.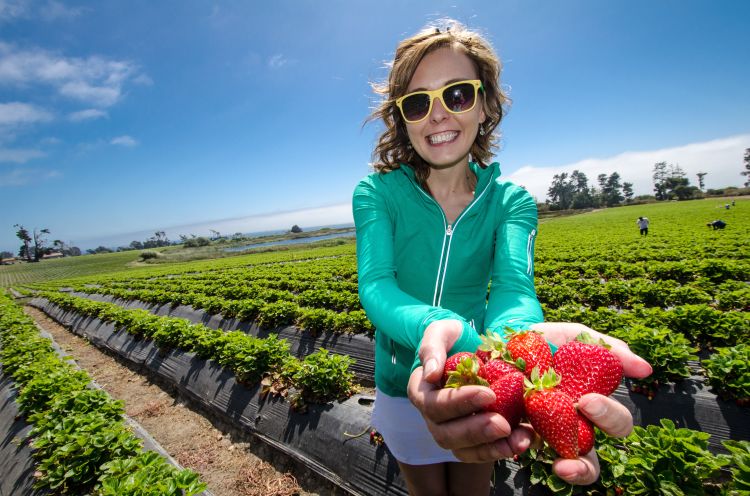 Starting a U-pick farm, or adding a pick-your-own component to your existing farm, can provide a new and potentially profitable component to your farm business, but there are some crucial decisions that need to be made before diving in. Michigan State University Extension fruit and vegetable educators can assist with production and business establishment questions.
Former Delta County Extension Director Don Pellegrini operated a successful strawberry U-pick farm near Escanaba, Michigan, for many years. Pellegrini shared the following questions and tidbits of wisdom with me to use when visiting with people interested in starting in pick-your-own farming.
Are you a people person?
98 percent of customers are good people to deal with.
2 percent of customers will give you headaches.
Where are you at right now?
Are you already producing but not selling what you intend to direct market?
Are you already producing and selling it?
Neither? Producing and marketing need to be addressed separately. Start where you find yourself right now, and be realistic.
What kind of market are you aiming for?
Niche?
Local only?
Larger?
Who are you going to sell to? Do you have alternatives to the pick-your-own market?
Individuals (least headaches and most profits)?
Groups?
Businesses?
Retail, wholesale or both?
Are you assuming you have a market for your product, or have you proved your market exists?
Are you located close enough to a population center to feed the market for your farm?
Is your farm conveniently located or easy to find?
Talk to lots of people and visit with organizations such as Regional Planning Organization, Chamber of Commerce, etc.
Who else is currently selling the same or similar product?
Are you going to develop the market for your farm or take away part of another farm's market? If there is another pick-your-own located close by, are there enough customers for both?
Can I produce a better product than the competition?
Do you have a quality product?
Compare your product with the best in the industry, not just your neighbor.
Do you have a business plan?
This is essential if you need to borrow money.
Be conservative when making the plan.
Do you know your cost of production?
How much it costs to produce your product will determine your price and profit margin.
Are you comfortable with the concept of "the customer is always right?"
Remember, the customer drives the direct marketing business.
Other comments
Get involved with an association specific to your enterprise.
The North American Direct Marketing Association is a good contact.
The farm needs to pay for itself. Don't use your other income to subsidize farm expenses.
The MSU Extension 2018 Beginning Farmer Webinar Series includes an April 4, 2018, 7–7:30 p.m. webinar on "Getting started with U-Pick farming." Online registration for this webinar and others in the series can be found at 2018 Beginning Farmer Webinar Series.
There are many other online resources of value for those exploring pick-your-own farming, including: