Showing appreciation for your livestock buyers
Writing a thank-you note for your livestock buyer is part of a good marketing plan.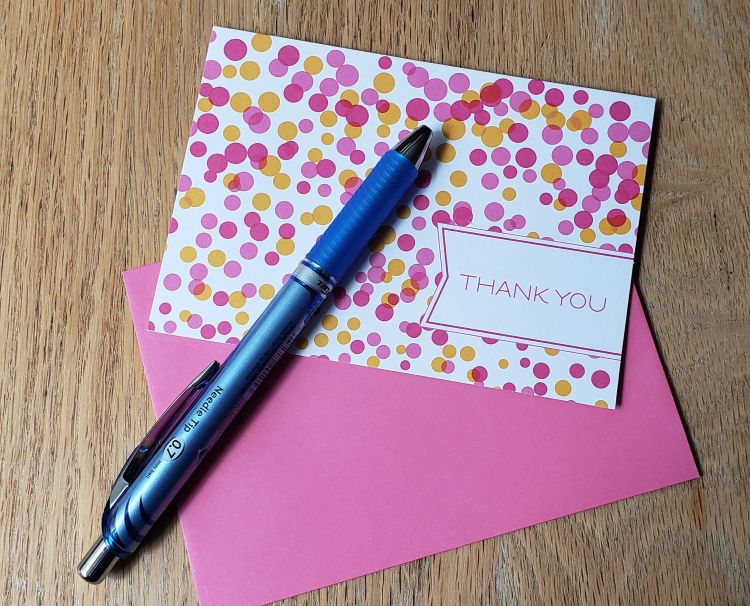 People often think about writing thank-you notes after getting a gift, but thank-you notes have a role in many other areas of life, too. For instance, a good marketing plan for a business includes finding ways to show appreciation to your customers. This can be accomplished in a variety of ways depending on the business and the best approach for that market. Some businesses do rewards cards, customer appreciation days with deals, prize drawings for repeat buyers or gift baskets. Some of these ideas can also be incorporated in your livestock marketing project to build your continued relationship with your buyers.
The Youth Business Guide to Success curriculum provides resources to support the 4-H market livestock project area including a tip sheet on thank-you notes and examples of good thank-you notes. A helpful youth-created video explains the importance of thank-you notes and appreciation in your livestock project area.
One of the easiest ways to appreciate your buyer is to write a good thank-you note. Companies and businesses will often mail these out to customers as well, and they show gratitude for the support and encourage repeat buying.
Your name and contact information stand out. A thank-you note for your livestock buyer is a simple way to provide recognition to your buyer for their effort in purchasing your animal.
A good livestock buyer thank-you note includes:
A greeting with the buyer's name or company.
An acknowledgement of the specific reason for the thanks (i.e., the purchase of your animal project).
The reason why you appreciate the buyer. For instance, they supported you and your 4-H project, have been generous to 4-H, or took time to benefit youth.
How you plan to use the money from the sale.
A comment or details about yourself or an update on your life. For example, you can explain why you enjoy 4-H or something you learned in your project work.
A repeat of your thank you.
A closing and your signature (e.g., With thanks, name or Sincerely, name).
It is best to have your thank-you note be hand-written, neat and legible, on a thank-you note card, and written in blue or black ink. It is always great to invite the buyer to attend the auction again in the future and thank all of your bidders.
Michigan State University Extension and Michigan 4-H Youth Development help to prepare young people for successful futures. As a result of career exploration and workforce preparation activities, thousands of Michigan youth are better equipped to make important decisions about their professional future, ready to contribute to the workforce and able to take fiscal responsibility in their personal lives. For more information or resources on career exploration, workforce preparation, financial education, or entrepreneurship, contact 4-HCareerPrep@msu.edu.