Six great gift ideas for the horse-crazy kid in your life
Need gift ideas for the young horse enthusiasts in your life? Look no further!
With the holiday season on the horizon and holiday shopping already in full force, many of you may still be struggling to find just the right gift for the horse-crazy youngster in your life. No need to fret! This article is packed with great, affordable and useful ideas to make sure you're their favorite equine (enabler) supporter for years to come! Be sure to also check out the previous Michigan State University Extension article, "Ten things under $5 you need in your horse show bag."
The great thing about children, especially 4-H'ers, is that they are hungry for information. Feed this hunger by wrapping up this excellent 4-H horse curriculum bundle. Not only will you help arm them with useful, accurate information, but you'll also help keep them safe and successful for years to come. This won't be another toy that ends up being underutilized and lost in a toy chest.
This particular package comes with a fun and interactive bingo game, but you can also purchase just the set of six horse curriculum books.
2. Personalized…anything
Sometimes it's the simplest of gestures that are the most thoughtful. Build into your gift-giving budget a little room and you can get nearly any gift personalized. Whether you have a horse sheet embroidered, a sweatshirt screen printed or a gold nameplate engraved, it's these small touches that really show the care and thought you put into the gift. This is a small step towards helping children feel valued and appreciated, a widely accepted positive trait of child development.
Want to take this a step further? An excellent way to create a personalized gift without breaking the bank is personalizing brushes. You can either wood burn onto wooden brushes, or better yet, get creative with some decoupage brushes.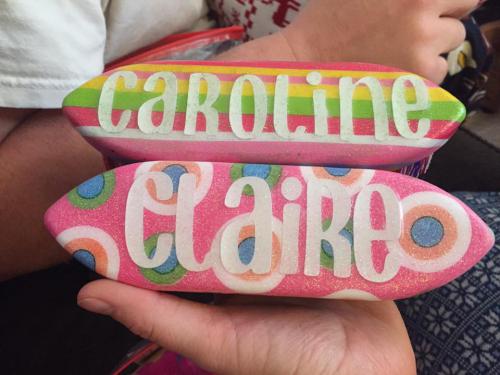 3. Grooming gloves
While any grooming tool will surely be appreciated, these relatively new-to-the-market grooming gloves now come in youth sizes. These gloves are an alternative to the bulky curry combs that have remained a mainstay in our grooming totes for years. The gloves allow you to keep the dexterity and usefulness of your hands while you're grooming your horse.
An added benefit is you can groom delicate and sensitive areas—around the eyes—and less sensitive areas—the barrel—with the same grooming tool all while keeping your hands and fingernails clean. One brand that's an industry-favorite is HandsOn Gloves.
4. Horse-themed movies
There is a plethora of horse-related movies to choose from. Don't let the cheesy plots and terrible acting of some scare you away from this gift idea. There are plenty of high-quality options out there as well.
For an added bonus, throw in some popcorn and candy and watch the movie together. If you're not the horse person, this may be hard to understand, but go ahead and let the young horse enthusiast point out the blatant inaccuracies in the horse scenes. Not only is there a thread of education in there for both of you, but it's something us horse-folk will do regardless—we just can't help it!
Here's just a few great titles to get your movie-night started: "Secretariat," "Seabiscuit," "The Man From Snowy River," "The Black Stallion," "Black Beauty," "Spirit" and "The Horse in the Gray Flannel Suit."
5. Gift certificates
Shopping for the equine enthusiast can be a daunting task. Some of the best gifts are actually experiences, and one way you can offer this is through gift certificates to activities like riding lessons, summer camps or clinics. You can even try a subscription to a horse-related magazine. You'll be supporting an educational experience, all while extending the gift-giving season throughout the year.
6. Winter riding gear
It seems that young people have a difficult time grasping proper cold-weather apparel. As adults, it's our duty to equip, remind and remind again these youngsters to protect their precious bodies with appropriate protective gear for their time outside. Need some direction on where to begin? We've got you covered!
To start, the gift of gloves is always appreciated. In my home, it seems like nothing disappears as rapidly as one-half of my favorite pair of gloves, so I find myself always in need. Keep in mind the many different features of gloves needed, depending on the task at hand (see what I did there). A slippery set of gloves aren't ideal if you're trying to grasp reins, brooms or pitchforks, but can work just fine if you're frolicking in the snow.
Next up, let's protect the equestrians' legs with either some insulated breeches, riding pants or just a high quality set of long underwear that will do the trick. While having a set of insulated coveralls is wonderful for daily barn chores, these bulky duds are usually difficult to ride in, so the protective pants previously mentioned will certainly come in handy.
Not to be forgotten, the head and neck must be protected from the elements. Wearing a winter hat underneath a riding helmet is not safe; it will affect the fit and effectiveness of the helmet itself in the case of a fall. However, the market does offer great alternatives such as helmet covers that extend down over the neck and ears or earmuffs that are designed specifically to be worn under helmets.
Hopefully, a bit of the gift-giving stress has waned and you feel inspired and ready to shop. Armed with this list and a bit of imagination, you are sure to be a favorite gift-giver this holiday season!
Looking for gift ideas for the horse barn owner in your life? Check out the MSU Extension article, "Gift ideas for any horse barn owner."