Exploring your world: Snow day fun
Enjoy a snow day with youth and some fun snow activities.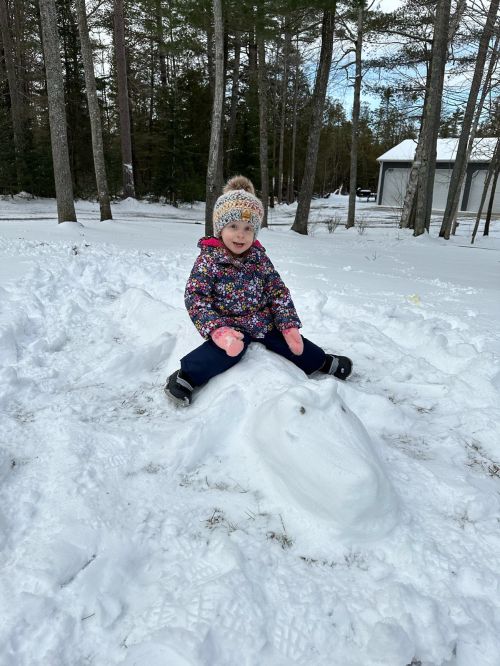 The Michigan State University Extension science team's goal is to increase STEM (science, technology, engineering and mathematics) literacy across Michigan. One way we increase interest in STEM is to provide information and ideas for engaging youth in the exploration of their world. Enjoy these snowy day activities that will get youth outside!
Waking up to learn that school has been canceled due to a snowstorm is one of the joys of childhood. After the initial excitement of learning that there is no school, youth may be interested in some fun outdoors in the snow.
Explore with youth how to make frozen bubbles. Use any bubble solution you made or purchased. Check that temperatures are 32 degrees Fahrenheit or below to ensure bubbles will freeze. Bundle up and head outdoors and blow some bubbles. Catch a bubble on the bubble wand and watch. In a few short minutes, you will be rewarded with a frozen bubble that resembles a crystal ball. Explore the science behind this experiment by researching how bubbles are formed with soap and water molecules and the impact of low temperatures on the bubbles.
Explore science and art outdoors by making snow jewels. These colorful orbs are simple to make and can add beauty to any snow-covered yard. All that is needed is some food coloring, water and container(s). Try a variety of small to medium bowls, soap molds or even candy molds. Any container that is fully open at the top should work. Choose a location for your containers to sit in the snow undisturbed for 4-6 hours. Put a few drops of food coloring inside each container and fill as desired with water. Allow to sit undisturbed 4-6 hours or overnight. Then carefully remove the colorful jewels and enjoy. You might use them for a treasure hunt by partially hiding them throughout your yard for others to discover or simply place as yard art for all to enjoy.
You can also decorate the snowy canvas of your yard with snow paintings. Just mix a colored drink mix or a few drops of food coloring with water in a squirt bottle. Mix a variety of different colors and encourage children to paint your snow-covered yard or create original art by adding color to a snowman or snow zoo.
Enjoying hands on science activities is a wonderful way to spend a winter snow day! For more information about youth science activities visit the MSU Extension 4-H Science, Technology, Engineering and Mathematics (STEM) website and click on the Science Activities and Lesson Plans.