Southeast Michigan vegetable update – Aug. 22, 2018
Corn earworm pressure continues to be high and aphid numbers are booming. Keep an eye out for diseases like late blight and phytophthora, which don't mind cool, cloudy days.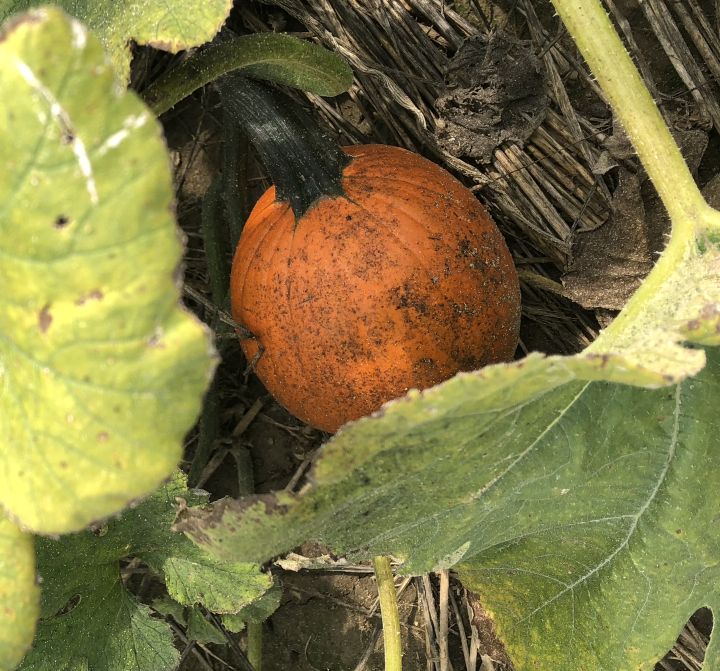 Weather
We are currently experiencing some unseasonably cool weather, though next week things will shift and we will have warmer than typical temperatures next week.
The table below presents rainfall (in inches) for the Michigan State University Enviroweather stations in southeast Michigan, as well as growing degree-days (GDD) calculated using the Baskerville-Emin Method. Degree-day average for Commerce and Hudson is over five years, while Deerfield is over two years. Rainfall is in inches, with parenthesis indicating precipitation accumulations since last week's report.
Rainfall and GDD totals as of Aug. 22

Station

GDD 42

GDD 50

5-year GDD 50 average

Rainfall since April 1

Commerce

3,133

2,172

1,916

14.96 (+0.72)

Deerfield

3,344

2,354

2,329.9

14.17 (+1.31)

Hudson

3,172

2,194

2,049.1

16.55 (+1.15)
Crops
Pepper harvest of all types is ongoing. The wet weather has led to incidences of phytophthora. Keep your eye on areas where this disease has occurred in the past. Slowing down the disease progression is more likely when plantings are on drip, where products can be chemigated. If relaying on overhead sprays, products cannot get to the roots where this disease is acting, so control is much harder—you are trying to protect fruit until harvest. Remember all treatments are preventative, plants can't be cured.
Because of this disease's long-lived overwintering structures and wide host range (cucumber, melon, squash, pumpkin, zucchini, tomato, eggplant and snap beans), treat areas with symptoms with care. Limit traffic through these areas and clean off equipment/boots that go through infected areas. Removing impacted plants and those nearby can help reduce the amount of the disease that builds up, and make sure culls from impacted plants aren't brought into other areas of the field.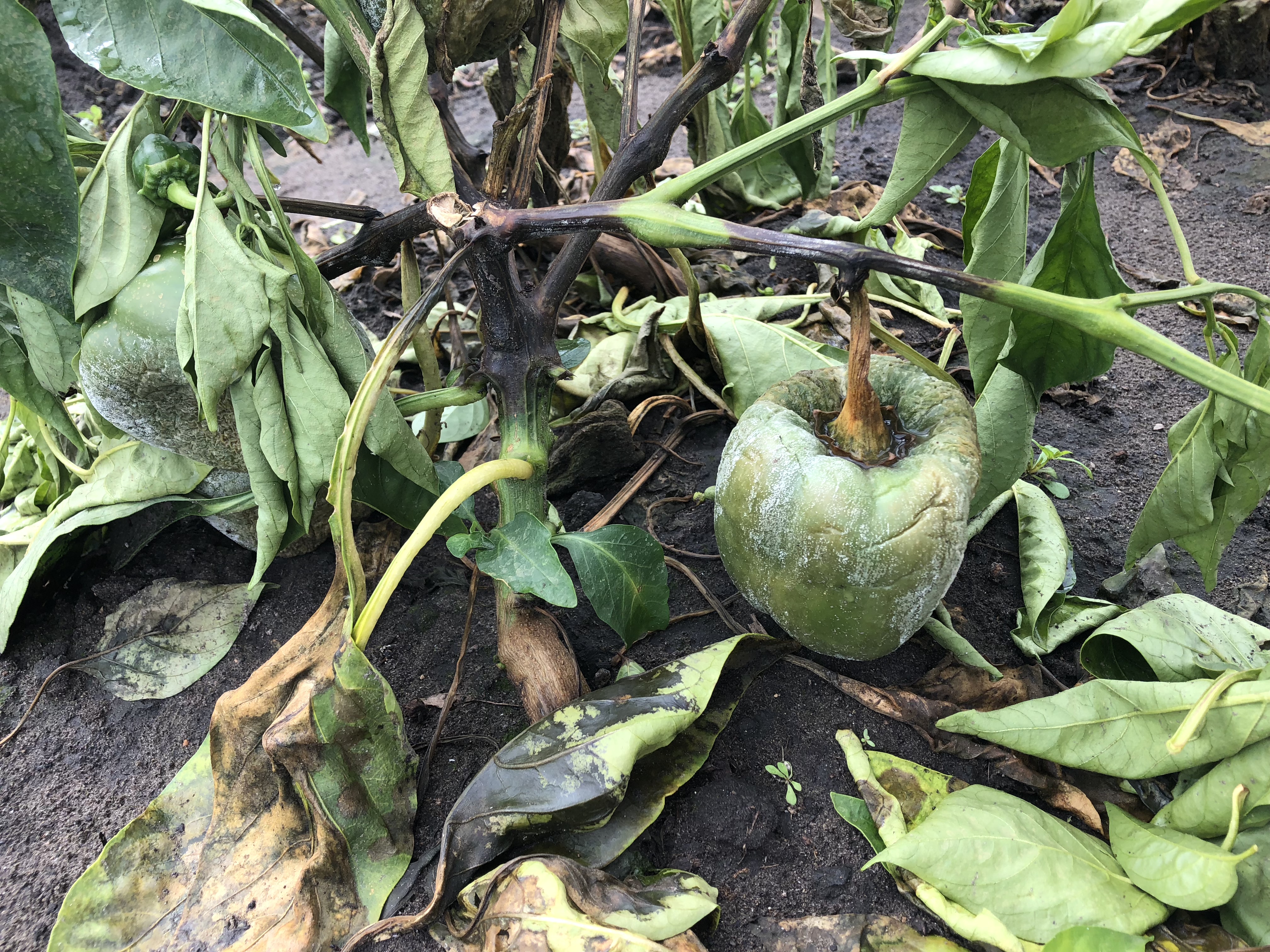 Phytophthora in peppers will cause plant death in impacted areas. Roots and fruit will have a powdered sugar appearance. Photo by Marissa Schuh, MSU Extension.
Finally, according to the degree-day model at the Deerfield Enviroweather station, European corn borer flight (third generation) will begin around Aug. 26.
Potato vine kill and harvest in ongoing. Weather conditions remain very favorable for late blight; continue regular scouting and preventative fungicide applications.
Pumpkins are turning their final color; make sure you hold onto foliage until harvest time arrives. Aphids are out in high numbers. Aphids can distort leaves, spread viruses and drip honeydew onto pumpkins. This honeydew grows a sooty mold that, thanks to the sticky honeydew base, doesn't really wash off pumpkins (see first photo above).
If considering treatment, check for natural enemies in aphid colonies. If each colony has a predatory insect nearby, treatment may not be necessary. If you see something like pictured below, aphid population are growing unchecked by natural enemies. See the Midwest Vegetable Production Guide for products recommendations (there are many available), and spray later in the day to protect pollinators if flowers are still present in the field.
Aphids on the underside of a pumpkin leaf. Aphids are yellow and green, while the white dots are the shed exoskeleton of growing aphids. Photo by Marissa Schuh, MSU Extension.
Sweet corn harvest continues. Corn earworm pressure remains high, and looking at the weather of the remainder of the week, Insect Forecast is suggesting there is a chance more moths will be dropped by fronts later this week. This is all to say, stay on top of spray programs. My trap in Lenawee County is catching an average of 15 moths a night, but with daytime highs in the 70s, a spray interval of three to four days is appropriate.
Current weather conditions favor corn diseases like northern corn leaf blight and rust. A newer corn disease to keep an eye out for is corn tar spot. If you choose to use fungicide, watch the pre-harvest intervals of the product; many have a 14-day pre-harvest interval (Bravo, for example).
Tomato harvest continues. Weather conditions are very favorable for late blight development. There have been some reports of bacterial diseases. If you are seeing bacterial spot on tomato, especially on fruit, please contact me (schuhmar@msu.edu or 517-264-5309). Mary Hausbeck, MSU Extension plant pathologist, is studying bacterial spot, and we would like more information on what strains are present in Michigan. Also note that high corn earworm/tomato fruitworm present in our area.
Contact me at any time at 517-264-5309 or schuhmar@msu.edu with pest identification requests and questions. I tweet about what I'm seeing @SoutheastMIVeg.
Note about the Food Safety Modernization Act
Food Safety Modernization Act (FSMA) Produce Safety Rule inspections will begin next year on the largest farms. Just because you are currently having buyer-mandated food safety audits done doesn't guarantee your farm is FSMA-compliant. To see where you stand in terms of FSMA readiness, you can request an On Farm Readiness Review be done on your farm.
This free, voluntary, confidential program brings personnel from MSU Extension (such as myself) and conservation districts to your farm to do a short (about 1.5 hours) walk-through of your farm and its food safety practices. We will walk through a list of targeted questions and you will come away with the top things to focus on before inspections begin.
To request an On Farm Readiness Review or for more information, contact Heather Borden at 517-768-2038 or bordenhe@msu.edu.
Meetings
Curious about using drones in agriculture? Attend the Tri-State UAV Field Day Aug. 27 in Ohio. Contact Ricardo Costa at costasil@anr.msu.edu or 573-639-8971 for more information and registration.
Organic growers are invited to attend the Organic Management Field Day Sept. 19 at the Kellogg Biological Station in Hickory Corners, Michigan.
The Midwest Mechanical Weed Control Field Day is Sept. 26 at the PrairiErth Farm (2073 2000 Ave, Atlanta, IL 61723). See in-row cultivation tools demonstrated on vegetable crops, a trade show and grower experiences with mechanical cultivation. The field day begins at 9:30 a.m. and wraps up around 4 p.m. The event registration is $20, lunch included. Check out the Mechanical Vegetable Cultivation Facebook page for more information.
It is never too early to make accommodations to attend Great Lakes Fruit and Vegetable EXPO, Dec. 4-6 in Grand Rapids, Michigan. Hotel blocks are open and tend to go fast. The combination of grower-focused, research-backed presentations and an exhibit hall featuring a diverse set of vendors make it a can't-miss event.
Did you find this article useful?
---
You Might Also Be Interested In