Southeast Michigan vegetable update – July 11, 2018
Hot and dry weather has settled in the region.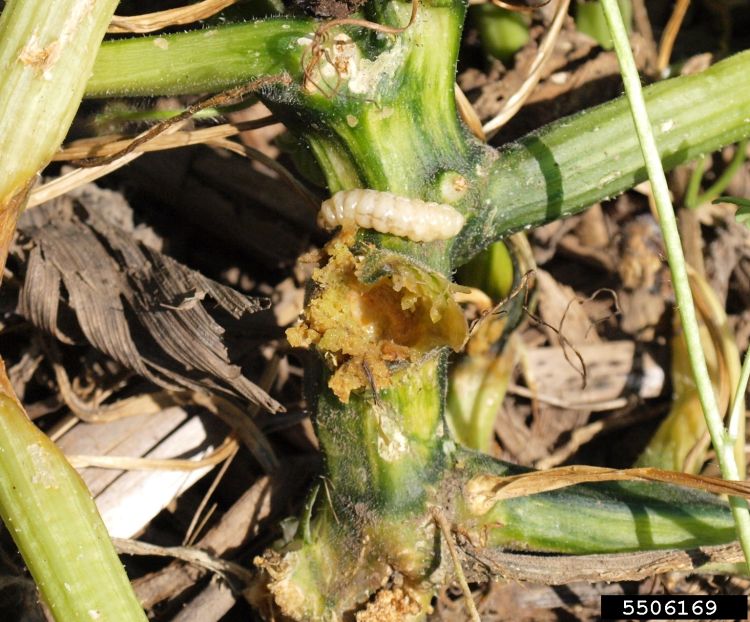 Weather
There has been little rainfall in our region, and with the well above-normal temperatures, things are very dry. More heat is in store as we approach the weekend, so irrigation systems will continue to work hard. Our best chance of rain is the tail-end of this weekend and early next week.
The table below presents rainfall (in inches) for the Michigan State University Enviroweather stations in southeast Michigan, as well as growing degree-days (GDD) calculated using the Baskerville-Emin Method. Degree-day average for Commerce and Hudson is over five years, while Deerfield is over two years. Rainfall is in inches.
Rainfall and GDD totals as of July 11

Station

GDD (base 42)

GDD (base 50)

5-Year GDD average (base 50)

Rainfall since April 1

Commerce

1,905

1,280

1,103.3

10.65

Deerfield

2,076

1,422

1,353.7

9.93

Hudson

1,973

1,332

1,215.5

12.43
General crop issues linked to hot weather
The heat has produced some secondary nutrient deficiencies. The hot weather can push plants to grow quickly, and some nutrients just don't move that fast. This can cause nutrient deficiencies in the plant even though the soil testing and fertility management has everything at appropriate levels. For example, in tomatoes I've seen some potassium deficiencies—not because there wasn't enough potassium present in the soil, but because the plant is growing quickly and the potassium can't move fast enough. This kind of secondarily induced deficiency can also occur with calcium, producing blossom end rot.
The dry weather also promotes population booms of pests like spider mites and thrips. These can be tough pests to manage, the population turnover is very quick. Be careful when using broad spectrum insecticides to target these pests, as you may wipe out natural enemies like pirate bugs. You may see a temporary pause in damage, but without the natural enemies, populations can explode and you can end up with more pest pressure than you started with.
A pro of this dry weather is that it hampers the development of disease like white mold, phytophthora and downy mildew.
Crops
Foliar diseases are present on the leaves and petioles of carrots.
Spring planted cole crop harvest is ongoing, and plantings for fall harvest are going in. If transplanting in high temperatures, make sure transplants going in have moisture in the root ball. Diamondback moth is the pest being seen most often in fields.
In cucumbers, downy mildew has not yet been reported in Michigan or neighboring states, likely thanks to recent dry conditions limiting periods of leaf wetness. Once this disease is reported in our area, protect crops with an effective product. MSU plant pathologist Mary Hausbeck's 2018 recommendations can be found in her MSU Extension article, "Time for downy mildew protectant crop sprays in cucumbers."
There are still many other diseases active in cucumbers. Alternaria leaf blight and powdery mildew are present in hoop houses, and in the field bacterial diseases like bacterial leaf spot can be found.
In cucurbits, squash bugs, cucumber beetle and squash vine borer are all active. I caught four squash vine borers in my Washtenaw County trap. For organic growers with small plantings of zucchini, summer squash and jack-o-lantern pumpkins, look for eggs at the base of the plant and remove them. If you see the frass of a boring caterpillar, slice them out of plant; look for plants that are wilted at the beginning of the day, as most cucurbits will naturally wilt during hot, sunny days (Photo 1).
We are also beginning to enter the window when we first start to see powdery mildew. Keep an eye out for areas of leaves with a powdered sugar appearance (the underside shows symptoms first).
There have been reports of bacterial spot on peppers. Some fruit have sunscald symptoms. Remember that while these start white, the longer damaged fruit sit, the more secondary fungal invaders move into the damaged tissue, which can cause sunburned areas to take on a variety of colors. The second generation of European corn borer is predicted to begin emerging and flying July 12 in Deerfield, Michigan, and around July 18 in Commerce, Michigan.
Insecticide and fungicide applications continue in potatoes. Plantings are flowering.
Sweet corn early planting silks are beginning to brown. Western bean cutworm is the main pest flying right now. Don't let the cutworm name fool you, as this can be a serious ear pest, even in Bt corn. I caught low numbers of western bean cutworm in Lenawee, Monroe and Washtenaw counties, and found the first egg mass of the season in pre-tassel corn (Photo 2). Populations will continue to rise in the next few weeks; wait until populations are higher if you are considering a treatment for this pest.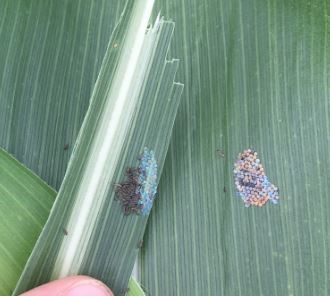 Photo 2. Western bean cutworm eggs (right) and larval hatching (left). Keep an eye out for dime-sized eggs masses on the upper leaves of pre-tassel sweet corn. Photo by Marissa Schuh, MSU Extension.
Corn earworm catches are low, and with some of the region's field corn silking, pressure will be diluted. A flush of moths will likely come in with the weather system predicted to move in early next week, so make sure to check traps. Japanese beetles are present and feeding on leaves and silks. I haven't been in any fields where numbers were high enough to warrant treatment (more than two beetles per silk before pollination).
Early planted processing tomatoes are starting to have some fruit change color.
Contact me any time at 517-264-5309 or schuhmar@msu.edu with pest identification requests and questions. I tweet about what I'm seeing @SoutheastMIVeg.
General notes and meeting announcements
If you are thinking about FSMA-compliant water testing, see MSU Extension's "Find the right water testing lab for Food Safety Modernization Act Produce Safety Rule compliance," and for an interactive map of Michigan labs that offer one of the FSMA-allowed testing methods, see the "FSMA Water Testing Lab Map." If you are looking to test what the rule calls "post-harvest" water (handwashing water, water used in pack house), the FDA has recently added some presence-absence tests for this types of water. For more information, see this FDA factsheet.
The Midwest Mechanical Weed Control Field Day is Sept. 26 at the PrairiErth Farm (2073 2000 Ave, Atlanta, IL 61723). See in-row cultivation tools demonstrated on vegetable crops, a trade show and grower experiences with mechanical cultivation. The field day begins at 9:30 a.m. and wraps up around 4 p.m. The event registration is $20, lunch included. Check out the Mechanical Vegetable Cultivation Facebook page for more information.
It is never too early to make accommodations to attend Great Lakes Fruit and Vegetable EXPO, Dec. 4-6 in Grand Rapids, Michigan. Hotel blocks are open and tend to go fast. The combination of grower-focused, research-backed presentations and an exhibit hall featuring a diverse set of vendors make it a can't-miss event.