Southeast Michigan vegetable update – May 13, 2020
Freezing nights have damaged plants and a cold spring has meant slow plant growth.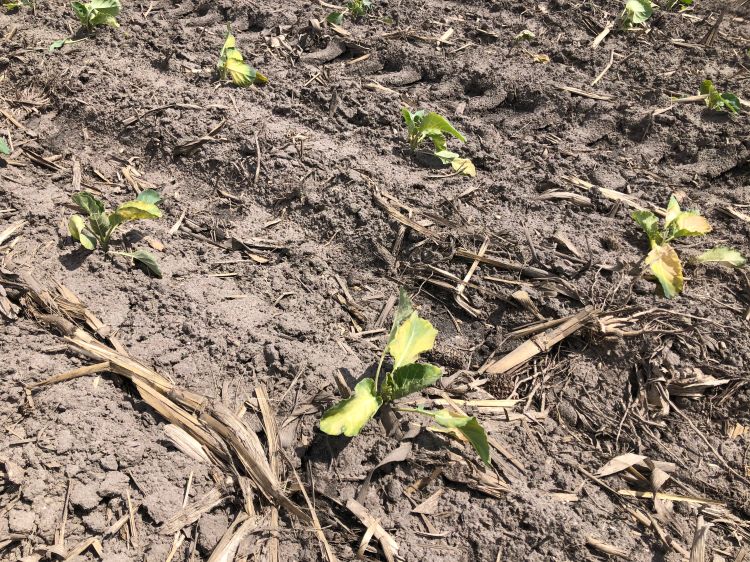 Weather
Over the last week, much of region experienced multiple evenings with temperatures below freezing, with the coldest being recorded May 8 into May 9. Michigan State University Enviroweather stations recorded temperatures as low as 21 degrees Fahrenheit, though 26 to 28 F was more typical. Damage has been reported on warm season crops in the field and in unheated greenhouses. Cool season crops also sustained some damage; the severity is field, planting date and variety dependent. When assessing damage, check for a bright green growing point.
Distinct weather changes are on the horizon. After this morning there are no more freezing temperatures on deck. Widespread rain will move through our region tomorrow as well as warmer temperatures. Friday, May 15, should be dry, though another batch of rain is on tap for Saturday. This should be accompanied by warm temperatures more typical for this time of year. Models are predicting a warmer and wetter than typical rest of the month.
The table below shows rainfall totals for the Michigan State University Enviroweather stations in southeast Michigan, as well as degree-days calculated using the Baskerville-Emin Method. Degree-day average for Commerce and Hudson is over five years, while Deerfield is over three years. Soil temperature range in Fahrenheit at 2-inch soil depth over the last week, and rainfall is in inches. Frozen precipitation is not included. For a refresher on degree-days and how to get this information in your area, see "Accessing growing degree days with Enviroweather" from MSU Extension.
Rainfall and degree day totals as of May 13, 2020

Station

Degree days (base 42)

Degree days (base 50)

5-year degree day average (base 50)

Soil temperature range

Rainfall since April 1

Commerce

273

93

177.4

44.9-55.6

2.97 (+1.15)

Deerfield

357

142

216.5

41.6-66.0

2.34 (+0.26)

Hudson

299

113

195.1

49.9-44.8

2.61 (+0.26)
Crop reports
Asparagus harvest will pick up later this week as frost damage spears are removed and regrowth occurs. If you have large areas frozen, mowing is an efficient removal option. Regrowth post-freeze is slower than regrowth post-picking or mowing.
Cole crop planting continues. The cold weather has burned some plantings.
On the pest and disease side, I have seen low levels of alternaria on the leaves in fields I have scouted. At this time of year, alternaria most often comes in on the transplants. Once in the field, these leaves will fall off as the weather warms up and the plants dry out, causing no real issues in the end.
The Deerfield Enviroweather station is predicting cabbage maggot flight is ongoing. We will really start racking up some degree days with the upcoming warm weather, but peak flight and egglaying is still over a week away. I saw my first imported cabbageworm butterfly in a cabbage field this week.
Rhubarb harvest has begun.
Sweet corn seedlings that have emerged were damaged by the frost, but generally the growing points survived. Some stands have uneven emergence.
As preparations for vine crop planting begins, note that Reflex is available for use in Michigan pumpkins and squash. Before use, you will have to create an account on Syngenta's website to accept indemnification and access the label.
Large-scale tomato planting will begin as weather allows.
Reach out
Please contact me at schuhmar@msu.edu or 517-264-5309 with questions, concerns or to schedule a field visit. I have the ability to do field visits on a limited basis.
Great Lakes Vegetable Producer's Network
The Great Lakes Vegetable Producer's Network is a live, weekly roundtable discussion during the growing season for commercial vegetable producers in the Great Lakes and Midwest region. It is broadcast live via Zoom at 12:30 ET/11:30 CT every Wednesday from the first week of May to the first week of September. You must register to be a part of the live audience. If you have a pressing vegetable production issue that you would like discussed, simply email it, along with your phone number, to greatlakesvegwg@gmail.com.
Next week's show will cover early season weed control, both chemical and mechanical.
Food safety
Compliance dates for the Food Safety Modernization Act (FSMA) have now arrived for farms of all sizes. Still trying to figure out if you are covered by the rule? Use this interactive tool to help you navigate exemptions. If you plan to take a water test before you start irrigating or spraying, you can using the Michigan Ag Water Lab Map to find a lab that can do FSMA-compliant water testing near your farm. Call the lab ahead, even if you have worked with them in the past. Some have changed workflow with everything that is going on right now.