Southwest Michigan field crop update – May 14, 2020
Cold weather appears to be behind us with warmer temperatures predicted for the rest of May. Now is the time to scout and determine the extent of injury that may have occurred during the recent freeze event.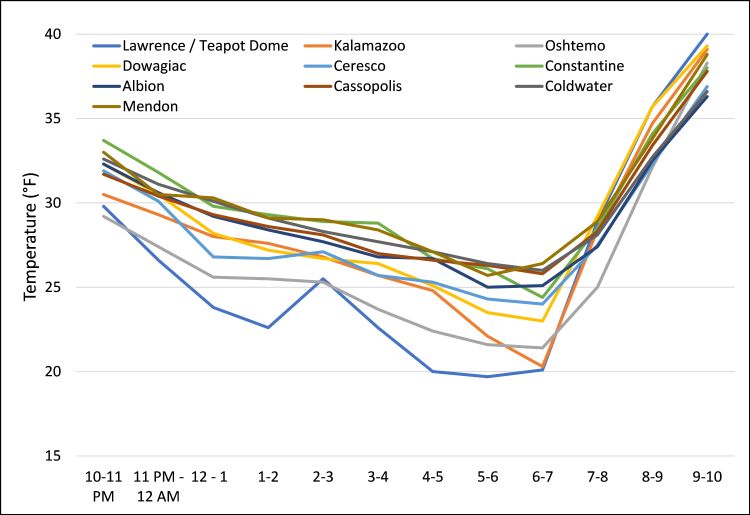 Weather update
We have some good news and some bad news. Most people opt for the bad news first, so here we go. Temperatures during the deep freeze that lasted a full four days set us back at least 5 degrees Fahrenheit in soil temperatures, several more days in accumulated heat units, and brought overnight temperatures last Saturday, May 9, that were low enough for several hours to cause concerns about crop injury. In Figure 1, we can see that air temperatures in several areas in and near Kalamazoo County reached all the way down to 20 F on Saturday morning. Since 28 F is generally considered the temperature where injury can occur in many crops, this was not good news. See the "Crop update" section below for pictures of impacts to several crops.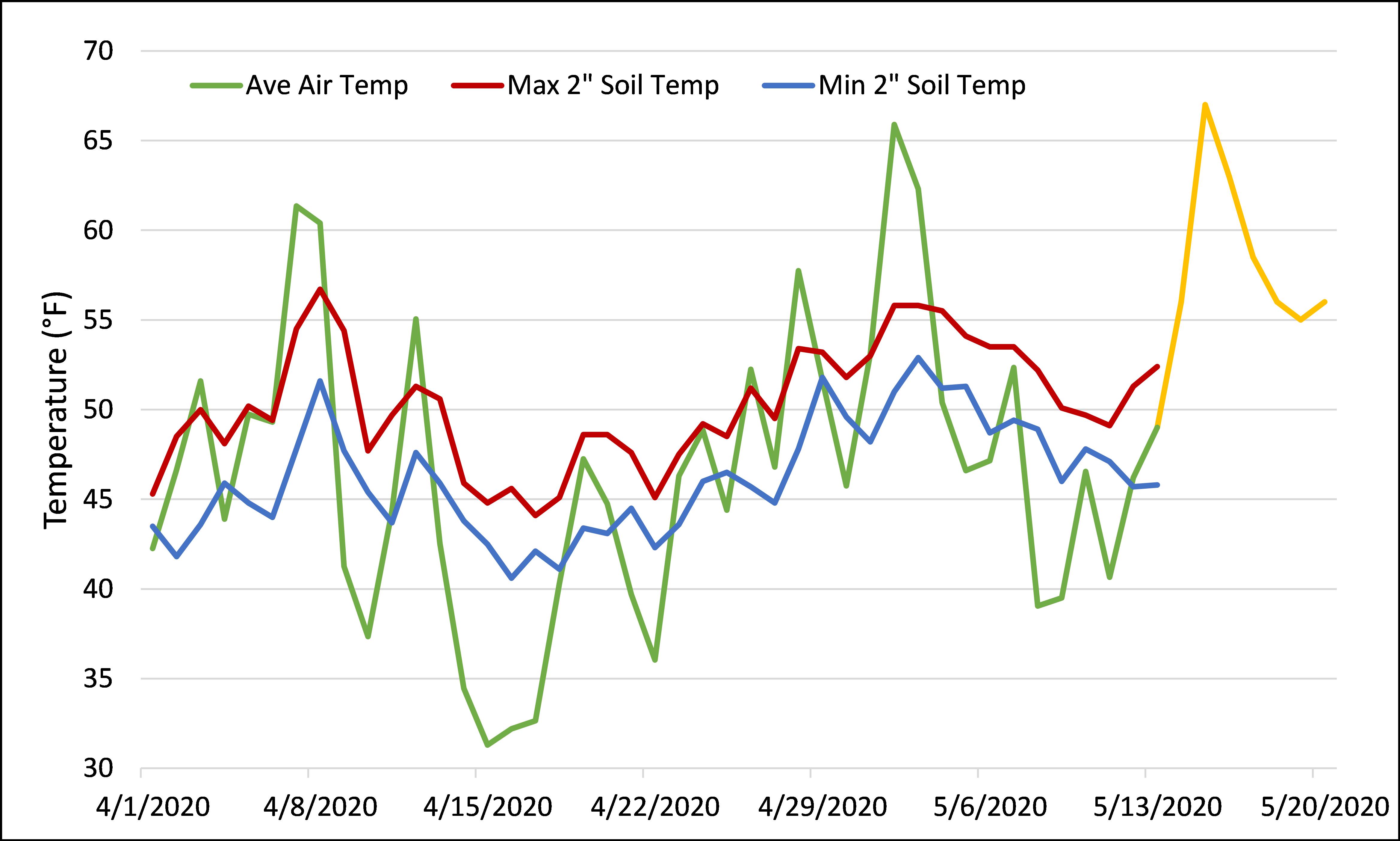 Now for the good news. Looking back over the past couple of weeks, precipitation was roughly 50% of normal, which freed many up to get a considerable amount of field prep and planting done. We now have a "week off" with rainfall predictions as high as 3 inches from now through Monday, May 18. Spring temperatures are also approaching with daily highs in the 70s next week and—wait for it—even approaching 80 F by late next week. These conditions will be prime for getting the crops that were planted out of the ground quickly.
Predictions for the end of May are also calling for warmer than normal conditions, and although the June outlook won't come out until the end of next week, MSU Extension's agricultural meteorologist Jeff Andresen says they should be pointing toward warmer and wetter than normal weather.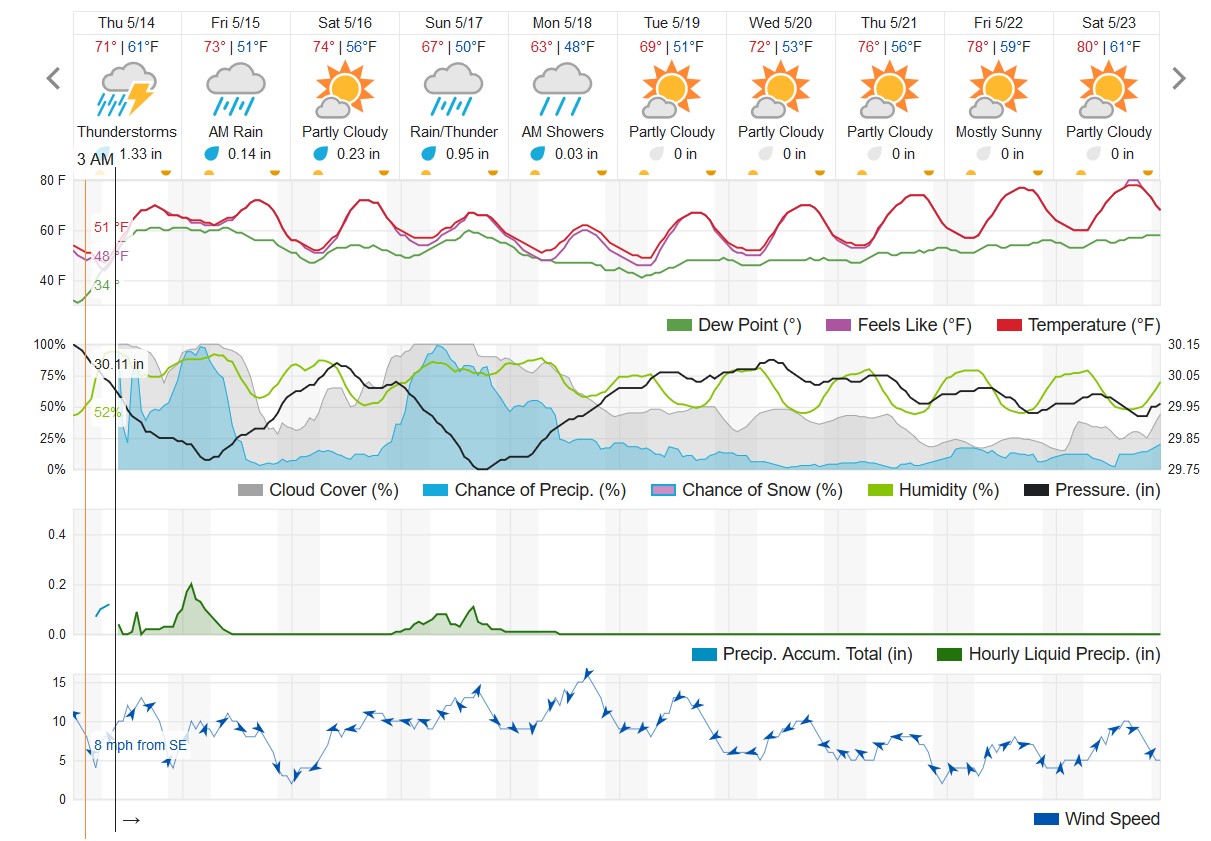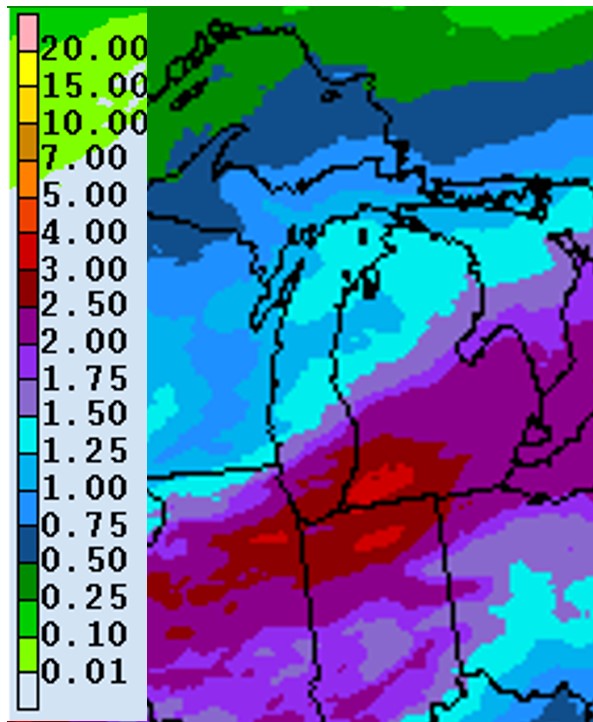 Crop update
Corn and soybean
As noted above, the two newsworthy topics are the planting progress achieved during the drier weather these past two weeks and the potential crop injury associated with the freezing temperatures of this past week. As of May 10, 37% of the corn crop in Michigan was planted, a full 25% more than the previous week and 11% more than the five-year average. Only 3% of that had emerged, which is a good thing with regards to avoiding freezing air temperatures.
Similar progress was made in soybean with 35% planted (23% ahead of average) and 2% emerged. What did emerge ahead of the freeze last Saturday looks like it sustained significant injury. Fortunately, most of what has emerged this week looks like it has sustained less severe injury, if any. MSU Extension soybean educator Mike Staton says we'll need to scout after beans emerge to look for signs of imbibitional chilling that may have occurred for those crops that were planted right before (or during) the deep freeze.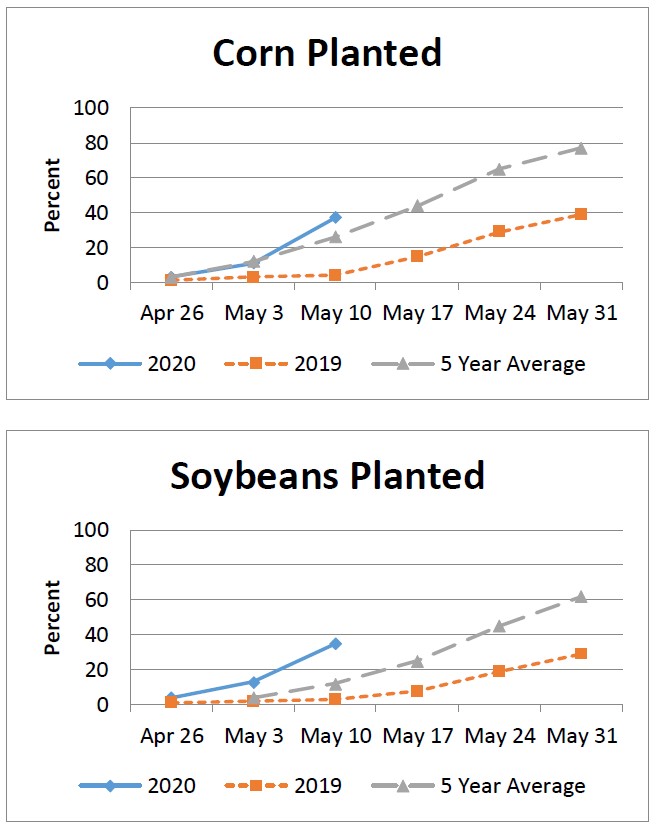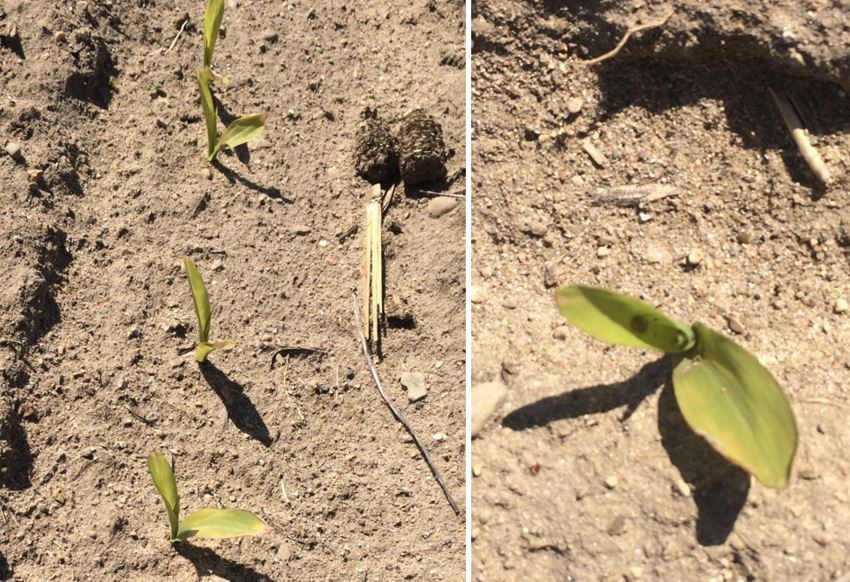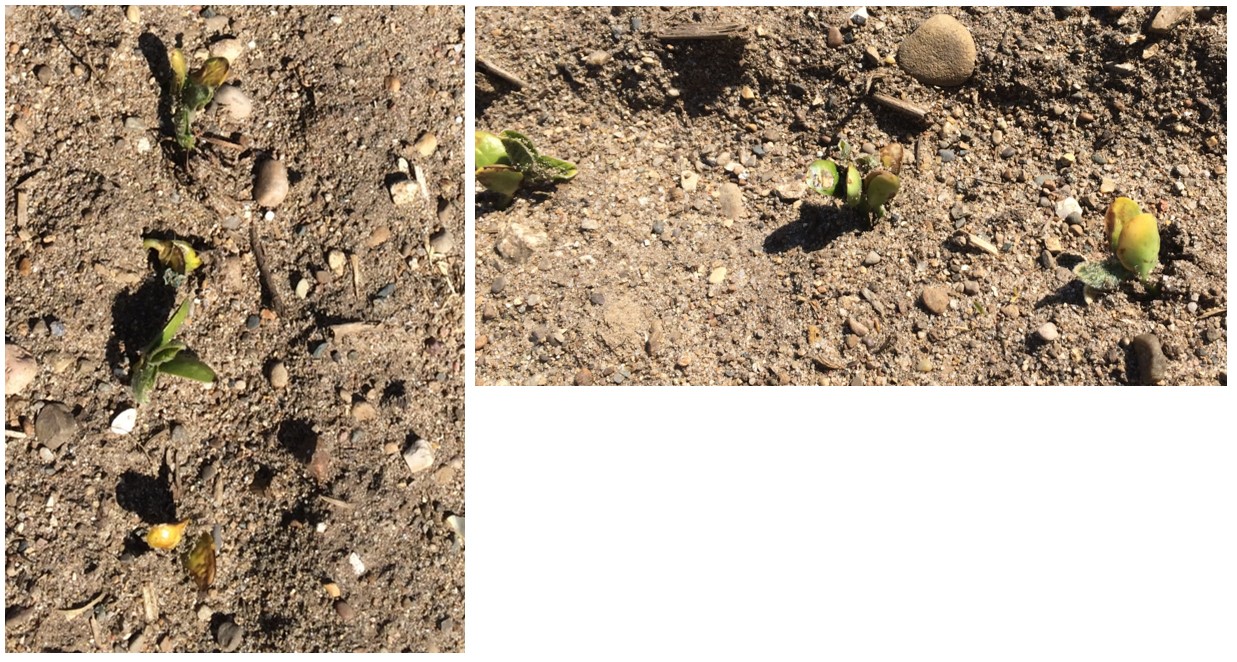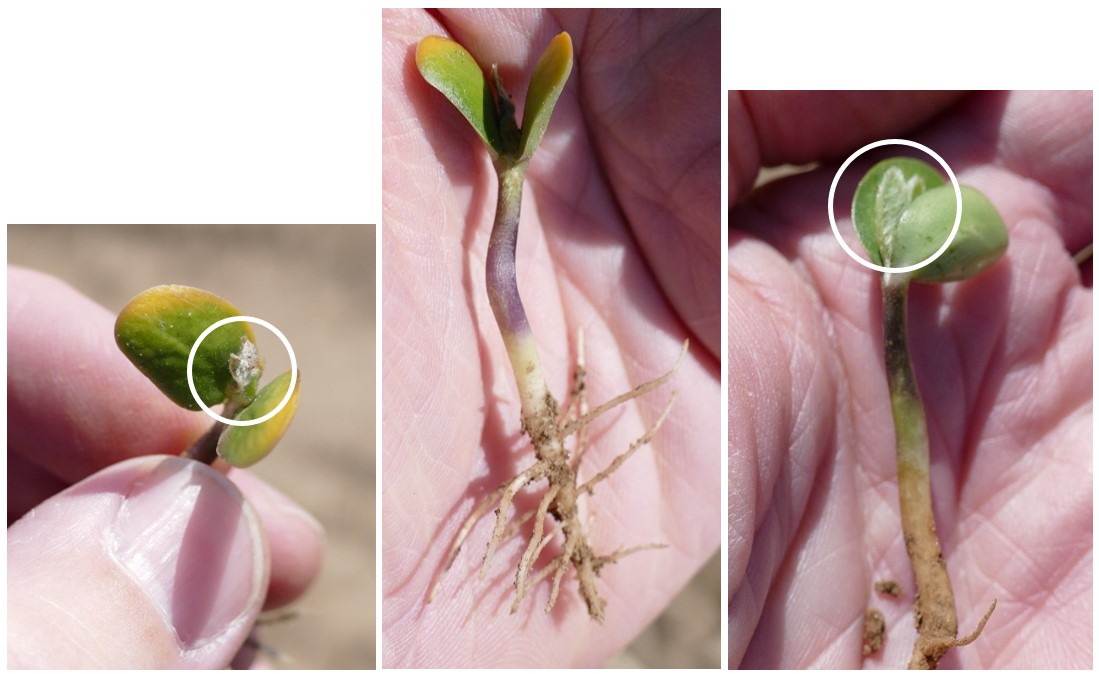 Wheat/small grains
Most wheat in the region is at jointing in Feeke's 6 (first node visible), 7 (second node visible) or 8 (flag leaf emerged). According to the most recent USDA Crop Progress report, 59% of Michigan wheat was rated excellent or good and another 32% as fair. Figure 13, taken from the bulletin "Spring Freeze Injury to Kansas Wheat" by Kansas State Extension, shows that the more advanced the wheat, the more susceptible it is to freeze injury. According to Table 1 from the same source, wheat at jointing is susceptible to injury at 24 F, which was measured at many locations in the region last weekend.
On the MSU Extension Field Crops Team's Virtual Breakfast this week, wheat specialist Dennis Pennington talked about how to scout and assess freeze injury. Dennis also wrote an article and produced a YouTube video describing further how to scout and identify freeze injury in wheat.
Table 1. Symptoms and yield effect from freeze injury to winter wheat at different growth stages. This table is taken from Spring Freeze Injury to Kansas Wheat by Kansas State Extension.

Growth stage

Approximate injurious temperature (2 hours)

Primary symptoms

Yield effect

Tillering

12 F (-11 C)

Leaf chlorosis; burning of leaf tips; silage order; blue cast to fields.

Slight to moderate

Jointing

24 F (-4 C)

Death of growing point; leaf yellowing or burning; lesions, splitting or bending of lower stem; odor.

Moderate to severe

Boot

28 F (-2 C)

Floret sterility; spike trapped in boot; damage to lower stem; leaf discoloration; odor.

Moderate to severe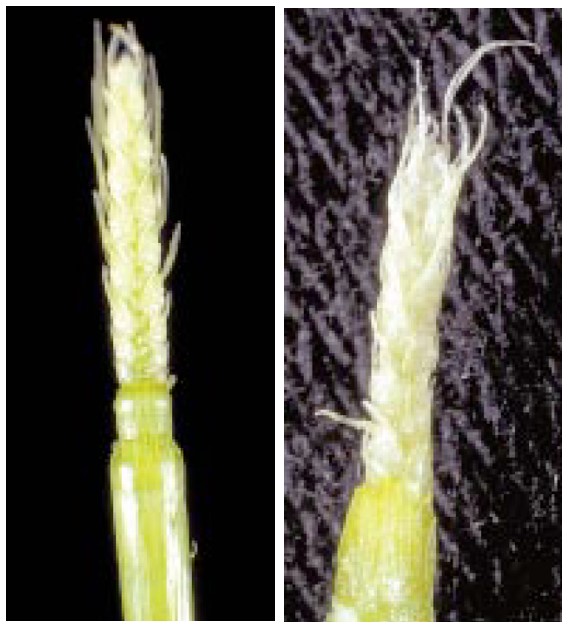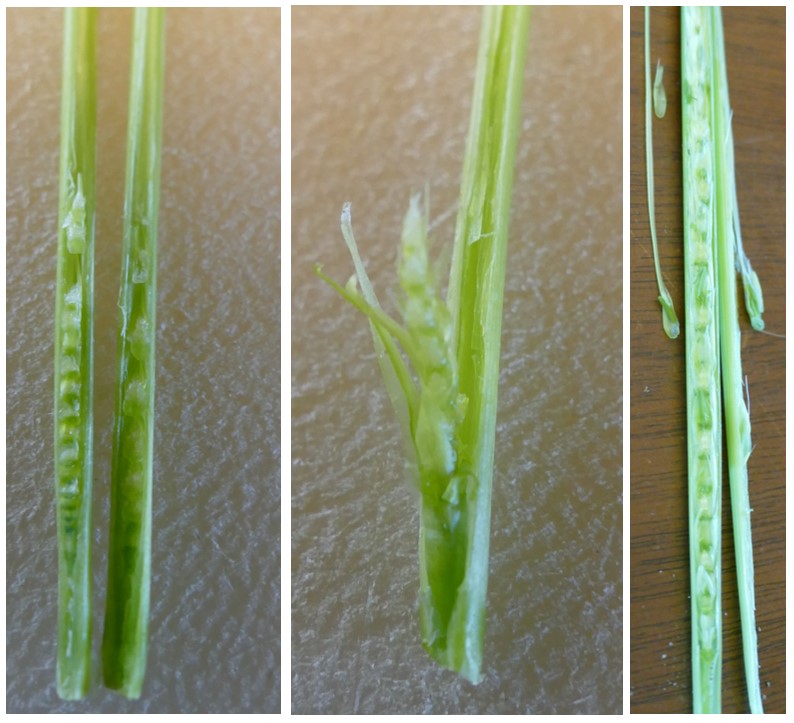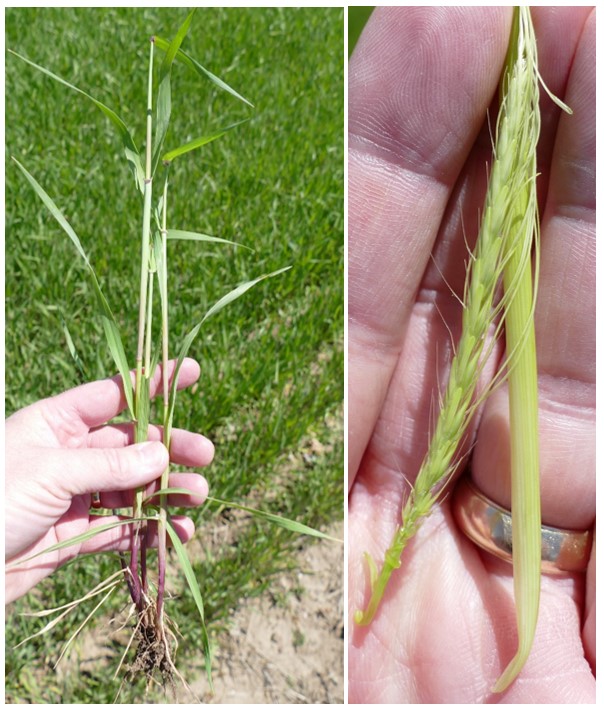 Potato
Cold soil temperatures have affected potato development and emergence this spring. The following observations are provided thanks to Karl Ritchie, lead agronomist with Walther Farms. "A handful of potatoes had emerged last Friday before the frost burnt them back. We expect emergence by the end of this week. It has been a cold slow spring for potato emergence. The crop is taking an extra two weeks to emerge compared to normal, but we had good planting weather and got the crop planted about one week ahead of schedule. Bottom line, about one week behind."
Alfalfa
Established stands are 6-12 inches tall with slower growth this season due to cold temperatures. Established alfalfa stands can be damaged at temperatures of 25-27 F or lower with injury affecting leaves, buds and growing points according to Steve Barnhart at Iowa State University. As can be seen in Figure 19, it is possible for only parts of plants to be injured while adjacent plants appear unaffected. For alfalfa seedlings at the second trifoliate leaf stage (and older), "seedlings become more susceptible to cold injury and may be killed by four or more hours at 26 F or lower temperatures," according to Barnhart.