Southwest Michigan field crops update – June 3, 2021
Row crop development remains strong but concerns over dry conditions in the foreseeable future persist.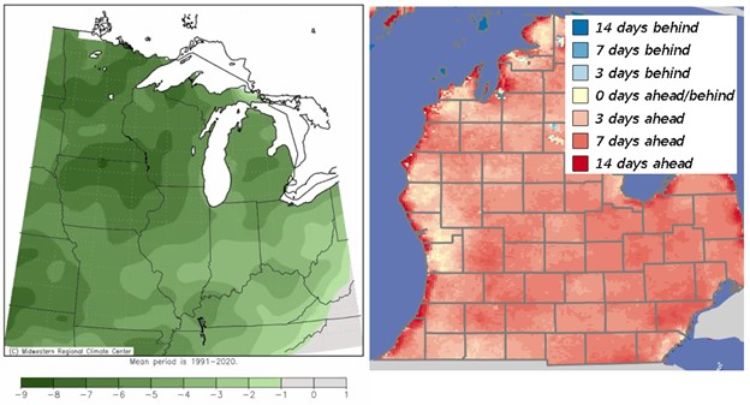 Weather
Temperatures this past week were 2-6 degrees Fahrenheit cooler than normal, and we are now back to only three to seven days ahead of normal in heat units. Low temperatures on Sunday morning were in the lower 30s with some areas in the southwest corner as low as 28 F, but no significant frost damage has been seen. As we head into the weekend, there will be a return to summer-like temperatures with highs reaching 90 F, so expect a surge in crop development and emergence of late-planted crops this coming week.
Rainfall totals this past week ranged from 0.5 to 1.6 with an average of 1 inch in the south central region and from 0.4 to 1.2 inches with an average of 0.6 inch in the southwest. The system that came through this Wednesday missed most of us and only deposited less than 0.1 inch. The next good chance of rain is not until mid-week next week with the potential for up to 0.5 inch in the forecast.
The U.S. Drought Monitor for this week shows that dry conditions remain a concern for lower Michigan. With weekly precipitation not keeping up with evapotranspiration rates—and soil moisture tracking short to very short for our region—the situation is not expected to improve in the near future. Forecasted reference evapotranspiration (FRET) rates for the coming week will be near 1.6 inches. Michigan State University agriculture climatologist Jeff Andresen says this is unusually high for any time of the year in Michigan but particularly for June. The extended outlook for the middle of June is unfortunately calling for more of the same.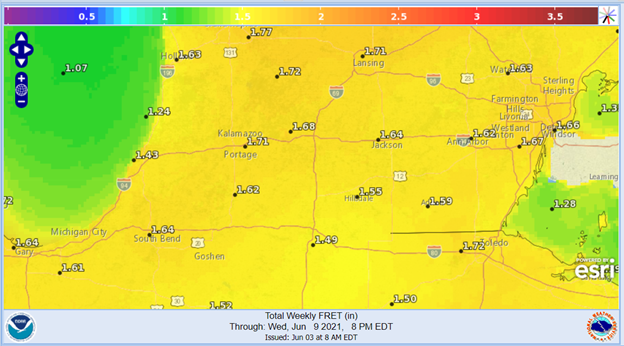 Crops and pests
Wheat is finishing flowering (Feekes 10.5.3) in fields visited this week and the crop looks good with no significant pest or disease issues spotted. Water use will be 100% of a reference grass crop which will be near 1.6 inches this coming week, and many continue to irrigate wheat fields.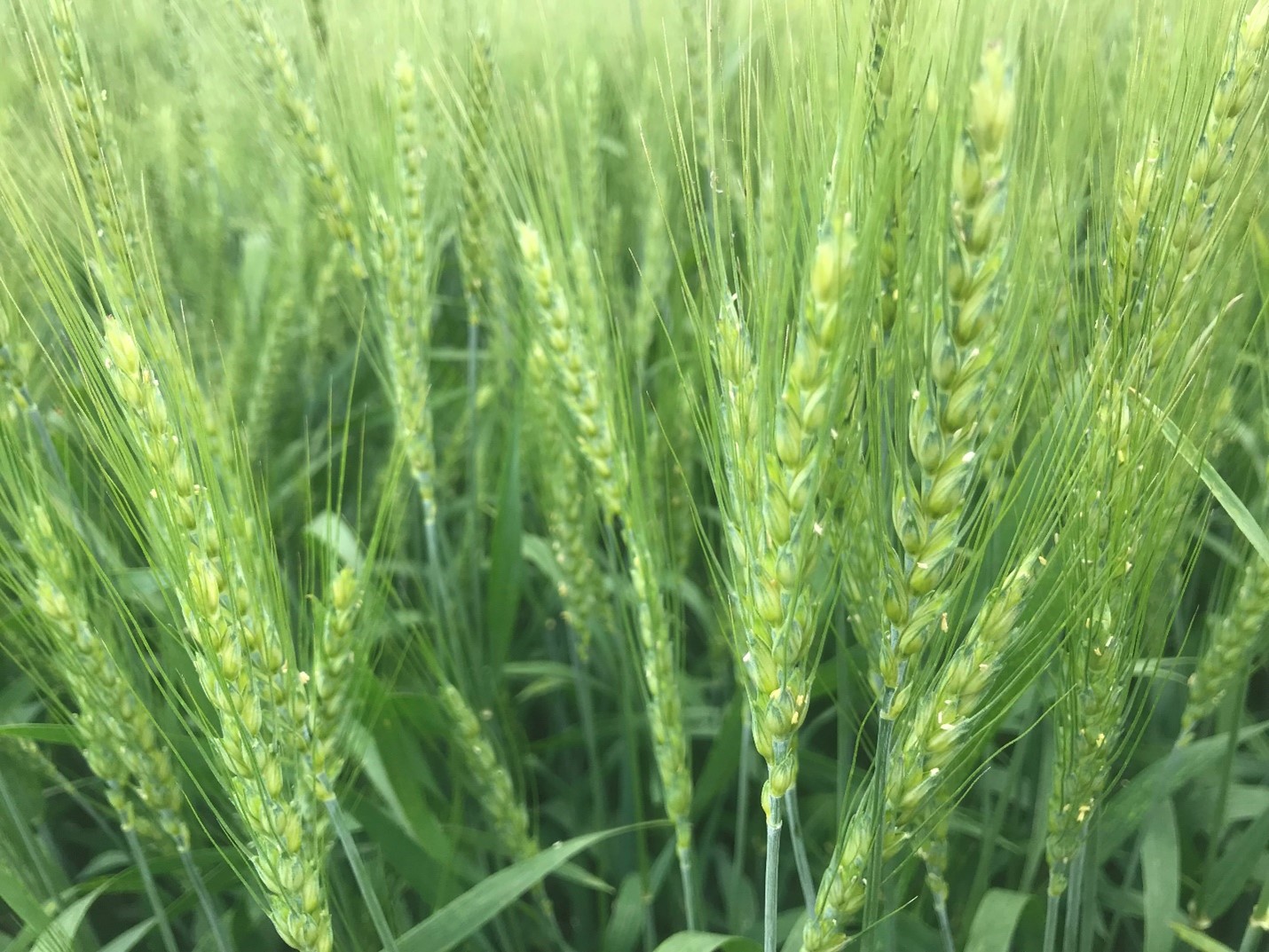 Alfalfa still waiting first cutting is currently in the mid-bud to mid-flower stage. Regrowth following first cutting is good with only minor weevil feeding seen so far. Hay yields in many fields are coming off at 50-60% lighter than normal, especially in grass mixed hay, due to drought and earlier freezes. Watch for leafhopper activity with keen interest to reduce stress on alfalfa crowns that are already stressed.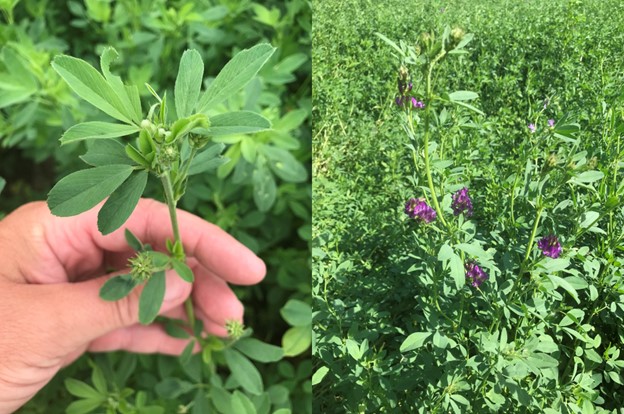 Corn planting progress continues to be well ahead of the average, according to the June 1 USDA Crop Progress report, with 95% of the corn crop in Michigan planted—14% ahead of last year and 22% ahead of the five-year average. Soybean was 91% planted—17% ahead of last year and 33% ahead of the five-year average. Corn was 79% emerged and soybean 67%.
Early planted corn has reached V4-5 and stands look very uniform in most fields. In some later planted fields, gemination has been better in the hollows with later emergence on slopes. If we do get a rain, there will not likely be a huge yield impact from these issues because there are not a lot of larger plants in these areas with later emergence. Advanced beans are V1 and looking healthy and should be to V2 by early next week.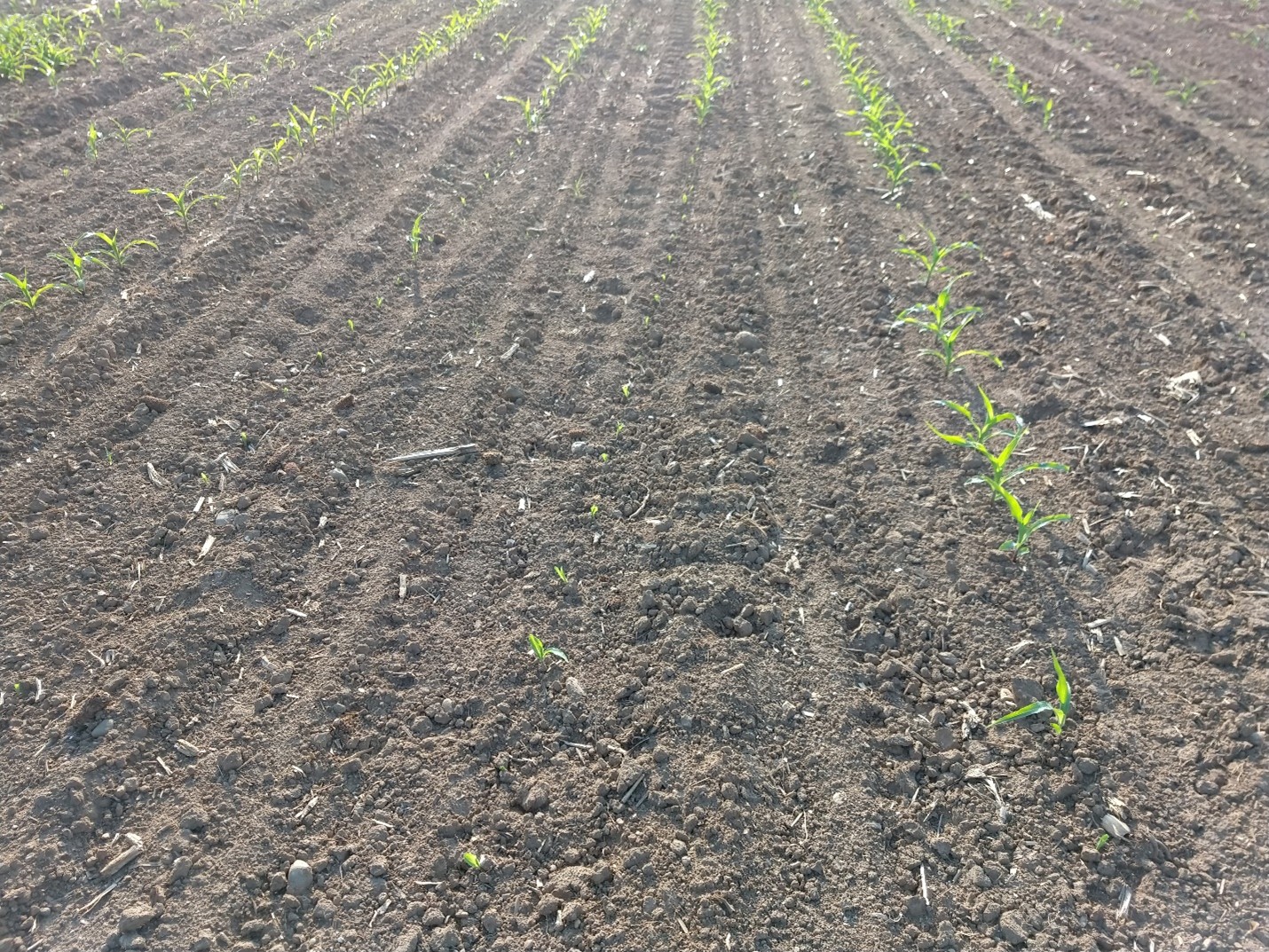 Sidedress applications are approaching, and many are wondering whether dry conditions should factor into fertilizer amounts applied. During a discussion on this morning's Field Crops Virtual Breakfast, the recommendation was made to assess potential yield given what we know so far and hold back 30% of the planned nitrogen. If rains finally come and it looks like yield potential again looks strong, the remainder can be applied with a highboy or aerially.
Water usage will begin to become a challenge this week on lighter, non-irrigated fields, and many are beginning to irrigate both corn and beans now. During this morning's Field Crops Virtual Breakfast, MSU Extension and Purdue University Extension irrigation educator Lyndon Kelley and MSU irrigation specialist Younsuk Dong discussed irrigation issues for those currently irrigating and those considering making the investment.
Many locations in the Michiana region have reached or are approaching a 7-inch rainfall deficit, and stream flows are very low, especially compared with the higher levels the past several years. Kelley recommended irrigators check ground water levels prior to pumping for the season to inform possible future discussions with neighbors, showing that levels were low to begin with. Corn at V4 will need 0.3 inches and soybeans at V1 will use 0.5 to 0.8 inches of water this coming week.
True armyworm and black cutworm moth captures this week: none. Black cutworm larvae have reached the stage of maximum feeding although no reports of significant feeding have come in. Thankfully, this appears to be one issue we may not have to deal with this season.
Asiatic garden beetle white grubs can be found in some fields, often associated with marestail (horseweed) patches in a lot of fields.
Weed escapes from preemergence applications are becoming more apparent. Watch weed and crop sizes for post applications. Be sure to use a full rate of ammonium sulfate in glyphosate applications. Look carefully at the level of surfactant in glyphosate products and add if needed. More common waterhemp is visible in fields, and marestail emergence is heating up—early season growth may have been influenced by dry conditions last fall.