Southwest Michigan field crops update – May 12, 2022
With warm and dry conditions this past week, progress with field preparation and planting has increased significantly in south-central and southwest Michigan.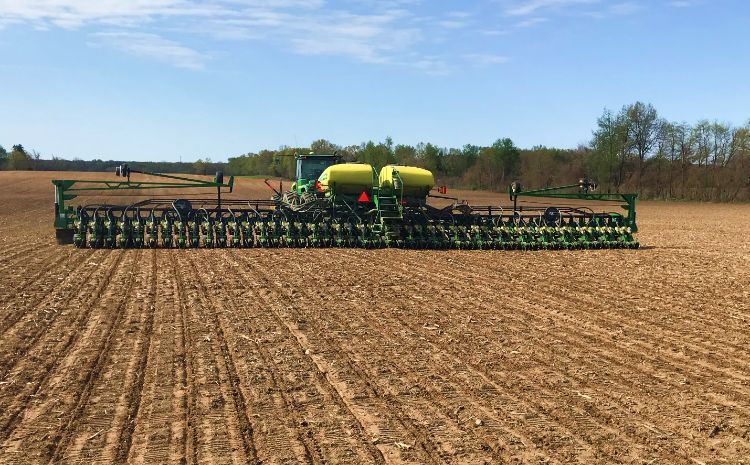 Weather
Temperatures this past week were normal on average—below normal last weekend and well above normal most of this week. Growing degree day (GDD) base 50 accumulation is now within a few days of normal, and we will likely be near normal by the end of this weekend. Minimum 2-inch soil temperatures have stayed above 50 degrees the past few days and this should continue to be the case moving forward. The weekly forecasted reference evapotranspiration (FRET) will be near 1.25 inches for this coming week with daily rates of 0.1 inches above normal over the next two days and near normal for the remainder of the week.
A weather pattern coming through Michigan on Saturday will bring cooler air with it, and we will see a return to normal temperatures for next week. The mid-range outlooks are calling for normal to above-normal temperatures heading into the last week of May.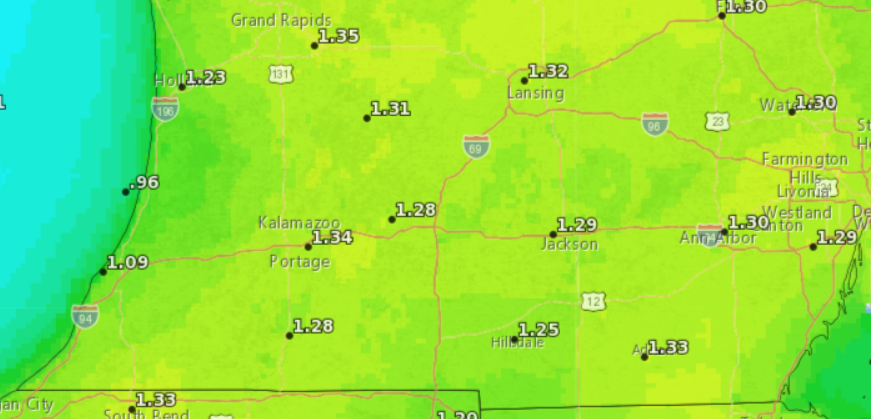 Precipitation last Friday averaged 0.51 inches across the region with higher amounts closer to Lake Michigan, and the rest of the week was dry resulting in slightly below-normal accumulations for this time of year. Although the models show above-normal soil moisture in the top 16 inches, soils at the surface are mostly dry due to recent above-normal temperatures. The forecast calls for 0.25-0.75 inches this coming week with most of that predicted for this Saturday. The medium-range outlooks predict above-normal chances of rain heading into the last week of the month.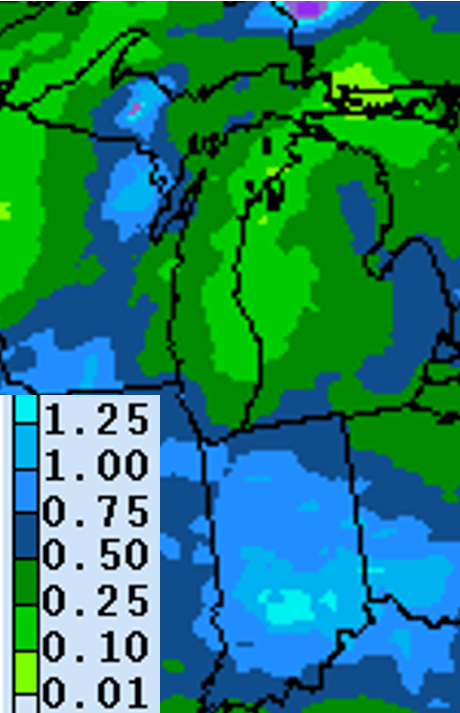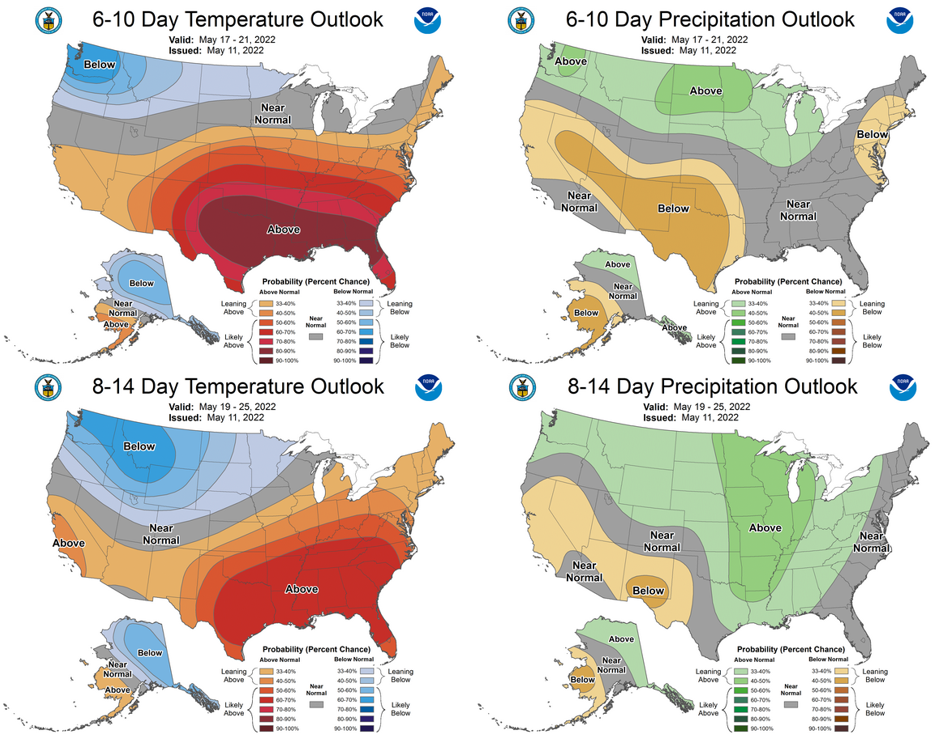 Crops and pests
Wheat in Michigan is holding steady with 45% of the crop rated good to excellent last week. The warm temperatures this week have resulted in significant development, and late-planted fields have now reached jointing and are just starting Feekes 7 (second node visible). From now on, developmental differences due to planting date will begin to even out. The next timing for a fungicide application would be when the flag leaf is fully emerged (Feekes 9) which could be as early as the end of May according to current weather forecasts.
Forages. Alfalfa crowns have heaved as much as one inch above the soil surface in some fields with higher clay content according to forage educator Phil Kaatz. He has visited several fields in the Thumb where ice sheeting in low areas this winter has caused significant die-back. Grasses can be drilled into large patches where alfalfa has not survived to increase forage yield.
Corn and soybean were 4% and 8% planted, respectively, as of last Friday, but those numbers have been left in the dust (get it?) as planting has begun in earnest for most farms in the region. We may be going from too much to too little water with less than 0.75 inches rainfall predicted for this coming week and the weekly water demand being 1.25 inches or higher. Even a small rainfall would help to keep surface soils moist and help get plantings up and out of the ground.
Insects. Moth trap counts in the region this past week were binary—1's and 0's—for both black cutworm and true armyworm, and MSU Extension field crop entomologist Chris DiFonzo says the same was true further north. She also said there are lots of grubs in fields right now. Catches for black cutworm were similar in Elkhart County but did not drop off in other northern counties (LaPorte, Lake, St. Joseph, Whitley) in Purdue's trapping network. Counts for true armyworm in northern Indiana were on par with those from the previous week.
Moth trap counts for true armyworm (A1-4) and black cutworm (B1-3) in St. Joseph and Kalamazoo counties.

12-Apr

19-Apr

26-Apr

3-May

10-May

A1

3

1

3

9

1

A2

0

0

5

4

0

A3

1

1

0

0

0

A4

0

0

0

1

0

B1

0

1

4

1

1

B2

0

0

4

30

1

B3

0

0

5

4

1
Wheat disease management was the topic of this week's MSU Extension Field Crops Virtual Breakfast with field crops pathologist Marty Chilvers. Powdery mildew—a disease favored by mild winters, cool and humid conditions, lack of rainfall and excess nitrogen—has not been an issue so far this season. Stripe rust, which was rampant a few years ago, will not likely be a major concern early this season based on reports from the southern U.S.
Head scab, also known as fusarium head blight, was the focus of most of the presentation. Head scab is highly dependent on wet and humid conditions during flowering. Variety selection is key along with fungicide selection, timing, and application with adequate coverage. Chilvers highlighted the Fusarium Risk Tool which can give a sense of disease risk with varieties of different resistance levels given the weather outlook. The pathogen, Fusarium graminearum, also attacks corn and can overwinter on corn residue, so it is generally advised to avoid planting wheat following corn.
Head scab attacks wheat flowers, so optimal control with fungicide applications is achieved when applications are made within seven days of beginning flowering (Feekes 10.5.1) with the ideal being four days after. An integrated head scab management plan will include selection of resistant varieties, making a timely fungicide application of an effective fungicide with good coverage, rotation to crops that are not hosts to F. graminearum, and managing fields for uniform wheat development to maximize efficacy of fungicide applications. The Crop Protection Network has resources showing fungicide efficacy for wheat diseases including head scab.
Chilvers highlighted a meta-analysis of research conducted in Michigan aimed at identifying the ideal timing for fungicide applications in wheat. The three timings included just prior to jointing (Feekes 5-6, T1), at full flag leaf (Feekes 9, T2), and at beginning flowering (Feekes 10.5.1, T3). The analysis showed that the highest yields were obtained with a T3 application in combination with either a T1 or T2 application. His lab is planning to investigate a treatment including all three timings. Chilvers noted that these results were averages and may not be seen on individual fields, so he advised the use of check strips to determine local impacts. He also stressed that increased risk of fungicide resistance occurs with more frequent applications, so rotating effective fungicide modes of action is important.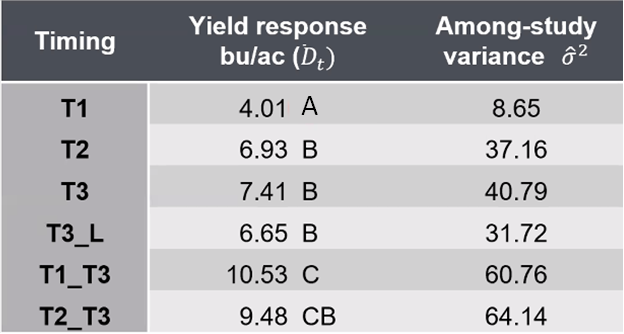 If you were not able to join the session, the recordings will be closed-captioned and available at the Field Crops Virtual Breakfast webpage and the MSU Extension Field Crops Team social media platforms: Facebook, Spotify, YouTube, Apple Podcasts and Twitter.