Southwest Michigan fruit update – July 5, 2023
Summer fruit harvest is underway.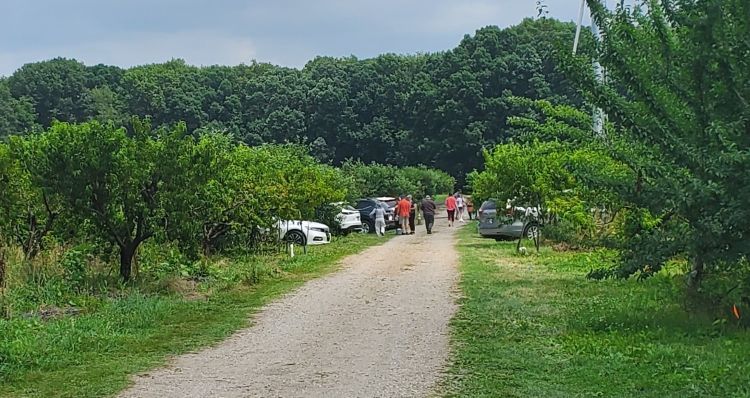 Weather
Southwest Michigan had its first "normal" weather week in quite a while. Daytime temperatures were in the mid-80s. Dry air to start the week allowed low temperatures to dip near 50 degrees Fahrenheit, but higher humidity mid-week kept low temperatures up in the mid- to upper 60s for most nights.
A storm system from southwest of Michigan hovered over the area on Sunday, July 2. The heaviest rains were in the northern half of Berrien and through Van Buren counties. Some locations saw over an inch of rain. Other areas in Cass and Allegan counties saw less than a half-inch. The storm also brought some lower temperatures for a couple days, but highs rebounded to the upper 80s by Tuesday.
Soil moisture levels have increased with the rains the last couple weeks. Most locations are showing a relief of drought stress conditions. This time of year, plants need about an inch of water per week. More rains like we have seen the last couple weeks will be needed to keep up with the crop needs.
With the seasonal weather, we collected an average number of growing degree days (GDD) last week, 228 GDD base 42 and 164 GDD base 50, respectively. We are very close to the long-term seasonal average.
Southwest Michigan GDD summary from March 1 – July 4, 2023

Station

GDD 42 F

GDD 45 F

GDD 50 F

Benton Harbor (SWMREC)

1743

1485

1107

Lawton (Lawton)

1751

1493

1114

Fennville (TNRC)

1576

1330

972

Average for the SW region

1691

1437

1068

Average last week

1463

1233

904
Tuesday and Wednesday this week (July 4 and 5) are warm and humid days with high temperatures approaching 90 F. Another storm system is expected to pass through the area Wednesday evening bringing cooler temperatures and about a quarter inch of rain. Highs for the rest of the week should be in the upper 70s. Chances of scattered rain are predicted again over the weekend, but no significant amounts are expected.
Tree fruit
Foliage is developing better green color as the recent rains have helped with uptake of soil nitrogen. Oriental fruit moth trap catches are on the rise at the Trevor Nichols Research Center, signaling the continued flight of the second generation. We expect the next generation flight of San Jose scale males should start soon. Catch of Japanese beetle in the Trevor Nichols trap line jumped, perhaps due in part to recent rains.
Peach harvest of Rich May and PF1 began last week in central Berrien County. Coming up are harvests of Desiree, Harrow Diamond, PF5B, PF-5B and Earlystar. Protection against the second generation of oriental fruit moth is needed now.
Cherry Montmorency fruit harvests are underway in the region. Fruit size has been somewhat smaller than unusual but quality has been good. Brown rot and cherry leafspot development has been favored by rains and high humidities. Spotted wing drosophila trap catches typically jump in late June or early July, and tend to be problems for sites with light spray programs and harvested later. Cool weather favors population growth of the various cherry fruit flies, especially spotted wing Drosophila.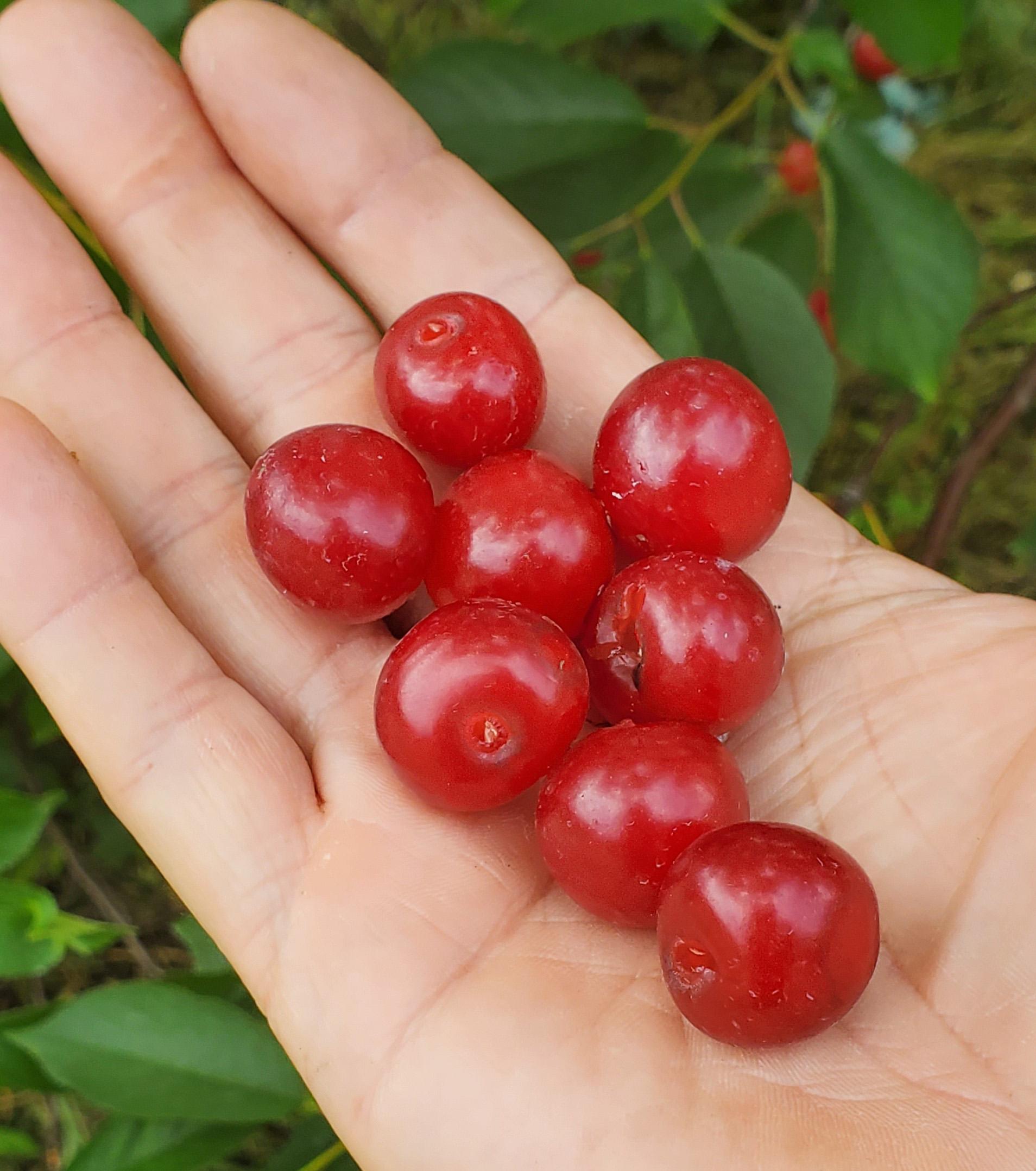 Apple fruit are sizing rapidly, with branches starting to bend under the weight. Calcium sprays for bitter pit suppression are underway for many area orchards. The Enviroweather model for sooty blotch and flyspeck diseases predicts that sufficient leaf wetting events have occurred in the entire southwest region to start fungicide treatment for sooty blotch and flyspeck. Insects of concern continue to be leafrollers, oriental fruit moth and codling moth. Woolly apple aphid colonies are present on limbs in some orchards.
Pear crop potentials are good for many orchards in the region. Removing water sprouts at this time helps improve spray penetration and reduce habitats for pear psylla multiplication.
Small fruit
Grapes. Juice grapes are close to or at berry touch as are some hybrid wine grapes. Some tight clustered varieties are approaching bunch closure. Vinifera varieties are finished blooming and some large berry varieties are close to pea size.
Japanese beetles are showing up. Populations seem to still be low, but scouting is important to determine if populations build to a size that determines if management is necessary.
The biofix for the second generation of grape berry moth was July 3-4 for most of southwest Michigan. Michigan State University Extension recommends biofix as good timing for application of an insecticide with ovicidal activity to manage grape berry moth populations. These include insect growth regulators like Intrepid and diamides like Altacor and Verdepryn. Other products that have larvicidal activity should be applied 100 GDD base 47 later, which will be around this Friday, July 7.
Black rot and downy mildew are being seen in some grape clusters in the area. Juice and early hybrid grape bloom ended around a month ago. This is when developing fruit start becoming resistant to many of the spring diseases. We start focusing on foliar infections of downy mildew and powdery mildew. Treatments for black rot should end soon. Protections against cluster rots like botrytis bunch rot should continue until bunch closure.
For vinifera grapes, fruit infections from all the major diseases should be managed for at least the next three to four weeks until the fruit become resistant. This is especially true around rain events like the last few days and the predicted rains later this week.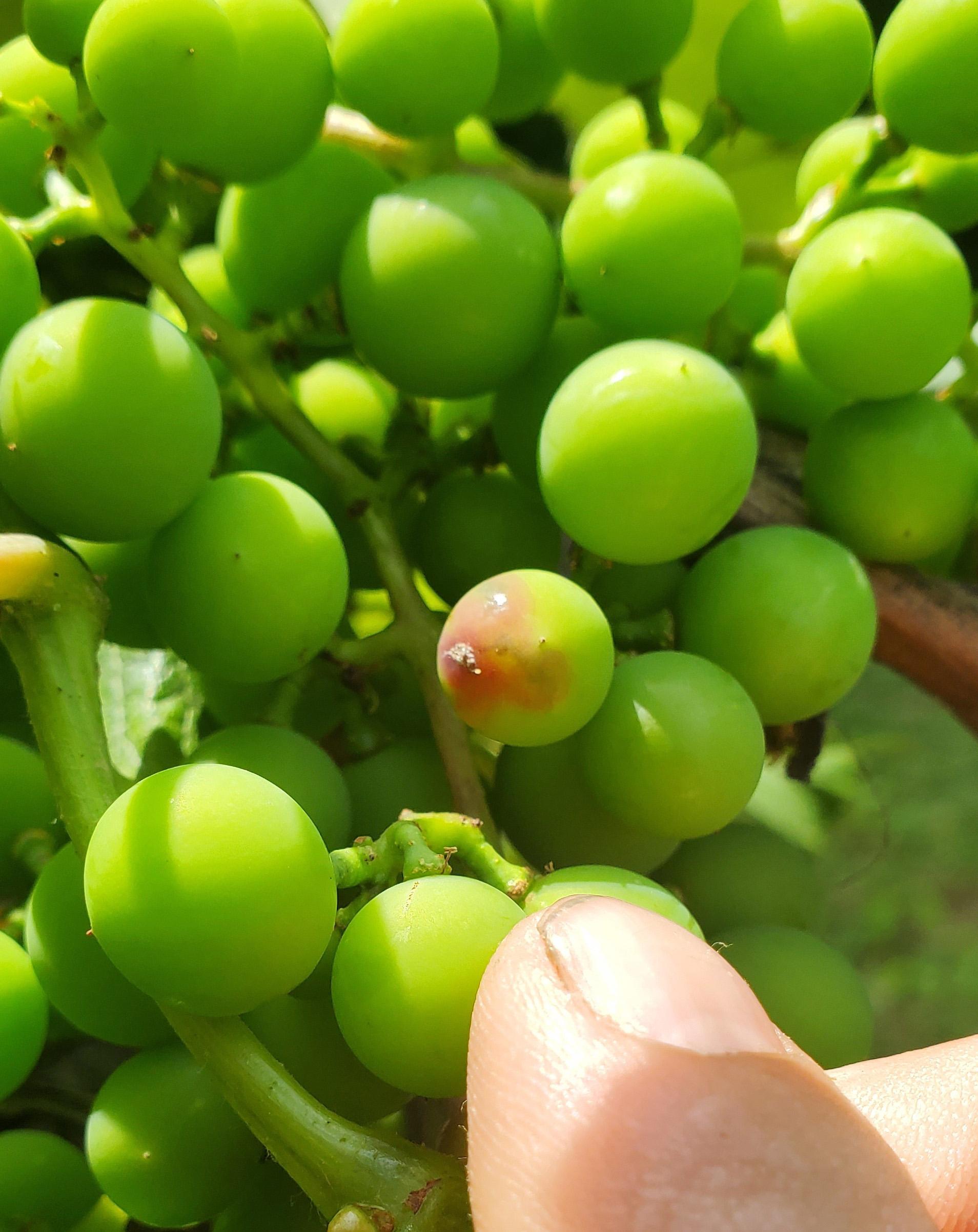 Blueberry harvest has begun throughout southwest Michigan. U-pick locations started on Saturday. Bluecrop and Duke are being harvest now for fresh markets and at U-pick locations. Berry rot sprays to control anthracnose and alternaria are going out in early and mid-season varieties. Cranberry and cherry fruitworm flights are ending. Blueberry maggot was caught at an unsprayed site at the Southwest Michigan Research and Extension Center the last couple weeks. Spotted wing Drosophila is expected to be delayed this year due to the hot, dry weather, but scouting is still recommended in crops as they reach susceptible stages.
Strawberry harvest continues at U-pick locations but has wrapped up for the farm stand and wholesale markets. Those who are done with harvest are beginning to renovate.
Bramble harvest has begun for summer bearing red and black raspberries. The first harvests are light, but there are a lot of fruits that will be ripe over the next couple weeks.
Currants are being harvested now.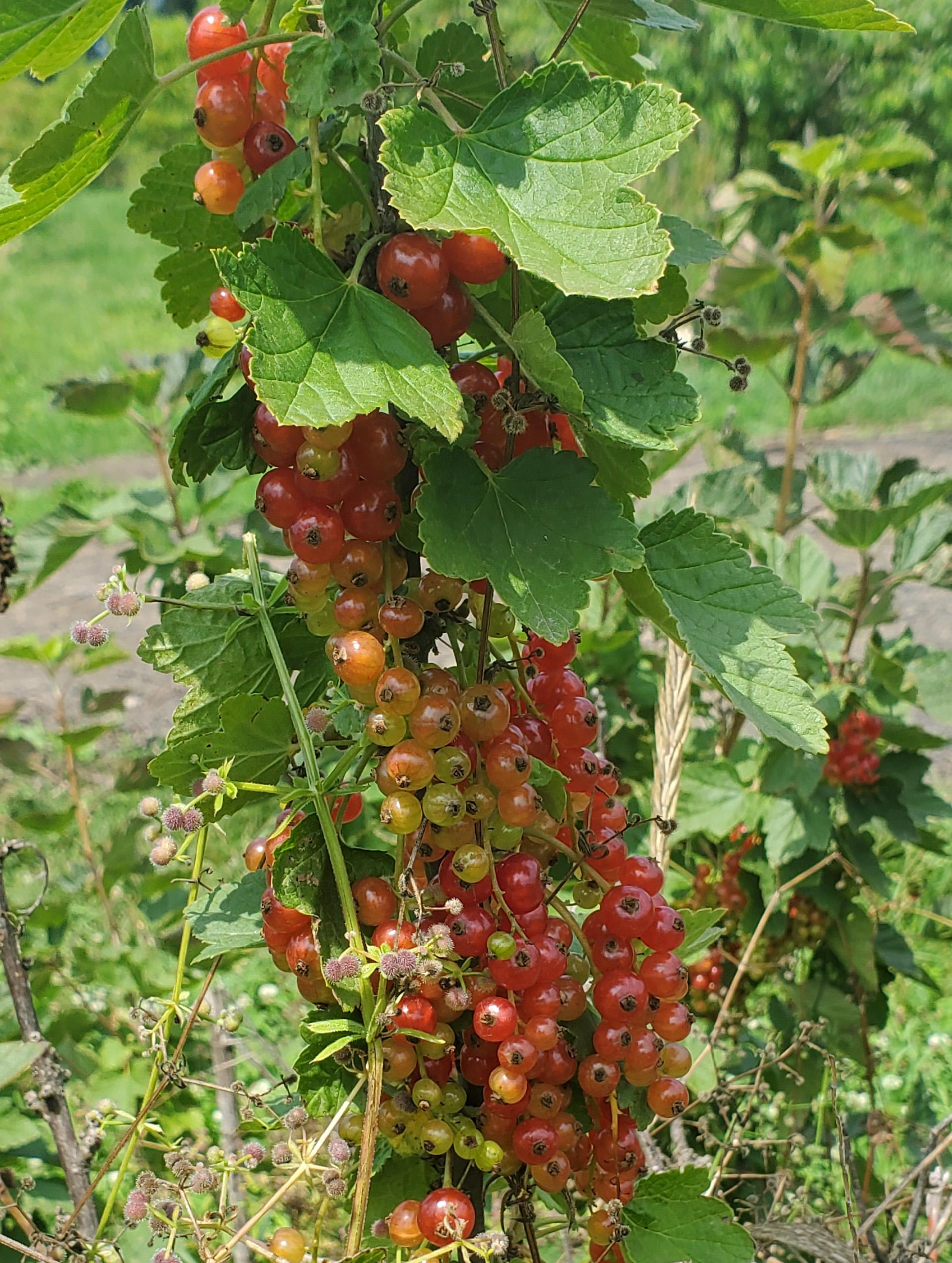 Announcements
The Southwest Michigan Viticulture Field Day is scheduled for July 26. This event is in its 34th year. Education will begin at 9 a.m. and will include a variety of field-based topics including cold hardy variety management, autonomous technologies, pest management and soil health. Lunch and a steak dinner will be provided as will some tasting of local Michigan wines. Register for the Southwest Michigan Viticulture Field Day.
If you'd like more blueberry information in your inbox, sign up for Blueberry Bites! New this year, Blueberry Bites is a blueberry-focused, bite-sized, weekly update from the blueberry team at MSU.
This work is supported by the Crop Protection and Pest Management Program [grant no 2021-70006-35450] from the USDA National Institute of Food and Agriculture. Any opinions, findings, conclusions, or recommendations expressed in this publication are those of the author(s) and do not necessarily reflect the view of the U.S. Department of Agriculture.